Solar Powered Garden Lights
Tested and Reviewed by Fred-in-the-shed
Updated 21st November 2023
Solar Powered Garden Lights - Are they really environmentally friendly?
Which Are The Best Solar Powered Garden Lights?
I test the latest ranges with the latest technology
The Latest Solar PIR Security Lights
The Most Powerful Solar Spotlight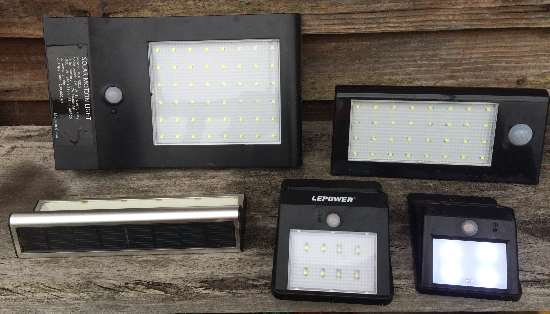 Lepower 8 Led, GDRE 10 Led, Crazyfire 32 Led Mpow 8 Led
Best Value - Latest Model Solar Security Lamp
238 LED Model With 3 Mode Option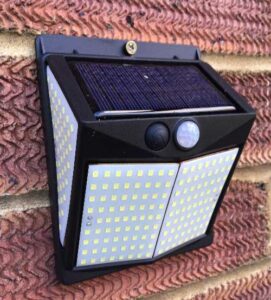 This 238 bulb model is a superb design and has an IP65 rating which makes it UK weatherproof. 
It is easy to fit by drilling 1 hole . Larger versions have  2 holes and have up to 430 LEd's and bigger batteries.
These lights are all made in China by various companies and now have the batteries soldered in so can no longer be replaced.
I have 2 of these under testing (one in a harsh marine environment) and am very impressed with the performance.
As with any modern electrical product there are often faulty ones so keep your receipt and contact the retailer if they fail within 12 months.
Make sure you instal this light in a sunny position and try the 3 mode options to see what suits you best.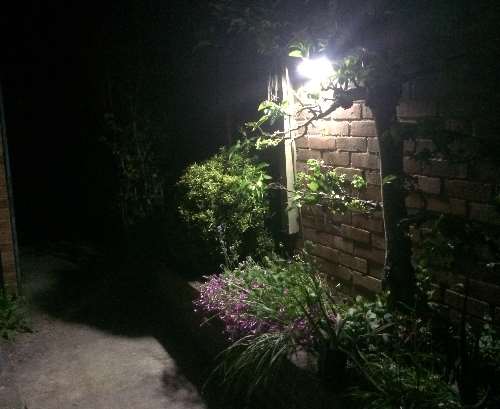 The photo does not do the light justice as I mounted it under a tree to test it and shadows are produced.
Mount it high up on a sunny facing wall for maximum effect.
THE HISTORY AND EVOLUTION OF SOLAR GARDEN LIGHTING
THIS IS HOW IT USED TO BE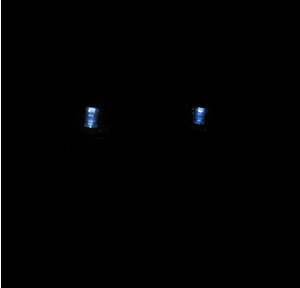 Cheap solar lights are what I call – "Twinkly Waymarkers"
They will NOT illuminate your garden but WILL disappoint you.
Early Basic Models Tested and Reviewed by Fred-In-The-Shed
Over the last 20 years, I have been testing hundreds of solar-powered lights and my conclusion is that overall most have not been "environmentally friendly", and most were a waste of money.
The small amount of "free" energy they produced was outweighed by the fact that the batteries and plastic parts lasted 2-3 years at most and become landfills.
THIS IS HOW IT USED TO BE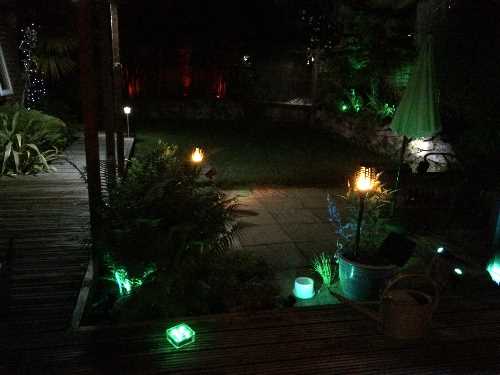 This is my garden in 2020, completely lit by solar lighting.
Most solar lights fail, (including the expensive models) due to poor rubber seals allowing moisture to corrode the batteries and electronics.
Occasionally some last many years.  One of my cheapest lamps lasted 8 years before the plastic became brittle and shattered. (Most lasted 1-2 years.)
Another common problem is that many batteries will not survive the freezing temperatures of the British winter. So if you don't take them out they will likely fail or even rot away the circuit boards.
Another common problem is the degradation of the plastic covering to the photovoltaic panel caused by Ultraviolet light. Eventually, the covering shatters and your lamp becomes a landfill as spare parts are not available.
With the old-style cheap small solar panels, the lights would only ever work if placed in an open, south-facing aspect.
If the panels don't generate enough power the batteries will fail over time.
Most "solar garden lights" don't light up much at all and are what I call "Twinkly Waymarkers". A better application for solar lighting is when it is used with PIR detection so the light only comes on when someone approaches.
The cheapest solar-powered lights use a small photovoltaic panel that uses one small AA or even smaller AAA size battery to power a single LED bulb. This type of "light" will not function through a UK winter and most pack up after a year or so.
A single bulb, single battery solar powered garden light should not cost more than £2 per unit.
Early Expensive Models Tested and Reviewed by Fred-in-the-shed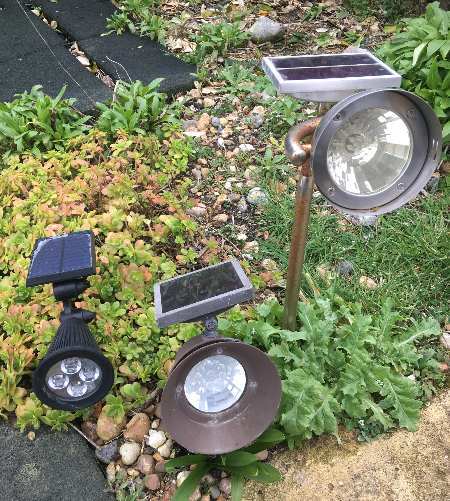 In 2010 the stainless steel one cost me £55 and lasted 18 months!
In 2013 I tested the brown spotlight that cost over £40 each.
It lasted 3 seasons and died from damp corroding the circuit board – the most common cause of solar light to landfill
By 2015 you could buy a more powerful, waterproof LED Solar Spotlight like the black one for around £15
Latest and Best Solar Spot Lights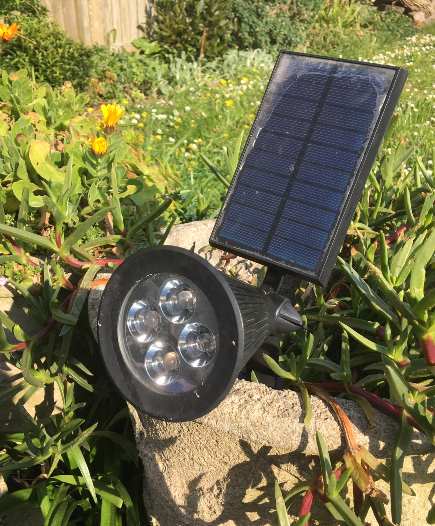 Thanks to advances in PV panels, LED bulbs and Li-ion batteries, solar spotlights are now more powerful, and cheaper.
The black plastic model above is IP65 rated (very water-resistant) and has a simple 18650 3.7v Li-ion battery you can replace if the original ever fails.
It comes with a ground spike but can also be wall-mounted, average price of around £15.
I have several of these giving out different colours and absolutely love them, especially the green ones.
The one pictured has been in my garden for 5 years and is only now showing signs of UV damage around the panel edges
Solar Spotlight with Separate Panel
Ideal for less sunny locations.
I also have these 3 small spotlights linked by one separate panel. This gives you more options with your lighting.
After 5 years I am very impressed, it has been the most reliable consistent lamp set in my garden.
Another set in a challenging marine environment is still working too.
If you want coloured spotlights I am currently testing 2 metal cased blue ones that run off a large panel.
So far they are very good and you can also have green coloured LEDs.
Solar Powered Security Lights (PIR Activated) For Passageways
One of the best applications for outdoor solar lighting is when it is used with PIR detection so the light only comes on when someone approaches.
Consequently, more light can be given out over shorter periods, so a small and relatively cheap lamp can be used.
This wall-mounted light has a long arm to cast a better light and to give the panel more sunlight
29 LED LAMP WITH LARGE SOLAR PANEL
This amazing solar light is the more efficient due to its large panel, 2 batteries and extended bracket.
It is powered by a REPLACEABLE Lithium-ion 3.7v battery and has 29 LEDs giving out a massive 400 Lumens 
I am seriously impressed with this light and if you put it high up in an open position it is ideal for lighting a side passage.
The solar panel measures approx 7.5 * 4.5 inches and produces 5W. It is also IP65 rated to resist water ingress.
The easy to use mode button gives 4 settings of brightness and control.
I totally love this light and have placed it in prime position to light my shed door!
All solar lights are made in China and then "branded" by different retailers.
However, some that look the same use different quality solar panels, LED bulbs and batteries.
Lighting for Effect - Not Performance
Over the last 20 years of testing products for this site, I have tried so many solar fairy lights, solar Christmas lights, and all sorts of novelty lights.
Incredible 96 LED Flickering Flame Solar Torch Light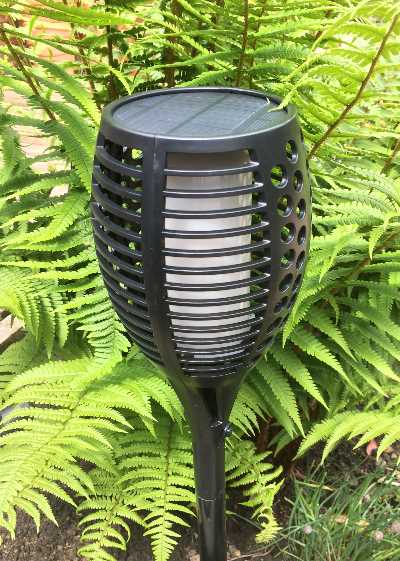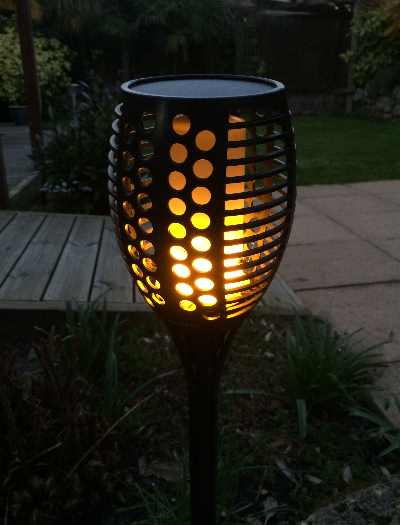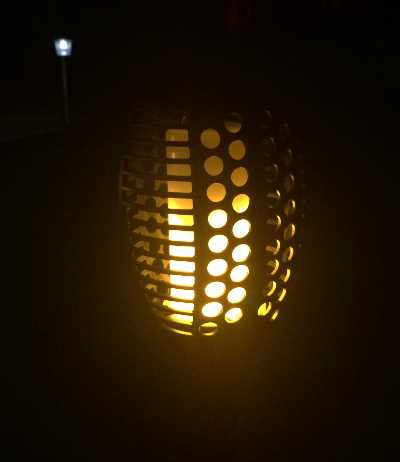 Amazing Solar Tiki Torch – Flickering Flame Effect!
I have 2 of these amazing lamps in my garden for 3 years. They are the most impressive solar lights I have ever seen.
They come on automatically and look like real burning flames, my visitors are really fooled!
The design is so effective they stay lit up all night most nights (excluding very dull winter days)
Solar Powered Fairy Lights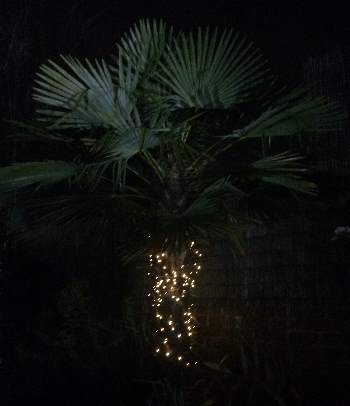 Without exception, these all come with a pathetically small solar panel and a single cheap Ni-Cad battery.
I have tested dozens of them and many fail very quickly or get stuck on flashing mode and become annoying.
I really can't recommend many models as they are all similar and considered by the manufacturers to be disposable items.
If you want to take a chance then use the links below as these were the best I found and have been working for nearly 2 years now.
The Best Solar Powered Pillar Lamp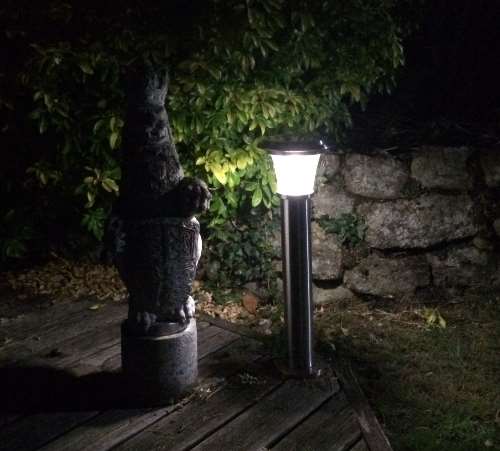 Solar-powered pillar lamps are mostly rubbish because the flat top panel cannot be large enough to gather enough sun to produce more than an hour or two of usable light. In my opinion, any pillar lamp with a flat panel smaller than 4 x 4 inches is a waste of money. Even then you may only get a few hours of light from a sunny day.
The best model I found was the Solarmate Roma Light, made from 314-grade stainless steel. It was very expensive and has been discontinued.
A new solution is to make the solar panel tilt towards the sun like the one on the link below.
This model works well and gives off a reasonable amount of light for 3-5 hours.
(PIR detection lamps with separate solar panels)
The advantage of the separate solar panel is that it can be placed in the best (sunniest) position, but the lamp can then be placed where you want it, even inside a shed (assuming you have enough cable). I have tried many of these lamps and most have failed badly. The PowerBar units have a good spec and reasonable readers reviews.
I have a unit with a similar spec but using the amazing Nichia bulb from an obsolete manufacturer and it is very impressive. Sadly the supplier has disappeared which is common with solar lamps as they are all made in the far east and then made available to anyone to print their brand name on.
I am currently testing the EVO SMD which works well and lights up the inside of my shed at night as soon as I open the door.
These previous models were found to have some water ingress issues so my friends at the Solar Centre have specified a new model with a higher IP rating.
PIR lamps with separate solar panels are more versatile as they can be placed anywhere.
However they tend to be pretty ugly with wires visible or dangling between the 2 components.
The more components the more chance of failure – this is why I think this type of solar light can be unreliable.
Lamps with built in solar panels are better but really need to be south facing in the UK
Older Designs That Have Stood The Test of Time!
The Curve Solar PIR Wall Lights
I fitted 9 of the Curve solar motion lights around my house 5 years ago.
Each is similar to a 40w (100 Lumen) bulb and come on at dusk most night, including winter.
The solar motion curve lamps have a 3.7v Li-ion battery and 16 LED bulbs!
This Curve was easily fitted to my south-facing porch. It lights the entrance and signs.
When the PIR detects movement it lights up fully for 30 seconds. 
The curve was sold by my friends at Solarcentre UK.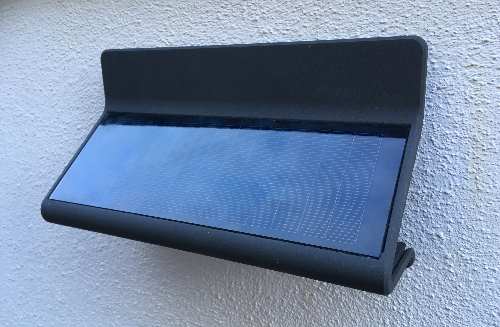 The curve is being replaced by the larger more stylish Zenith model.
My Zenith lamp works just like the Curve but has the option for a lower light power saving option. 
It is made from metal, has a 12-month warranty from a UK company and uses a superior black solar panel.