Tested and Reviewed by Fred-in-the-shed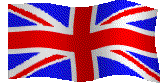 Which Cordless Chainsaw is Best?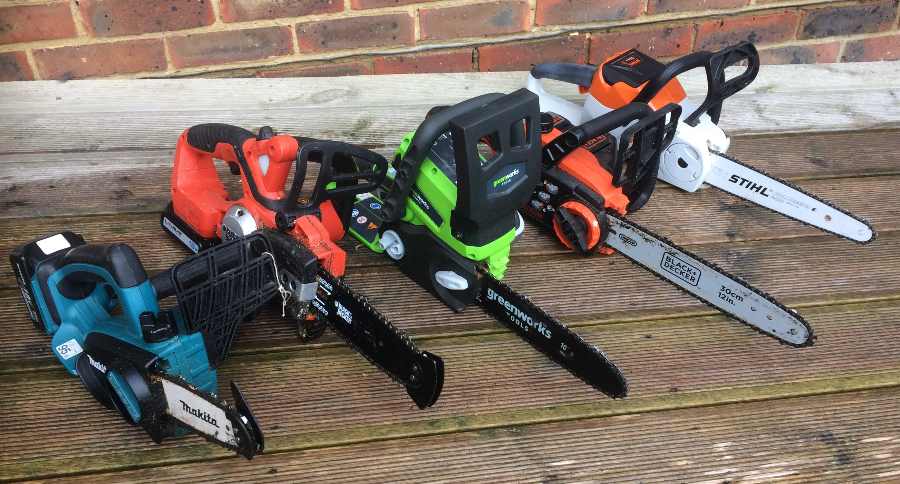 I test the latest cordless chainsaws
Black & Decker 18v Cordless Chainsaw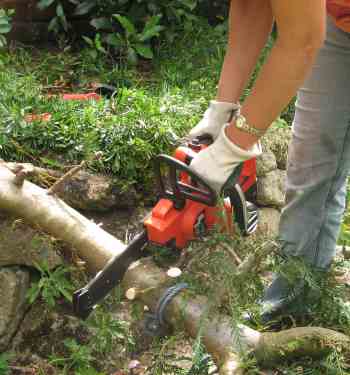 The B&D 18v chainsaw being tested in my garden
This modestly priced chainsaw is ideal for light domestic use and has all the features you need. It also has a reasonable size, 25cm (10 inches) bar.
The 2 amp hour, 18v battery can also be used in drills and DIY tools as well as B&D strimmers, hedge trimmers, blowers and pole pruners. If you need larger batteries there are 4 amp-hour ones available to double the run time of your tool.
The 18v 2. amp hour battery does around 20 minutes of cutting on one charge, so a 2nd battery or tool with another battery is a good option.
If you want a lighter weight 18v version B&D also do this one that has a slightly shorter 20cm bar but is ideal for small jobs.
Black & Decker 36v Cordless Chainsaw
Also lightweight but with the power to take on larger cuts and bigger jobs!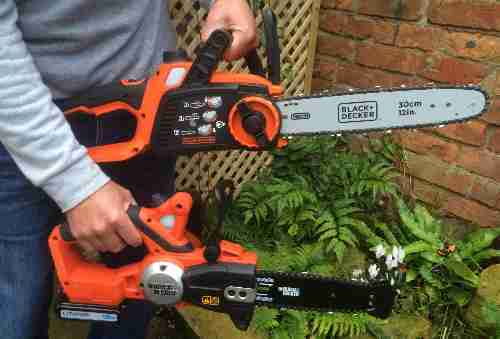 36v model compared to its 18v smaller brother
The B&D 36v saw was a good upgrade for users who wanted more power.
I say "was" because recently there have been many poor reviews and now it appears to be unavailable.
It had a 30cm, (12 inches) bar and the 36v 2 amp hour battery could be used in 4 other cordless tools.
I am now testing the Worx 40v cordless chainsaw that also has a longer bar, automatic oiling, easy chain tensioning and a working chain brake for safety.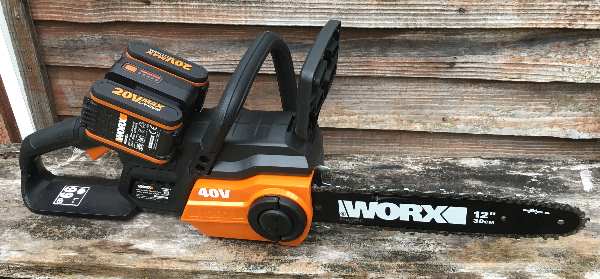 It runs off 2 of the superb Worx 20v batteries, which are sold separately and range from 2 – 6 amp-hour capacity. The design is a clear copy of my favourite Makita 36v chainsaw featured next on this page.
The Worx saw clearly does not have the build quality of the Makita chainsaw, but is cheaper. I will report here soon but reserve judgement as the smaller 20v Worx saw I tested recently leaked oil badly and failed the Fredshed test.
Worx also makes a more expensive 40v brushless WG384 version which should perform better. It has a 5cm longer bar and runs faster than the non-brushless version.
Makita 36v Chainsaw - Using Two 18v Batteries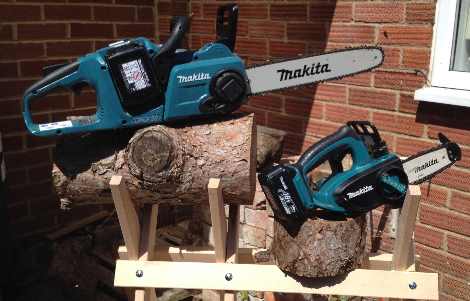 New DUC353Z 350 mm 36v model compared with the smaller 18v pruning model
This model is usually sold naked (without batteries or charger) and comes with a much longer (35cm) bar than the Makita 18v saw.
It replaces the Makita DUC 302Z that also used two 18v batteries but was not so well balanced and had a shorter bar.
The new model has a more powerful brushless motor and an easy tool-free chain adjustment mechanism.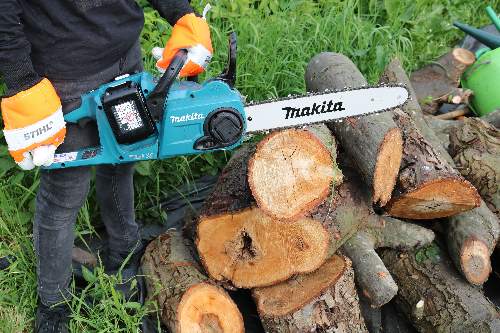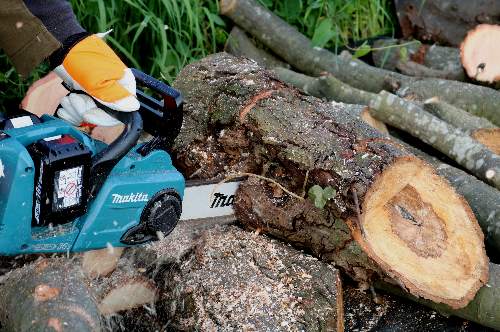 Cutting through thick logs in the Fredshed test
The DUC353Z 350 mm is powerful and light with all the features of a professional chainsaw.
If you want to buy a chainsaw to replace a small petrol model this is the one many professionals are buying for their smaller jobs.
Makita saws can be powered by a range of 18v batteries such as 3, 5 and now 6 amp hour batteries to give lighter weight or longer running time.
To make charging easier Makita offer a twin charger and the batteries can be used in over 100 other power tools.
Any cordless tool is only as good as its battery and as importantly its charger, and this is where Makita excell since is chargers cool hot batteries before charging which gives the fasted charging times and better longevity.
Makita launch a similar Makita DUC355Z  model with conventional screwdriver chain adjustment for the traditionalists.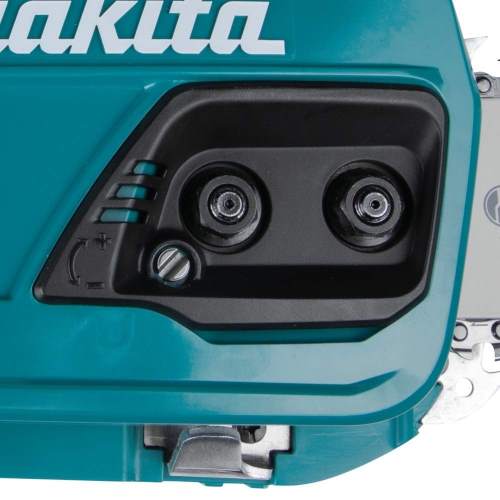 Less to go wrong but you do need a flat head screwdriver handy if to adjust the chain tension.
The Makita DUC355Z is the same as the one I tested above but does not have the tool-free chain adjustment.
Would You like to Support Fredshed?
If you found this page useful and decide to buy a chainsaw please use my links when you do as this helps keep my site going, thanks, Fred
Other tools that use the same batteries
Makita Cordless Chainsaw BUC122Z 18v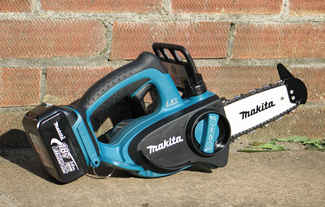 This "mini" Makita cordless chainsaw is usually sold without batteries and a charger.
It is a superbly made and effective chainsaw despite its unusually short, 11.5cm bar.
It is actually a top handled chainsaw so has been designed for professionals to use, up trees with one hand.
Finally in 2020 Makita has added a version with a longer bar and chain
My trusty BUC 122Z is 8 years old now and only needed a cog repair after someone abused it.
My Makita 18v 3 amp hour Li-ion batteries are still going strong after 8 years!
If you don't already have a Makita 18v power tool with batteries then there are 2 ways to buy the whole kit.
1. Buy the chainsaw naked and a drill or other tool that comes with a battery and charger.
2. Buy the chainsaw naked and the battery and charger below separately.
If you like Makita quality but want a longer bar and more power, the 36v model is actually cheaper to buy and runs off 2 of the same 18v batteries.
The Original Model Makita UC120DWA-EX is now discontinued but batteries are still available.
Bosch Easy Chain 18v Cordless Chainsaw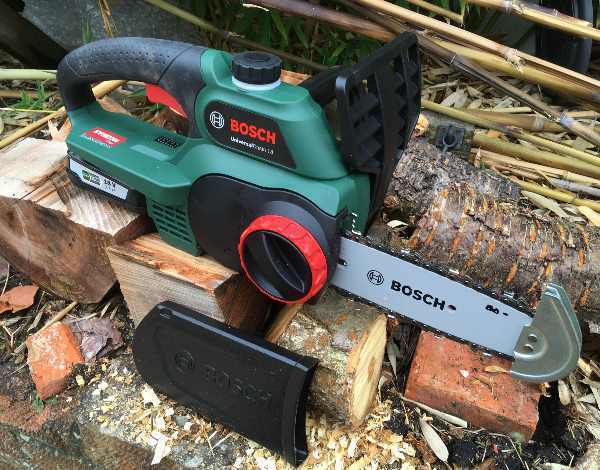 This new model was introduced in 2018 runs off an 18v 2.5 amp hour battery.
The Bosch 18v chainsaw uses the same tried and tested 18v battery that I use in my favourite cordless hedge trimmer the AHS 50-20Li.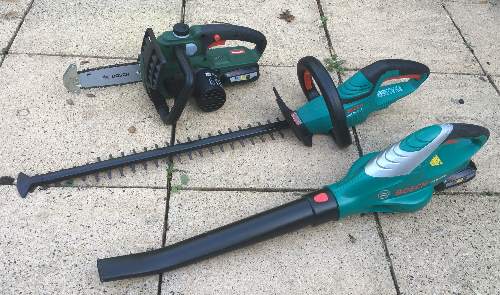 In fact, the battery can be used in a wide range of Bosch garden and DIY power tools.
The 20cm (10 inches) Oregon chain runs a lot slower than a petrol or mains electric saw but it is still up to the job of sawing 8-inch hardwood logs.
With the battery included it weighs a tad over 3kg and is well balanced.
It has an 80ml oil reservoir and a tool-free chain tensioning mechanism.
A full charge of the battery takes 95 minutes, an 80% charge takes 65 minutes.
The chainsaw can be purchased without the battery and charger if you already own other tools in the Power4 all range.
Bosch AKE 30 LI 36v Cordless Chainsaw
The 36v chainsaw has been discontinued but chains and batteries are still available.
2 amp hour,  2.6, or 4.0 amp hour 36v batteries are available for this chainsaw.
Stihl MSA 120C 36v Cordless chainsaw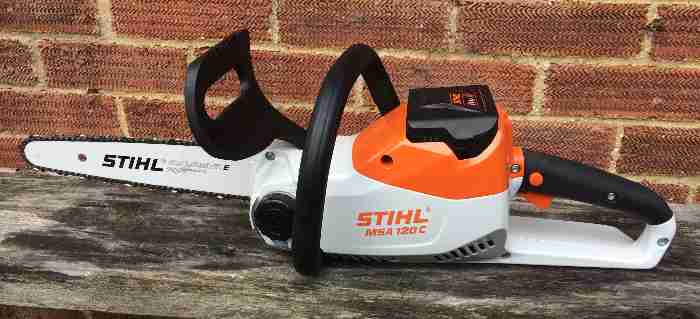 This superb saw from the masters of chainsaw technology weighs only 3.76 kg with a battery
It has a 32cm (14 inch) bar that is adjusted without tools.
There are 2 ranges of Stihl 36v Cordless Chainsaws and they use DIFFERENT 36v batteries.
The model shown above uses the cheaper compact AK batteries whilst the Pro range uses the AP batteries.
The compact range is the lightest but both battery types can be charged by the same chargers. There are several options for the bar length too.
Due to company policy, Stihl chainsaws can only be purchased from dealers and are not available online. The model number of Stihl cordless chainsaws will change in 2023 to show whether they are domestic or professionally aimed.
You must collect the saw from the dealer or have them deliver it to you. Prices vary from £350- £470 depending on where you go and what you can negotiate.
Greenworks 24V Cordless Chainsaw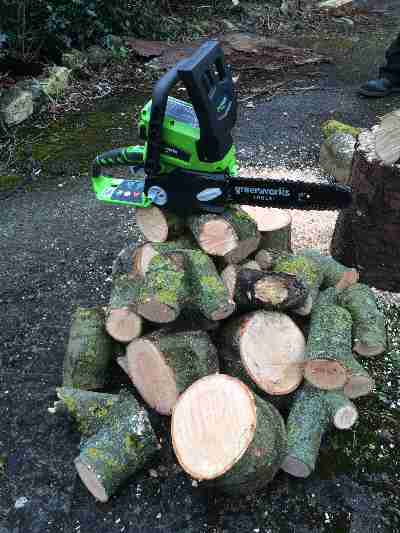 This whole pile was cut by one fully charged 24v 2 amp hour battery
The Greenworks cordless chainsaw is slightly more powerful than the Black & Decker 18v but is similar in most other ways.
It has a 25cm (10 inch) bar, which is about right for the power of the tool.
The main difference is that the chain tensioning device is simpler to use. As with the B&D, the battery can be used in a range of other tools too.
Performance is quite impressive although the saw did stop a few times, but only on the largest logs towards the end of the job.
Overall this is a very good chainsaw for the money and the battery is particularly good.
Long Reach Cordless Chainsaws
Also known as battery-powered pole saws these tools can save a lot of time when pruning small to medium-size trees. You will need to be reasonably strong but as the bar rests on the branch it is easier to use than a long reach hedge trimmer.
The new 2018 Bosch 18v model is designed for domestic use whilst the Stihl model is a top-quality saw suitable for domestic and professional use.
New 18v Bosch Model for the Power 4 All Range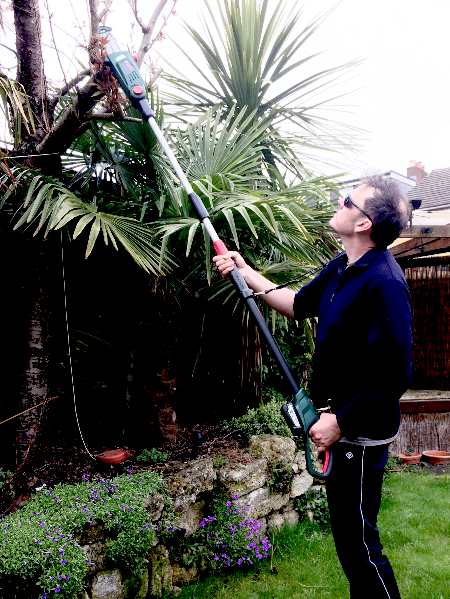 This well made, no gimmicks, pole saw has a telescopic handle, shoulder strap and multi-angled head.
The bar is 7 inches long, the chain is easily adjusted with an Allen key and is kept lubricated by an oil reservoir.
 If you have a lot of trees to cut you could buy a second 2.5 amp 18v battery for around £50.
As cordless pole saws go this is one of the best I have tried.
Black & Decker 18v Cordless Chainsaw and Pole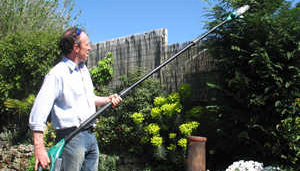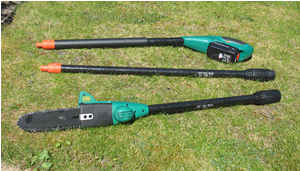 If you have a lot of trees to cut you could buy a second 2.5 amp 18v battery for around £50.
The saw comes apart for easier storage and can be used in 2 lengths as required, and extends to 2m. The 18v, slide in, Lithium-ion battery can be used in the short cordless chainsaw and several other B&D tools.
The new model with Li-ion batteries is now orange-coloured, not green like my old NiCad version shown above.
Although this is a domestic quality machine it does the job very well.
It cuts very well on branches over 1 inch but is no good on thinner stems. Also, as with any powered saw on a stick, because it uses a chain, the cut is a bit rough so take care on delicate trees.
Other tools in the 18v Black & Decker range
Stihl HTA85 Telescopic Cordless Pole-saw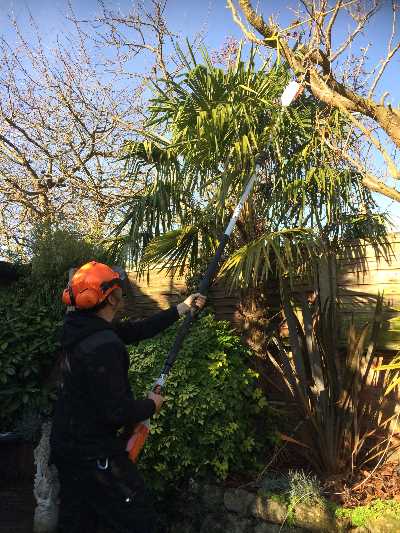 Stihl make 2 models of 36v pole saw, the smaller HTA65 is not telescopic whilst the HTA85 is and extends to 4.5m.
These are professional quality, superbly made tools that command a premium price.
Stihl power tools are not available online so see your local dealer if you are interested.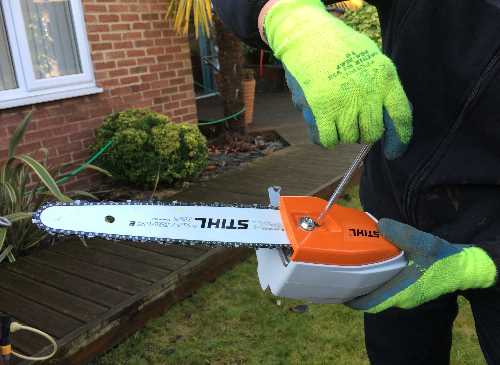 The chain tension is easily adjusted with the screwdriver supplied.
Cheapest And Best Chainsaw Oils
You will be hard-pressed to find a litre of chainsaw oil in the shops for under £10 and certainly not the superb Stihl oil. So use the links above to get a total bargain and help this site too.
Safety Gear For Using Cordless Chainsaws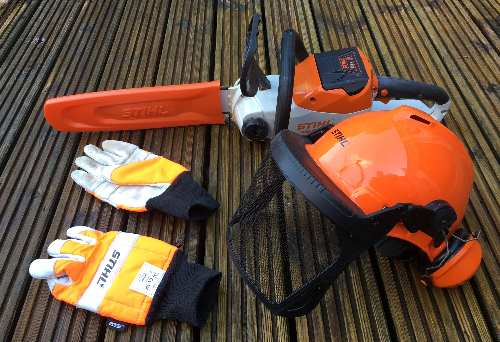 Always wear gloves, protective trousers and a hard hat with a visor when using chainsaws
Cordless chainsaws run slower than petrol and make less noise so you don't need ear protection but the rest of the kit is ESSENTIAL
Use the Link below for the best deal on a complete chainsaw safety kit.
Best Sawhorse for Cutting Logs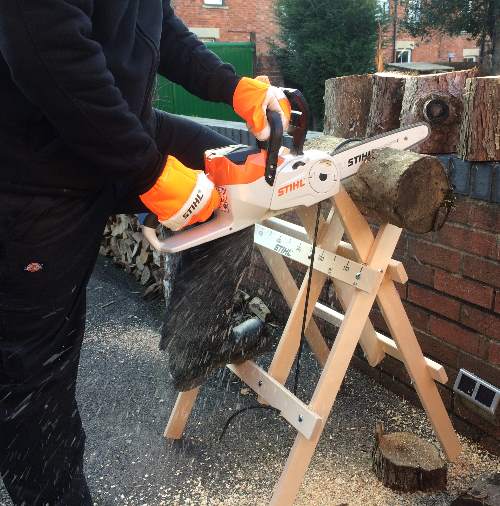 Best Sharpener for Chainsaws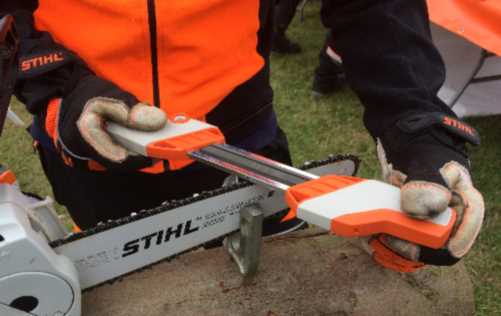 There is no point in having the best chainsaw if you don't keep the blade sharp.
Chainsaw blades are relatively complex and can be hard to sharpen properly.
Stihl has designed this unique tool that contains a flat and a round file to sharpen both blade edge types at the same time, and at the correct angle. 
The Stihl sharpener can be used on any make of chainsaw blade but you must buy the corresponding sharpener for your size of the blade.
The Stihl filing kit is more flexible and if you have a Dremel multi-tool the sharpeners for that are excellent.
Mains Powered Electric Chainsaws
If you want to buy a corded electric chainsaw my recommendation is Bosch.
They have a wide range, good performance and can be easily contacted for spares and repair.
The saws have no fancy gimmicks and all the features, including tool-less adjustment of the chain on the higher-end models.
Another good feature of the Bosch chainsaws is the longevity of the range which means that spares are also going to be around longer.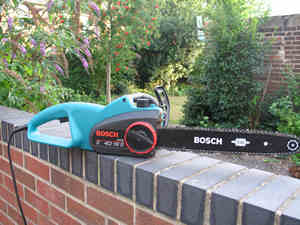 SCARED OF USING A CHAINSAW? - TRY A RECIPROCATING SAW FOR SMALLER BRANCHES
Reciprocating Saws With Coarse Blades To Cut Green Wood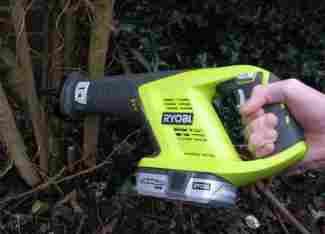 With the right blade, a cordless reciprocating saw can be great for pruning, especially in tight spaces! The universal blades are cheap to buy and easy to change. If you can run a cable then a mains powered saw will be cheaper to buy and more powerful.
The Ryobi one+ battery can also power a telescopic pruner that uses the same universal blade fixing.
For tree pruning, you can buy some excellent blades that are longer than the usual carpentry blades, cheap and have larger teeth spacing to cope with soft greenwood.
I use this tool all the time now and if I need to cut hard deadwood then I swap to the shorter, finer tooth carpentry blade.
240v mains recip saws are cheaper and have more power so worth considering too.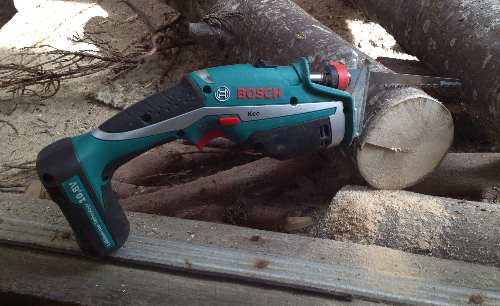 This superb little saw is lightweight yet surprisingly powerful thanks to its 10.8v Li-ion battery and clever gearing.
I have used it extensively to prune trees and to cut up old branches and build timber for my wood burning stove. 
A range of blades are available for different materials and I am particularly impressed with the metal hacksaw blade. 
There are a couple of little things I don't like about it; firstly the battery is built-in and secondly the connector to charge is hard to insert.
If you can live with these 2 small issues then it is a very handy tool.
The removable metal guard that holds branches is particularly useful and once you get your technique right you will be able to cut branches up to around 4 inches thick with ease.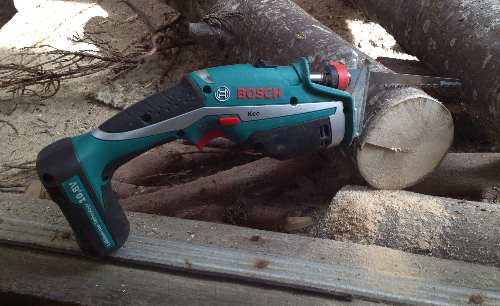 Despite its relatively small battery, the Bosch Keo is a tool that punches well above its weight!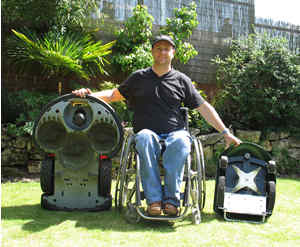 If you found my advice helpful and would like to support my work, please return to this page and use my links when purchasing your tools.
Also, any other products bought from Amazon at the same time will produce a small commission that helps cover my hosting costs.

Or if you prefer, you can make a small donation using the PayPal button below.

USE LINKS BELOW TO FIND MORE GARDEN AND DIY TOOLS