Tested and reviewed by Fred-in-the-shed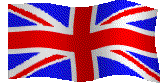 Updated 6th November 2023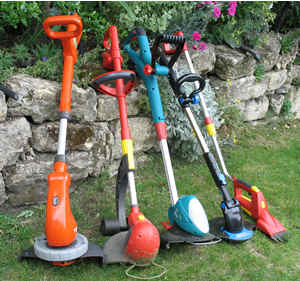 I test the Worx 20V Cordless Grass Trimmer
& compare to the Black & Decker 18v & 36V Strimmers
Cordless grass trimmers are far more convenient to use than mains powered trimmers. Until recently cordless grass-trimmers suffered from poor battery power and life that was aggravated by seasonal use and long periods of storage.
Due to the high price of a replacement battery, many of these tools ended up at the tip as soon as the batteries failed.
New lithium-ion technology makes these handy power tools far more viable since the batteries are more powerful and can survive long periods of not being used.
All new models use Li-ion batteries so my advice is not to buy any tool with the old Ni-cads as they will be discontinued soon.
BEST CORDLESS GRASS TRIMMER - Based on 3 year test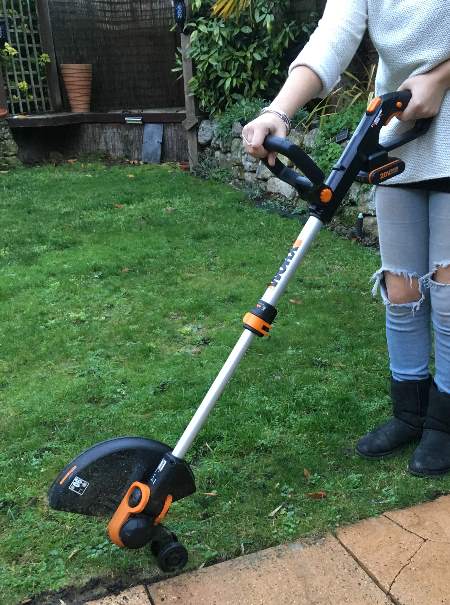 Powerful, well balanced, trim horizontal AND vertical edges.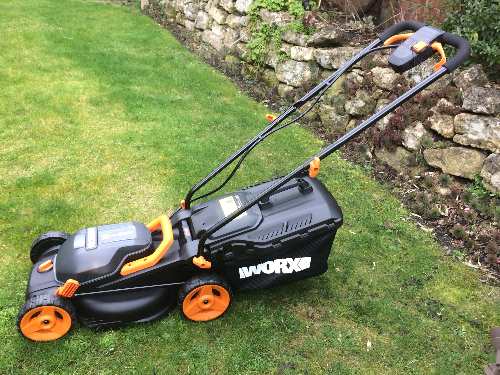 The same battery powers this mower and 30 other Worx and Wesco tools!
This 20v Worx model is my favourite grass trimmer because it outperforms any other I have tried.
It has a 23cm cutting diameter so is suitable for GRASS trimming on small to medium lawns but not thick weed and scrub clearance.
If you want to trim large areas or clear weeds then look at one of the 36v models further down this page.
The "USP" that makes it the best is the unique way that the head rotates for trimming vertical lawn edges.
This is the only strimmer of the dozens I tried that trims in-line with your eye which enables more accuracy when edging.
The replacement spools are much cheaper than other makes and discount multi-packs are available from other makes.
The trimmer is available as a bare tool, or with 1 or 2, 20v, 2 amp hour batteries.
The same, 2 amp-hour battery fits the Worx cordless chainsaw, mower, hedge trimmer and dozens of other Worx power tools.
If you have a really large lawn you can buy it with 2 batteries or get a 4 amp hour battery that runs for twice as long.
If you are buying this superb trimmer please use my links to help keep Fredshed online for another 20 years!
If the Worx model is not available then this 12v Black & Decker is the next best thing and also cheaper.
BEST HEAVY DUTY CORDLESS GRASS TRIMMER - Based on 3 year test
Bosch 36V Cordless Grass Trimmer Review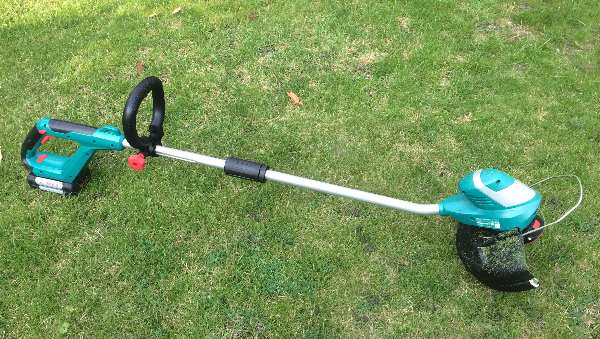 Bosch ART 30-36 – Battery Strimmer for Larger Lawns or weed clearance
This is the biggest trimmer made by Bosch and uses a dual-line made from a new ultra-tough material.
It is available with or without a 36v 2 amp hour battery and charger.
This is great if you already have the mower or any of the 36v Li-ion batteries that have been tried and tested over the last 12 years in the Bosch Rotak mowers.
The build quality is very good and it cuts like a demon. Weight and balance are good but would be better with a harness.
The Advancedgrasscut 36 has a fitting for a harness but none is supplied – use the link below if you want a suitable one.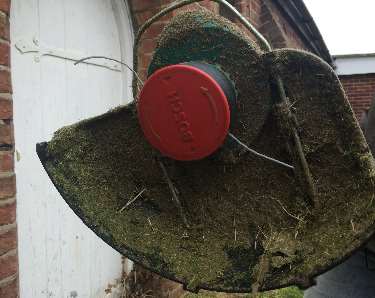 A Bosch replacement spool with 6m of line costs around £8 or you can buy a cheaper line to fit your empty spool if you like fiddling around.
A heavy tool like this really improves with a harness.
If you want a cordless strimmer with the option of a metal blade then see link below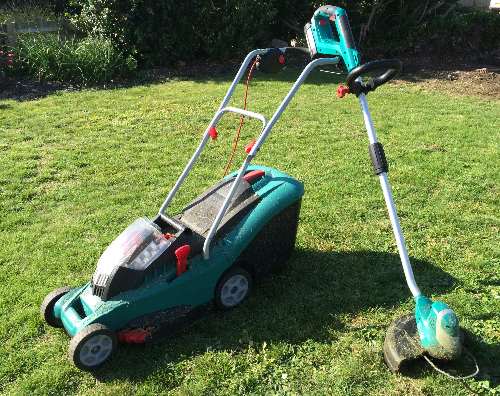 Bosch ART 30- 36Li Cordless Grass Trimmer & Rotak 37Li Mower
BOTH CAN USE THE SAME BATTERY
Different size replacement batteries are available
2.0 amp hour is supplied but 4.0 amp-hour replacement 36v batteries can be used if you can handle the extra weight.
The heavier 4.0 Ah battery is designed for the mowers where you need more power.
If you are cutting large areas of grass or thick weeds then the 36v Bosch trimmer has plenty of power.
If you are buying this superb trimmer please use my links to help keep Fredshed online for another 20 years!
If you want a heavy-duty cordless trimmer with a metal blade for clearing scrub use the link below.
Small Lightweight Cordless Grass Trimmers
Black & Decker STC 1820-GB 18v Lithium-ion Cordless Grass Trimmer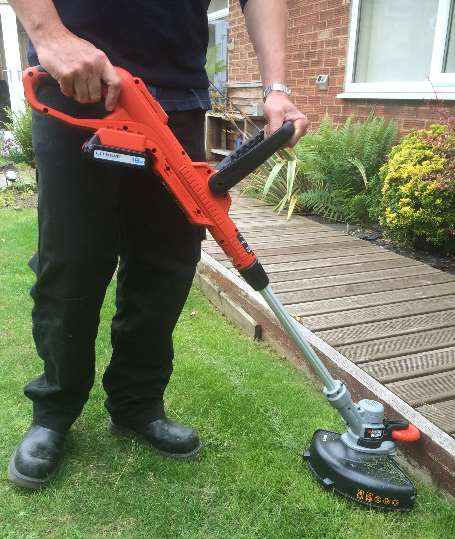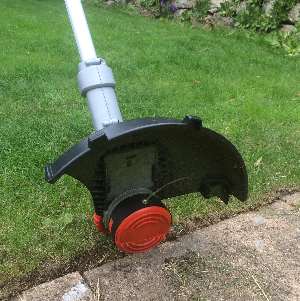 This small strimmer uses the standard nylon line in a spool and a slide-in 18v Lithium-Ion (Li-Ion) battery that holds 2 amp-hours of charge. It can be recharged in 2 hours and gives a run time of around 20-30 minutes. I love this strimmer as it is light enough for me to use from my wheelchair and the spool has never got stuck. It is quiet and easy to adjust for people of different heights.
A nice feature is a wheel that enables easy trimming of lawn edges. Just turn the tool on its side and run it along the edge. The handle has telescopic height adjustment with a good range and the line gives a 28cm cut.
On the handle, there is also an extra button to switch between eco and turbo mode. The idea is to gain extra battery time by using less power for lighter work. Does it work? Yes, use the low setting just for grass edging, and the high setting for thick grass or weeds.
A unique accessory can transform the tool into a mini mower by attaching a small deck with wheels on. This was an idea I had years ago and was really chuffed to see it appear, and even more chuffed to try it and find that it is ideal for a quick tidy when my small lawn occasionally grows in patches.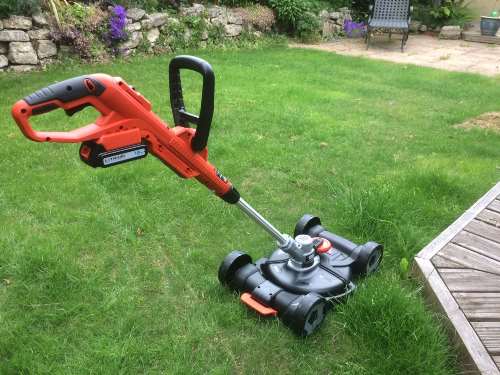 Trimmer showed with optional mowing deck attached
I would like to make it absolutely clear that the deck will not replace a lawnmower on anything but the smallest lawn and even then you would have to keep the grass fairly short as the decking attachment is useless on long grass. The reason for this is that the deck prevents the grass from clearing so for long grass use the strimmer without the deck.
I have used this product over 3 seasons and am pretty impressed, it also uses the easily available and cheap A6481 spool.
Heavier Duty B&D 36v model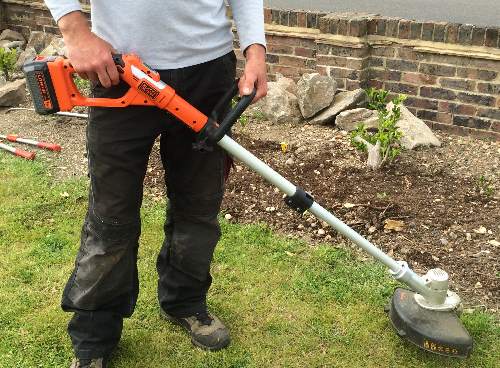 This model has a 2 amp-hour 36v Li-ion battery so is heavier but more powerful than the 18v and 20v models.
It has a 30cm wide cutting diameter which is wider than all the 18v/20v models.
If you have a really large lawn or long rough areas to strim this is ideal and cheaper than the Bosch 36v model above.
Bosch 18v Cordless Grass Trimmer Range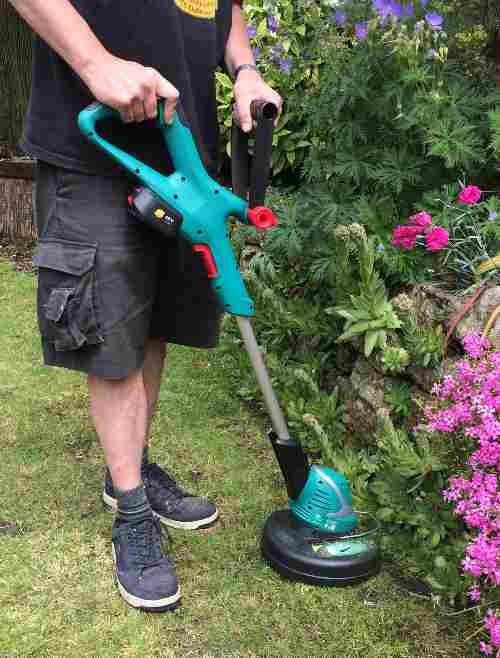 Bosch 18v cordless trimmers are supplied with 2.5 amp hour batteries or are sold bare.
These ART23 and ART 26Li trimmers used small plastic blades instead of a nylon spool.
Some people dislike the plastic blades as the original ones were brittle Nylon that broke easily when you trimmed against concrete paths or along brick walls. 
To counter this failing Bosch introduced a new type of plastic blade that is much tougher and is called the Durable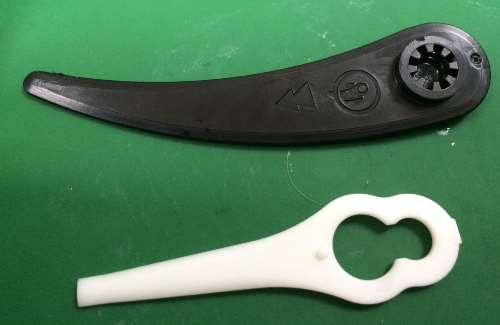 I tested these improved blades and can confirm that they are tougher and I found it very difficult to damage one, even running it along grass growing against a brick wall. Having said that I think if you are going to trim along hard surfaces a line trimmer is better. Plastic trimmer blades are a bit like marmite, people love them or hate them.
Bosch discovered most people hate them and have now discontinued grass trimmers with plastic blades.
The new models are called the EasyGrass cut UniversalGrassCut.
Plastic Blades for Discontinued Bosch Cordless Trimmers
GTECH ST20 - became GT 3.0 then GT 4.0, and now GT50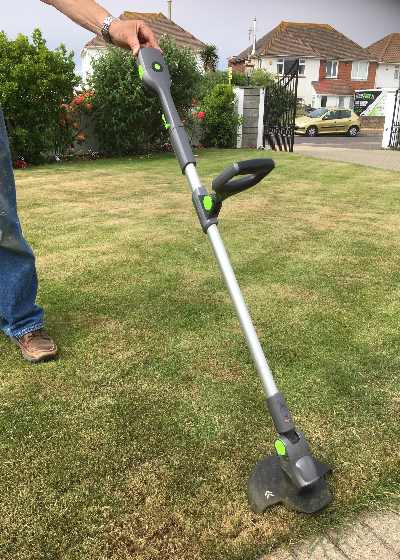 This is similar to a Bosch ART26Li 18v trimmer with the swivelling head and plastic blades instead of a nylon spool.
When I tried the ST20 it seemed like a fairly good tool, even though I am not keen on plastic blade trimmers.
Since then it has gone through many names and minor spec changes.
I am aware from my readers and many reviews that the Gtech GT 4.0 had a problem with the blades melting, or breaking and flying off.
The blades always were more brittle than the Bosch blades but were marketed as free for life.
The "free" offer was subject to a large postage cost – not impressed!.
I am very disappointed with the way Gtech keep changing the model so until I hear more I am reluctant to recommend the new Gtech GT50.
Small Battery Powered Electric Grass Shears
Metal Bladed - "Clipper Type"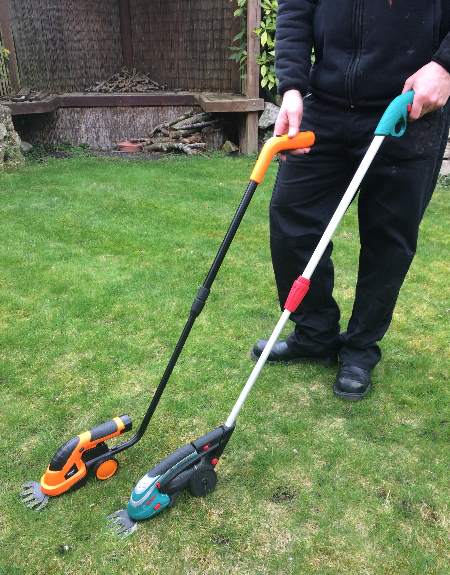 Alternative to Nylon Cord Grass Trimmers
Electric trimmers that cut with a Nylon cord often fail to self-feed and can be hard to replace or find a replacement cord.
Plastic blades are easier to replace but have a nasty habit of breaking when they hit something hard like a path or edging material.
For small jobs, I prefer an electric version of the sheep shear that has long-lasting metal blades and a lithium-ion battery that can run for up to 60 minutes.
This type of tool has been around a long time and is well tested. The Bosch Isio is the most versatile as it can be fitted to a telescopic handle and have wheels attached.
You can also turn your Isio, into a small hedge shear.
With a few simple clicks, you can remove the grass shear blades and replace them with a small hedge trimming blade!
The Terratek trimmer has a 7.2v battery whilst Bosch only has 3.6v. This makes quite a difference in the time the trimmer will run and the type of material it will trim. As with the Isio, the battery is built-in which is not very environmentally friendly in my opinion. The Von Haus model has been discontinued but a similar tool is available under the FixKit brand.
For the money, it looks excellent and my tests on similar Chinese products were very good.
If you want an even heavier duty version the Worx Zen model uses 20v batteries and can be bought naked so you can choose the size of the battery to buy separately.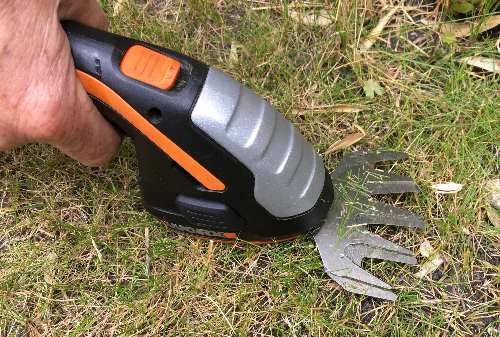 NEW IMPROVED BOSCH ISIO - MUCH EASIER TO SWAP BETWEEN BLADES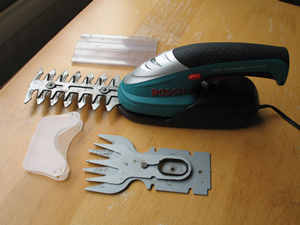 Grass AND shrub trimming from one tool
The Bosch ISIO can be converted from a grass shear to a small shrub trimmer in seconds and is surprisingly efficient. Running time is very good thanks to the Li-ion batteries and I get 20 minutes of use which includes some woody shrub material. The battery will last between re-charges when cutting softer material.
The latest version of this tool has anti-jam electronics that stops and reverses the blades the instant resistance is detected.
Stihl HSA 26 - Tested and Reviewed by Fred
This superb tool is like the Bosch Isio on steroids!
It has a 10.8v, removable Li-ion battery, a wider blade and superb build quality.
It comes with a handy case to hold the charger and shrub trimmer blade.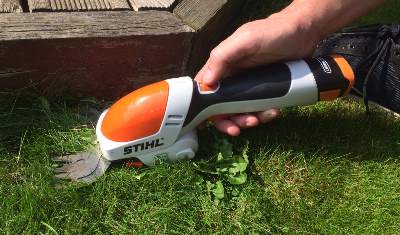 Choosing the Best Replacement Trimmer Line
Improve your trimmer's cutting performance with an advanced design replacement line.
If you want to strim thick tough material like weeds then buy a star-shaped or twisted line.
If you just trim the grass at the edges of your lawn and want a nice finish then get the thinnest, normal round profile line as this will cut cleaner and neater.
If you found this page useful and decide to buy this grass trimmer at a later date please come back and use my links as this helps keep my site going, thanks, Fred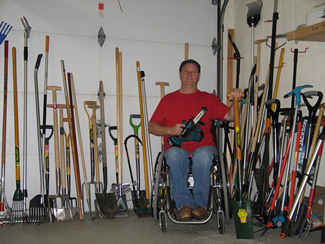 If you found my advice helpful and would like to support my work, please return to this page and use my links when purchasing your tools.
Also any other products bought from Amazon at the same time will produce a small commission that helps cover my hosting costs.

Or - if you prefer you can make a small donation using the PayPal button below thanks, Fred

USE LINKS BELOW TO FIND MORE GARDEN AND DIY TOOLS