Mains Powered Electric Mowers
Tested and Reviewed by Fred-in-the-shed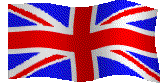 Updated 21st November 2023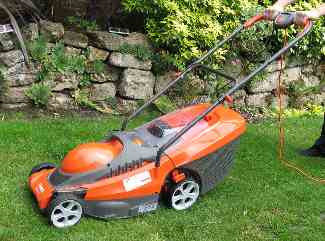 Stay on this page for mains powered electric mowers
Over the last 20 years, I have been testing and reviewing new garden products and many electric mowers for this website.
In the UK many people like a striped lawn so most of these mowers will have rear rollers. 
On this page I will review the best mowers I have used, starting from the smallest.
If you find my information to be useful and you buy a mower you can help this site by using the links provided when you make your purchase,
thanks, Fred
Best Electric Mower For Small Lawns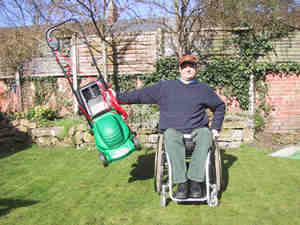 The Bosch Rotak 32R is designed to be powerful enough for rough lawns, but light enough to be carried in and out of your house or shed.
It is ideal for small lawns that are sometimes not cut as often as they should be.
It is simple, light, strong and reliable, so should not burn out a week out of warranty like some cheaper models. It weighs 6.8kg and has an a1200W motor, Variable cutting heights A simple, cheap blade, that can be easily sharpened or replaced.
Bosch Rotak 32 and Rotak 32R
Just to confuse people Bosch make 2 very similar mowers, with very similar names.
The Rotak 32 has a slightly larger box than the old Rotak 32  and has side fins.
The Rotak 32R is the same but with a rear roller, so it makes stripes on your lawn.
The Rotak 320 is being replaced by the Rotak 32 which has a larger motor and box!
Only the 32R has the rear roller for stripes
I think the Bosch Rotak 32R is the best value small mower
Until recently many of the Bosch mowers featured on this page were manufactured in the UK in Stowmarket, Suffolk.
Some Flymo mowers are also made in the UK, in Newton Aycliffe.
At Fredshed I like to support British factories and workers and take the time and effort to research the provenance of every product I test and review
You can help Fredshed continue this work wherever possible using the links on my website when you purchase any of these products. It will cost you nothing extra and your effort will support my site, my work and UK workers manufacturing products in our country. I will, where possible and when appropriate support the manufacturing of products in the UK in preference to the far east.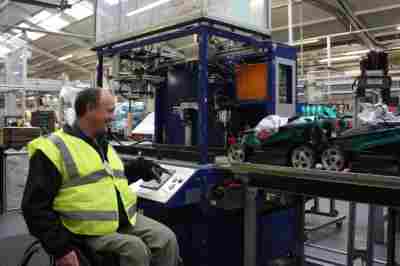 This is me in the Bosch mower factory in Stowmarket Suffolk (closed in 2019).
Other UK Made ? Small Electric Mowers
Flymo Visio & Chevron Mowers 32 inch cutv
Replaced in 2020 by Easi-Store Models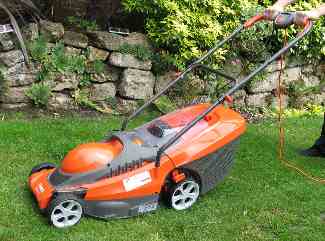 Flymo Chevron 32 (on my lawn)
Flymo is owned by Electrolux and have a factory in the North East of England. The brand has a long history in the UK and is famous for its Hover mowers.
The company also make some good, small size rotary mowers that offer an alternative to Bosch. Model numbers and specifications change so quickly that I am unable to keep up so please excuse the lack of info here. I would rather provide less info than the wrong info. Parts are easily available online but what you won't find easily is service and repairs as sadly most lower-priced electrical goods are seen as disposable if they go wrong.
Spare blades are easily available – see link below
Bosch Mower With Slightly Larger 34cm cut - Bosch Rotak 34
If you have a small lawn but want a wider cut or a few more features, the Rotak 34 is the one.
 The Bosch Rotak 34 is a powerful, (1300w) quality mower at a reasonable price. It has all the necessary features and no gimmicks. You can get similar looking mowers for less money but this one will last and is easy to use. It has a 340mm cut and wide, well-made wheels, and the required roller for our beloved stripes. Any foreign manufacturer who supplies mowers without a roller should be aware that Brits love stripy lawns and a mower without a roller to us is like a car without wheels. (or tea without milk)
The Rotak 34 has a single lever height adjustment and the handles fold for better storage. The reviews and feedback from my readers are mostly very good.
If you want a slightly larger mower a good alternative is the new Flymo EasiMow that has similar features, great reviews at about the same price.
Best Electric Rotary Mowers For Larger lawns
BOSCH ROTAK 36R , Rotak 37 Ergoflex , Rotak 40 Ergoflex and Rotak 43 Ergoflex
Larger Models Being Replaced By Advanced and Universall Rotak in 2020
ALL WITH GRASS COMBS, SO CUTS RIGHT TO THE EDGE
BEST ALL ROUND ELECTRIC MOWER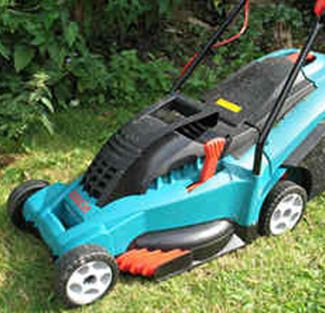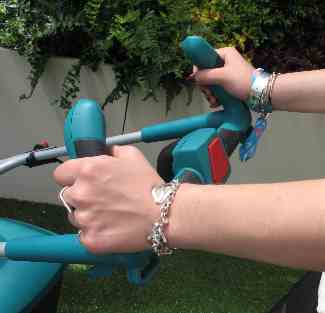 If this is not available then try the model below which has some great features and costs less.
The 36R and above all have the new Ergoflex handles and roller for stripes.
Ideal for mid size lawns, compact storage of handles and box.
The features I like about the Bosch Rotak range are
Powerful but quiet motors, the Syneon chip makes sure power is delivered when needed.
Solid, easy to empty grass box with minimal blowback of dust. One lever height adjustment – with cut height written in mm
Cut right up to the edge with the grass combs and inset front wheels
Sturdy wheels with a small rear roller to help produce the stripes we love to see.
The best feature of these Bosch mowers is the Powerdrive motors which are the most robust available. Although it is mentioned on a couple of internet reviews I have not heard of one failure of these motors from my readers and I get thousands of e-mails every year.
Electric mowers can suffer from overheating so make sure you keep the vents to your motor clear of dust and dead grass.
I vacuum the vents on my electric mowers regularly to help the motors stay cool.
The advantage of this type of motor is that it delivers the power instantly so that it is not so easily strained when started up on long grass.
The Bosch Rotak range includes 5 machines cutting up to 43cm with a 1700W motor.
NEW RANGE OF LARGER MODELS FOR 2020
Bosch is replacing the larger models with 3 new "advanced Rotak" models that have quieter motors, height adjustable handles and folding grass boxes. Sadly these small improvements come at a considerable price increase so unless you really need them I would say that the standard Rotak ranges are better value and worth buying while still available.
Turn Your Larger Bosch Mower into a Mulching Mower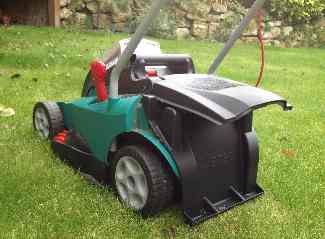 The accessory above converts the mower to a mulching mower. This means you don't have to empty the grass box and that the finely cut clippings are absorbed back into your lawn and add nutrients to keep it healthy. This can save you time and money as you won't have to use as much lawn feed.
There have been some mistakes on websites regarding which models this multi mulch fits.
It does NOT fit the 32, 34 or 36 models, despite what the link below says.
New Rotak mower blades with improved design to shred leaves from your lawn!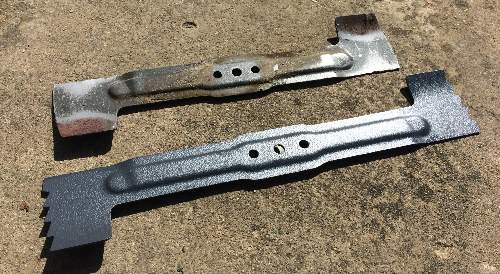 The latest Bosch Rotak blades have been improved by adding crenulated fins at the ends. These fins cut the grass as normal but have the advantage of also being better at smashing up leaves so they are collected better. This blade is only available for the largest models, Rotak 40 and Rotak 43.
Cobra Electric Mowers - All with Rollers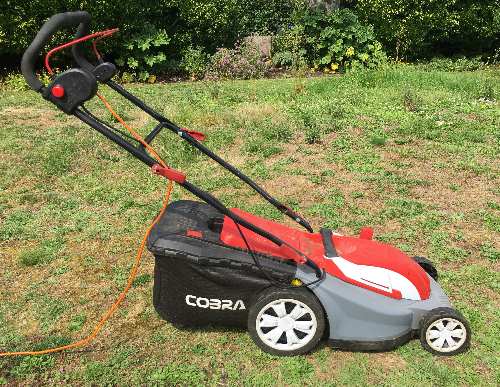 Cobra is a relatively new brand owned by one of the most experienced UK garden machinery dealers.  As with most brands the mowers are made in the far east but to UK specifications which is why they all have rear rollers for that striped effect.
The GTRM34 has a 34cm cut and 1300w motor and the GTMR38 has a 38cm cut, and a 1600w motor.
These Cobra mowers have all the features you need and no frills or gimmicks.
This 38cm model has better specifications and offers a cheaper option than the Bosch Rotak 36R.
The Pros and Cons of the Hover Lawnmower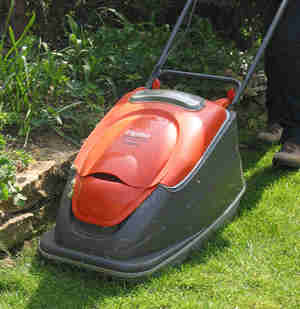 This is the Flymo vision, it was one of Britain's best selling lawnmowers and is now been remodelled as the Glider. The idea is that it floats effortlessly on a cushion of air, and the plastic window allows you to see when the grassbox is full. Great… However…
Whilst cutting it may float on air but you might give yourself a hernia carrying it from the shed.
As you start it and before it floats, the strain on the motor hitting the grass can be substantial and Flymo recommend that you tip it on its side.
If your lawn is bumpy the machine will not float as well and could scalp your lawn leaving ugly patches.
As the grass box fills up the weight will make it harder for the mower to float.
Flymo tried to address this with the Ultra Glide model with 2 motors, one for the blade and one to supply lift.
Whilst this may help it is very inefficient and makes the mower over-complicated and expensive for what it is.
I think the hover mower should stay as it was originally designed and not have a grass box.
Like my original petrol Flymo. I even attached one to my wheelchair to turn myself into a self-propelled mower!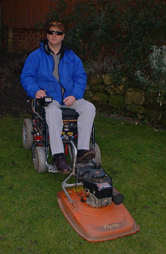 It had an extremely powerful motor, was ideal on rough grass and did not collect the cuttings.
I take my hat off to Electrolux for superb marketing and innovation with electric, domesticated hover mowers but I am not a fan.
Flymo spares are easy to get hold of as long as your machine is not too old.
To be realistic expect budget price electric mowers to last about 4-5 years, any more that that is a bonus.
Originally Flymos never had grass boxes and I think these are still the best as the grass box adds weight when full and causes the mower not to float as well.
The cheap and light microlite had plastic blades but now the smallest hover versions are called Hover Vac 280 and Turbo lite 330 and both now have metal blades.
The Flymo vision was a well-made machine and cut most lawns reasonably well. If you like the style get one, otherwise I would recommend a rotary mower with wheels, which is likely to last much longer as there will be less strain on the motor.
Flymo also makes wheeled rotary mowers, including a clever compact folding model to save on storage space.
Smallest Hover Mower that collects grass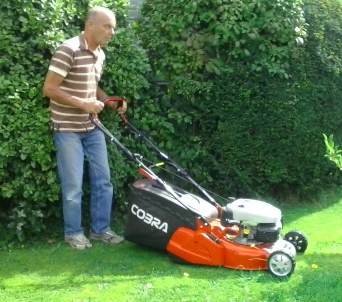 As a fan of battery-powered mowers and not having a massive lawn I now have little involvement with petrol-powered mowers.
I did in the past and still keep an eye on the market and new developments.
If you can afford it go for a premium brand like Hayter or Honda and if you can't then I recommend Cobra.
Cobra is designed in the UK but made abroad to lower costs. The brand is fully supported by people I know.
Petrol mowers do have the edge over battery when it comes to self-propelling and longer grass.
The big negatives are frequent servicing and starting problems.
How to Change or Sharpen a blade on a Rotary Mower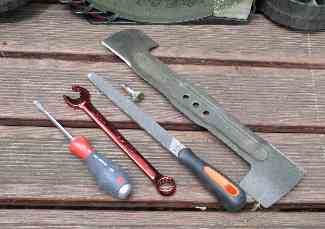 Tools required to sharpen a blade on my Bosch Rotak 37Li
1. medium-size screwdriver with round shaft
2. 17mm spanner, sharpening file (as shown above)
(use a ring spanner if you can as it is less likely to slip)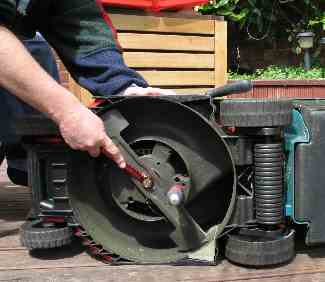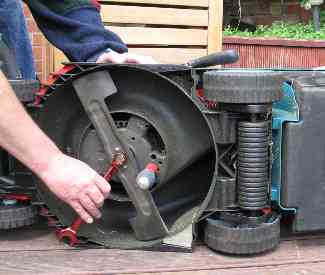 The same procedure and tools will work for most Bosch mowers
1. unplug or remove the battery,
2.  Tip mower on the side as shown
3. Turn blade to 11 O'clock, insert a screwdriver in the hole to block blade movement
4. place spanner at approx 11 o'clock to match blade
5. push spanner down, or tap with mallet or bit of wood if stuck
Don't forget to check your blade for balance before you re-fit after sharpening.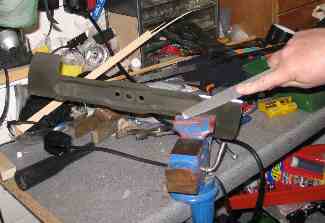 Place blade in a vice or clamp, file at an angle across the blade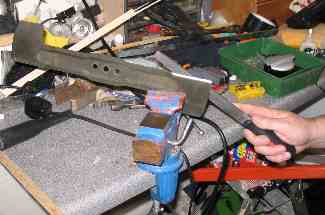 When the blade is shiny again file the back side flat to make a sharp edge
Refitting the blade is simply the reverse of removal.
If you have taken off more than a smidgen of metal then your blade will need rebalancing otherwise it can strain the motor.
Blades can be checked for balance by spinning on a pencil or you can buy the cone-shaped gadget to do this.
You may wish to wear gloves and spray a bit of lubricant on the bolt before putting it back.
My favourite lube is lavender scented GT85 and the UK made.
How to Sharpen a Blade on a Cylinder Mower
The easiest and cheapest way of sharpening a small cylinder mower is the use a kit that is basically a strip of abrasive that fits above the cutting plate and below the cylinder blades.
You then lower the cylinder slightly until there is some contact and then run the mower. I have used this kit many times with good results.
Cobra GTRM34 34cm (13in) Electric Lawnmower with Rear Roller – Powerful 1300w motorfont>
Best Selling Small Electric Cylinder Mower
The Qualcast Concorde - now discontinued
The Qualcast Concorde was around for many years and was so well designed that millions were sold. Sadly it is no longer available so if you have a small-ish lawn and like the fine cut of a cylinder mower then have a look at the options below
Go Green with a push mower!
If you cut your lawn regularly a push mower is an easy tool to use and has many advantages
1. It will help keep you fit
2. It uses no fuel except burning your body fat)
4. It is mechanically simple and is unlikely to go wrong
5. It is cheap to buy and run
Tried and Tested Push Mowers
Electric Lawn Rakers and Scaryfiers Tested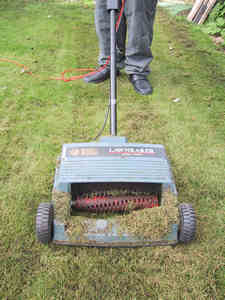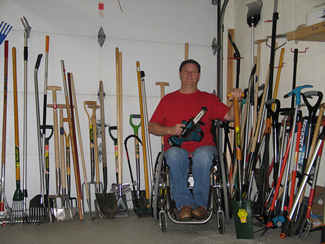 If you found my advice helpful you can support my work by returning to this page and using my links when purchasing your mower. 
Also, any products bought from Amazon using the links below will produce a small commission that helps cover my hosting costs.
Or if you would like to make a small donation to Fredshed please use the paypal button below. thanks, Fred 

USE LINKS BELOW TO FIND MORE GARDEN AND DIY TOOLS