Cordless Battery Powered Mowers
Tested and Reviewed by Fred-in-the-shed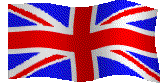 This page is for UK based gardeners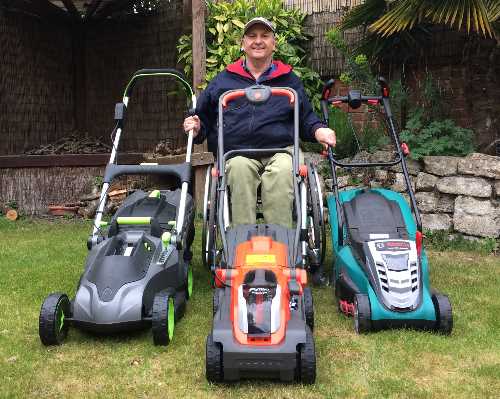 Here I am testing the Gtech Falcon, Flymo Mighti-Mo and Bosch Rotak 37Li
Battery Powered mowers have been around for decades. They were originally designed for small lawns or those far away from mains power.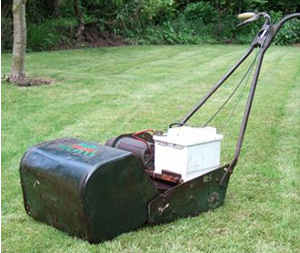 But they were very heavy like this Webb battery mower I used 40 years ago.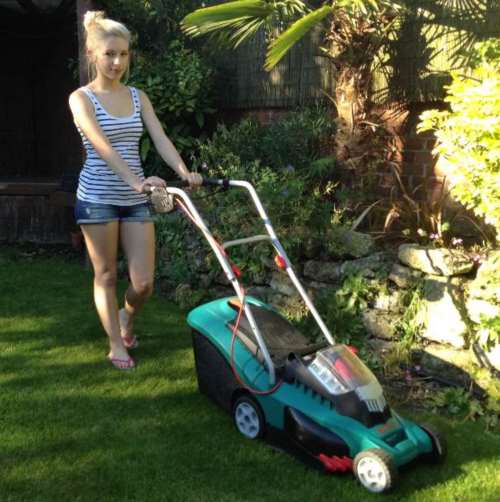 The first version of the Bosch Rotak 37Li – tested in my garden in 2007, and still working.
Today, thanks to new battery technology, cordless mowers can cut large lawns.
They are also safer as the lack of cable reduces the risk of tripping & electrocution.
Best Cordless Electric Rotary Mowers
Entry Level Budget Price Cordless Mowers
Lawnmaster 24v Cordless Mower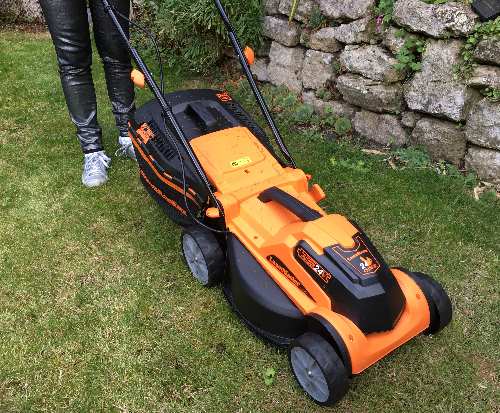 The smallest cordless mowers available in the UK use 18/20v or 24v Li-ion batteries and are designed for small, frequently mowed lawns.
They have either a 30, 32 or 34cm cut and an average run time of about 20 minutes depending on the battery size.
The Lawnmaster 24v mower is the latest to enter the market and is enhanced by clever electronics and a brushless motor.
The motor senses when the grass is thicker or longer and the battery then gives it more power.
This feels a bit strange at first but works a treat and is a great improvement.
The Lawnmaster comes with two 4 amp-hour 24v Samsung Li-ion batteries and a 1-hour charger.
This 34cm blade mower is suitable for lawns up to 300m2 IF you cut it regularly!
The mower was easy to assemble, has a rear roller, mulching plate and is supported by a UK based distributor.
Use code Fred10 at checkout
Flymo 40v 30cm and 34cm wide cut models with rear roller
Under Testing, On My Lawn - By The Mighty Sarah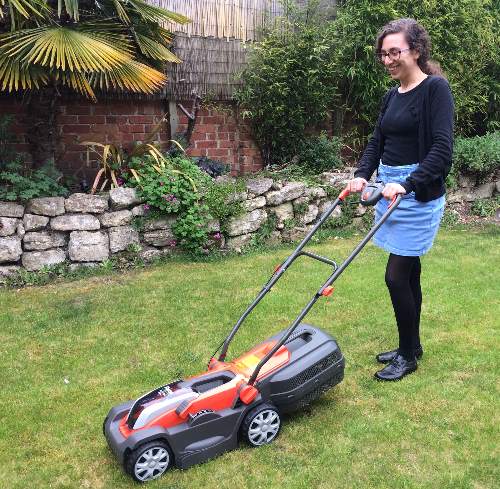 The Mighti-mo was the smallest cordless mower available in the UK. It had a 30cm cut and a run time of 25 minutes.
It was a decent mower but suffered from problems with its battery.
In 2021 the Mighti Mo is replaced by 2 new cordless mowers from the EasiStore range.
The models use two 20v batteries together to make up 40v of power but you can use one to power a hedge or grass trimmer.
Yardforce 40v 32cm, 34cm and 37cm wide cut models with rear roller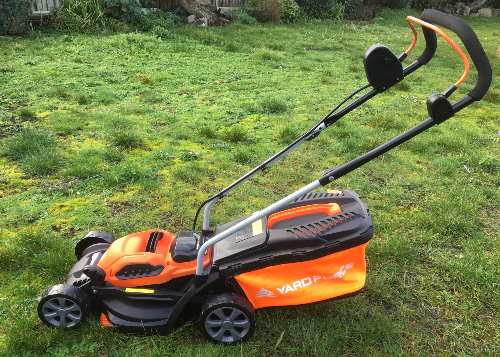 Yardforce is a relatively new Chinese company that is making waves with hi-spec mowers at low prices.
I am testing the Yardforce 32cm model which has a small rear roller and most of the features found on better models.
The body looks a bit flimsy but is adequate for domestic use but the battery is top quality Samsung 40v with 2.5 amp-hours.
I bought the original (not brushless) model with a grass trimmer and both function well and passed their first year with flying colours.
The 2 new and larger 2021 models have brushless motors so should give more power and squeeze more runtime from the battery.
Yardforce 40v 32cm, 34cm and 37cm wide cut models with rear roller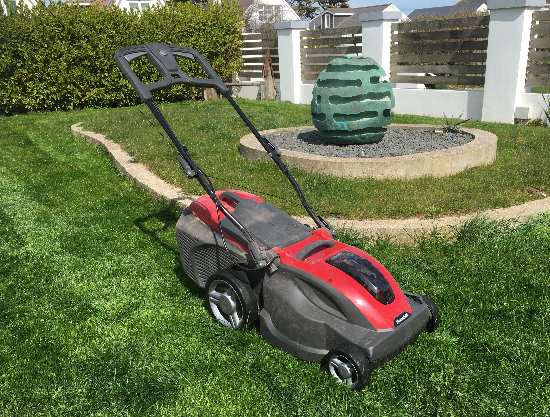 2021 model Mountfield Princess 48v cordless mower undergoing Fredshed testing.
Mountfield is a long-established European mower company that has launched a new range of high spec cordless mowers for 2021.
The big improvement is the brushless motor and 48v Li-ion battery.
The mowers are made in Slovakia and the batteries in Italy.
All models in the 48v Freedom 500 range have rollers for stripes and come with a mulching plate included.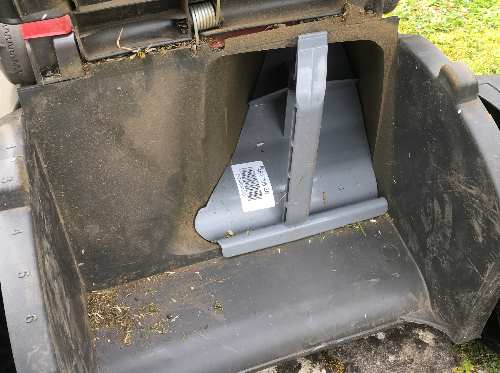 6 models are available, I am testing the 38Li with a 38cm blade for lawns up to 350m square.
There are several features I love about this mower like the grass box that holds the full amount.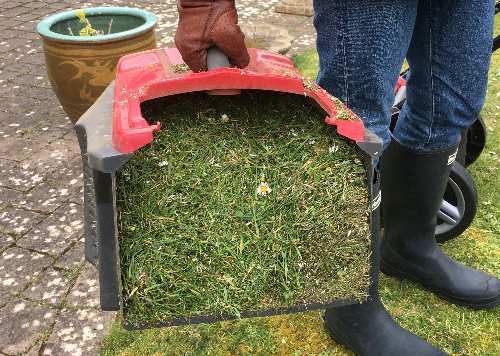 The 34li and 38Li come with single and 2 x 2amp hour batteries and the 43li one has a 4 amp hour battery.
Greenworks 40V Cordless Mowers
No Roller but Mulching Plate Included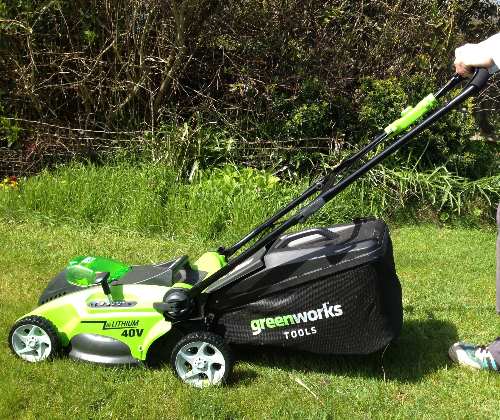 Greenworks cordless mower under testing on the Fredshed lawn.
Chinese manufacturer Globe Group owns the Greenworks brand and makes many of the batteries for European brands. It also makes several ranges of its own cordless tools from 24-80v. Whilst an 80v mower sounds great I think that for domestic lawns that are reasonably well-kept 40v is ideal.
The two 40v Greenworks mowers I tried are keenly priced and both cut very well and are reliable and easy to use.
The 35cm cut version shown above is especially good value with its 40v 2 amp hour battery.
Several models are available but the one on the link below is ideal for small lawns up to 350m square if cut regularly.
Greenworks also make models with 2 smaller 24v batteries and the 2 below both have a mulching function.
These are superb mowers and apart from the lack of a roller for stripes are a good alternative to the Bosch Rotak mowers.
Best Cordless Mower ? The Bosch Rotak Li Range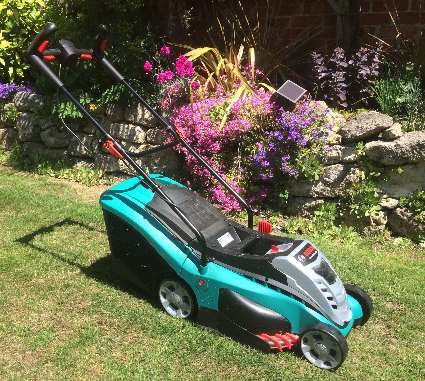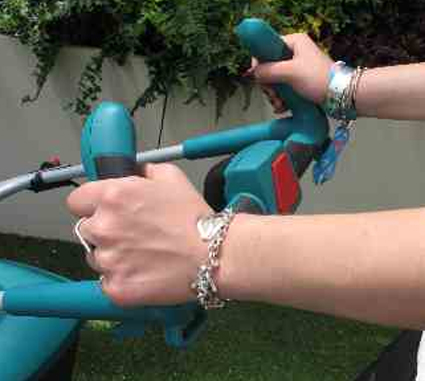 BOSCH ROTAK - VERSION 2 - WITH GRASS COMBS & ERGO HANDLES
(Version 3 with the super quiet motor out now -see further down the page)
Bosch pioneered the breakthrough in battery technology for mowers
The Bosch Rotak Li was launched in 2007 and was the first mower to have a lithium-ion battery.
I had one of the first and it still works today – (but the battery died after 8 years)
The Bosch Rotak 37Li was the first cordless mower that I was happy to use without a backup mains mower due to its lightweight but very powerful 36v Lithium-Ion rechargeable battery. With its exceptionally well-engineered grass box and blade, the Rotak cuts AND collects better than any cordless mower I know. The inset front wheels and side fins enable these mowers to cut right to the edge. The plastic body is light but tough and the rear roller is a feature that is missing on most other cordless mowers. An optional mulching panel is available as are special blades for chopping up fallen leaves.
Bosch gives a genuine 2-year warranty on their mowers but you can extend this to 3 years for free by registering your purchase within 4 weeks on the MyBosch website.
In 2014 I visited the Stowmarket factory and was very impressed with the attention to detail and quality control measures implemented. Sadly Bosch closed the old Qualcast factory in 2019.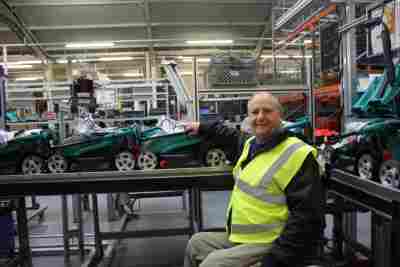 Here I am inspecting the Bosch Rotak production line in Suffolk.
I was impressed how every completed box is weighed so they know that no parts are missing.
DIFFERENT MODELS IN THE BOSCH ROTAK LI RANGE
The Rotak Li was available in 3 sizes of cut, 32cm, 37cm and 43cm cut.  All models are no longer available. The 32Li has been replaced by an 18v City mower model.
The 36v battery is similar to the ones used in Bosch professional power tools like builders' drills so it is well tried and tested. My original one has lasted 8 years.  
Battery charging time for the 36v models  takes 90 minutes.
However, as these are Li-Ion batteries you don't have to fully charge them so you can give them a shorter charge without harming the battery.
Bosch 36v Battery Options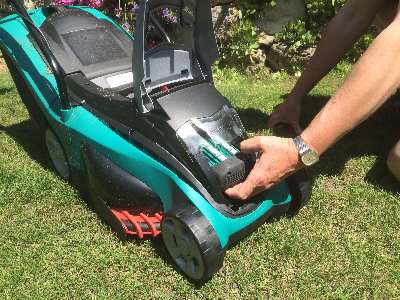 The original battery was 2.6 amp hour and then increased to 4 amp hour
2 different Bosch 36v batteries are available – use links below for genuine Bosch 36v batteries.
The Rotak 37Li (370 Li) and 43Li (430Li) have been discontinued.
If you want something similar to the 37Li and 43Li consider the new 2021 Mountfield 48v mowers all have rollers for stripes -
The Rotak 37Li (370 Li) and 43Li (430Li) have been discontinued.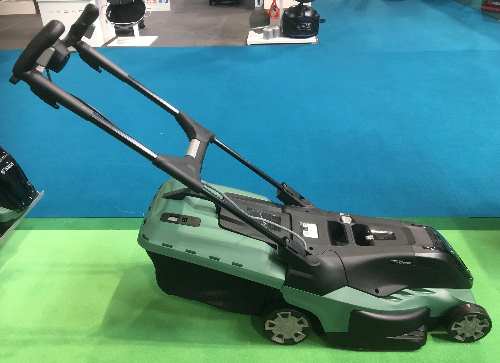 The new mowers have quieter motors and are available with the standard 36v 2 amp hour and 4 amp hour batteries and in the largest 850 models 6 amp/h.
Other new features are handled height adjustment and a folding grass box.
They are called the Easy Rotak, Universal Rotak and Advanced Rotak. Only the Advanced models have rear rollers for stripes.
Bosch makes great mowers but their model numbers are always confusing.
The numbers in the new ranges relate to how many square metres they can cut rather than blade width.
So the Advanced Rotak 36-750 Li has a 36v motor and can cut up to 750m square of lawn.
The cheapest model is the EasyRotak 36-550 Li and can cut up to 550m square of lawn.
However, most people don't know their lawn size in square metres and the amount of cutting that can be done largely depends on the length of the grass at the time. So if you need help choosing send me a low res image of your lawn or description.
If you are confused e mail fred@fredshed.com for advice on which model is best for you
UK ONLY AND PLEASE GIVE LAWN SIZE, BUDGET OR A SMALL IMAGE OF YOUR LAWN
Blade Options and a Mulching Accessory For Rotak Li Mowers
(37li and 43li models only)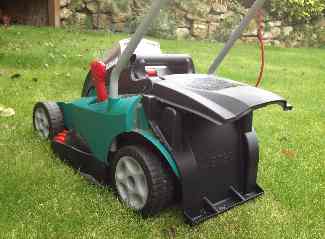 The mulching panel saves time and helps feed your lawn. It is best used for frequent cuts when the grass is not too long.
Other Bosch 36v tools that use the same 36v battery system
 Bosch gives a genuine 2-year warranty that you can extend to 3 years for free by registering your purchase within 4 weeks on the MyBosch website.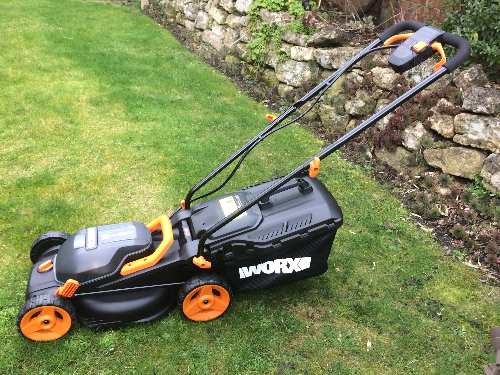 This is the 34cm cut Worx WG779 being tested on my lawn in Oxford.
There is also a 40cm model and a smaller 20v 30cm model, Soon a larger self-propelled version will launch.
All Worx mowers use the superb 20v Powershare batteries that are available in 4 sizes and fit dozens of other Worx power tools.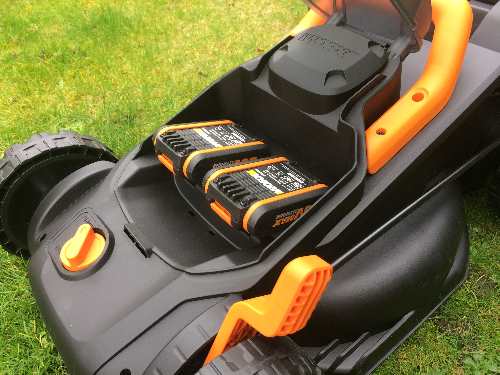 The 40v models are powered by two 20v batteries and you can choose between 2, 2.5, 4, or even 6 amp hour batteries.
If you chose the more expensive 6 amp hour batteries you will be able to cut three times the area you could with 2 amp hour batteries.
So you can choose the batteries to suit your lawn, and use them in other power tools!
The smallest 30cm model runs off just one battery so is only suitable for a handkerchief size lawn.
I think that Worx mowers are well designed and give a great cut too.
The 34cm and 40cm cut models have all the essential features including a roller for striped lawns.
SELF-PROPELLED CORDLESS MOWERS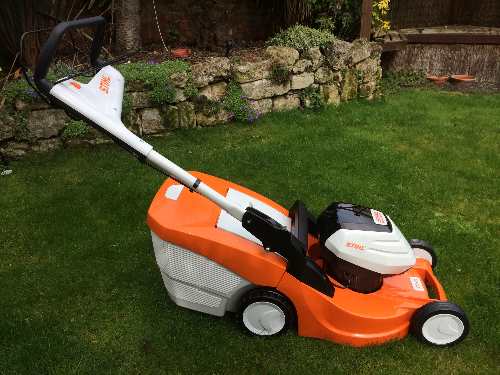 SELF-PROPELLED OR HAND-PROPELLED CORDLESS MOWERS ? Which to Choose?
So you can choose the batteries to suit your lawn, and use them in other power tools!
Self-propelled mowers tend to be large and are great for wide-open lawns but can be awkward to manoeuvre in tight spaces due to the drive controls and extra weight.
Most Self-propelled cordless mowers do not have a roller, the few that do tend to cost a lot more.
Battery-powered Self-propelled mowers will have at least a 36v Lithium-ion battery and often an even more expensive 60v or even 80v battery.
If you lack some strength or agility then you may actually be better with a lighter weight battery mower that you push.
The Bosch Rotak mowers are light enough for me to push from a wheelchair but strong enough to last 10 years.
If you need a self-propelling mower for a REALLY large lawn I would consider petrol until the price of large Li-ion batteries comes down.
I tried the first self-propelled battery mower in 2011, the CEL DM20.
It had 2 separate motors, powered by a huge 17 amp-hour lead-acid battery, the size of a suitcase. Not surprisingly it was quite hard to handle.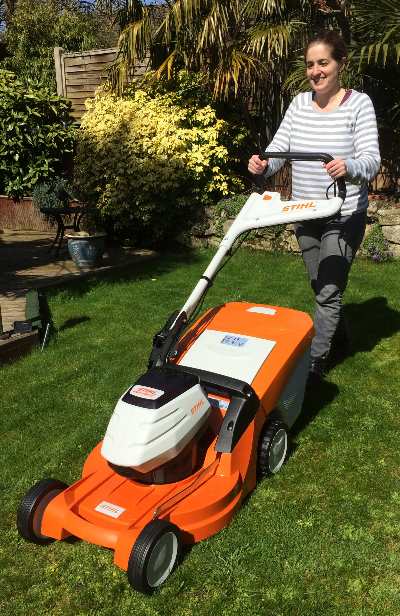 Stihl RMA 448 TC is the largest of the 5 Stihl Cordless mowers
One of the best self-propelled cordless mowers is the Austrian made Stihl RMA 448TC that I am currently testing.
This model uses a 36v Li-ion battery from the Stihl Pro range and uses one battery to power the drive and blade.
It has 2 battery slots so you can keep a spare in place. Using both batteries will cut up to 450 sqm of lawn depending on how to level your lawn is and how long your grass is.
I should say that the batteries are made in China but by a company that Stihl partly own.
This is the biggest of the 5 Stihl cordless mowers with its 19 inches (46cm) cut and the fantastic folding, height-adjustable, mono handle.
You cant buy Stihl mowers online as they are only sold from machinery dealerships where you get trained in using it and excellent service.
You can buy other self-propelled mowers online from the Hyundai, Cobra, Mountfield and Ego brands.
Or – have you considered a Robot Mower? I have been using these for over 20 years now and they are now viable for very large lawns.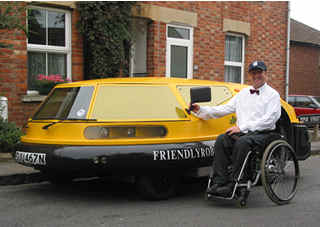 The one I am with above has a V8 engine and was a promotional aid for Friendly Robotics.
SELF-PROPELLED OR HAND-PROPELLED CORDLESS MOWERS ? Which to Choose?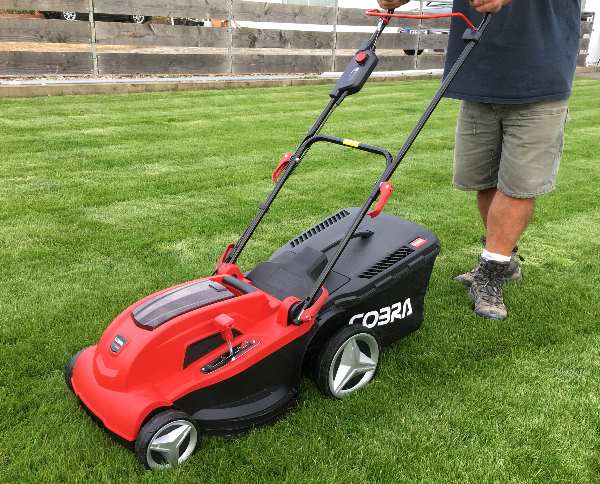 The New Cobra MX4340V cordless mower has a brushless motor for extra power!
It has a huge 40v 5 amp hour Samsung Li-ion battery and a 43cm cut.
Cobra mowers are designed in the UK by a company I have worked with for many years.
This mower is designed to perform and has to be the best value higher-spec cordless mower in the UK.
Until now only the premium price mowers and power tools had brushless motors.
The mower is very light but well made and the handle folds completely for easy storage. It does not have a roller for stripes.
I love the LED power level indicators on the handle and the huge 50-litre collecting bag.
It has a metal blade that cuts and collects very well and is light and easy to move thanks to its large rear wheels.
The height adjustment has 5 cutting heights from a very low 25mm- 75mm.
This model sold out quickly in 2020 so don't delay if you want the 2021 model.
This model sold out quickly in 2020 so don't delay if you want the 2021 model.
GTECH FALCON TESTED AND REVIEWED BY FRED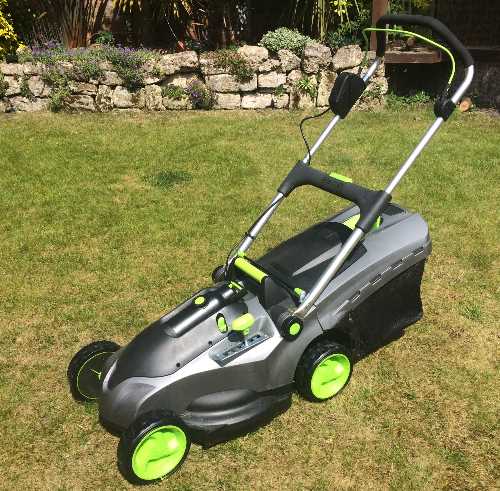 The Gtech Falcon is made in China but designed by Nick Grey, the British owner of Gtech. 
The first model cost around £349 and gave a 43cm cut from its 36v 4 amp hour battery. 
In 2019 the model was changed to a 48v battery, 42cm blade, but only 2 amp hours so it is actually less powerful.
The Gtech Falcon looks stylish and has some clever features like the fold-over handle for better storage.
It also has easy sliding handle height adjustment. 
The 2 downsides to this mower, apart from the price. 
The battery can only be used in this Gtech mower, unlike most other cordless mowers that are part of a range.
The Gtech falcon does not have a rear roller to make stripes on your lawn.
The Mountfield Princess has a rear roller, mulch plate, is made in Slovakia and is £100 cheaper!
The Murray mower has a wider (44cm) cut but no rear roller
Robot Lawnmowers - The Ultimate Cordless Lawnmower
Lowest priced (reliable) robot mower – powered by 18v Li-ion battery.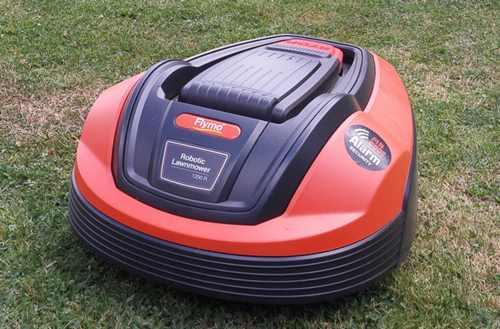 Flymo is owned by the Swedish company Electrolux who pioneered robot mowing with their Husqvarna robot mower.
Their entry-level Flymo robot is ideal for small, well kept simple shaped lawns. If you want more info see my page on Robot Mowers
For help choosing a cordless mower e-mail me
Flymo is owned by the Swedish company Electrolux who pioneered robot mowing with their Husqvarna robot mower.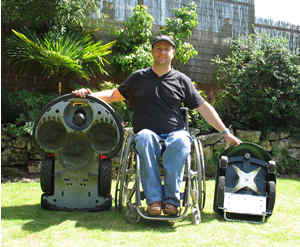 If you found my advice helpful and would like to support my work, please return to this page and use my links when purchasing your tools.
Also any other products bought from Amazon at the same time will produce a small commission that helps cover my hosting costs.

Or if you prefer, you can make a small donation using the PayPal button below.

USE LINKS BELOW TO FIND MORE GARDEN AND DIY TOOLS