Tested and Reviewed by Fred-in-the-shed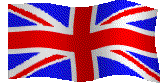 My favourite and recommended tools will feature at the top of this page and more info and alternative tools below them.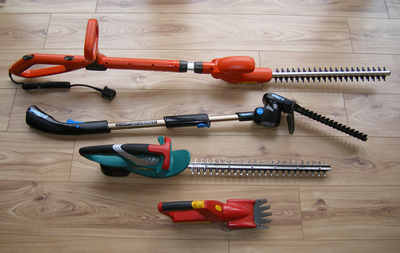 Over the last 20 years, I have been running Fredshed I have tested around 25 cordless hedge trimmers.
Cordless hedge trimmers have significant safety and convenience advantages over 240v mains tools. By nature hedge-trimmers "take a lot of stick",  so need lots of power.
In the past, this was hard to supply from a battery, but now we have high capacity lithium-ion batteries.
The increased power of these new batteries makes cordless hedge trimmers a viable alternative to mains powered and petrol hedge trimmers.
The smallest ones have 10.8v batteries and are only for small hedges and light work.
The 18v models will cut a medium-size, well-kept hedge.
For thick stems and large hedges, there are 36v (and higher) models but these start to get heavy.
Best Normal Length Cordless Hedgetrimmer
Bosch AHS 50 -20 Li and 55-20 Li 18v Cordless Hedge Trimmers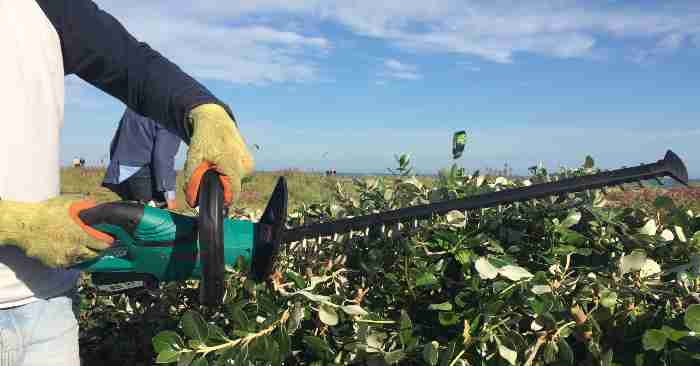 This is the 2nd generation of this superb tool being tested on a thick hedge in my garden.
There are 2 models – 50 and 55cm long blades – so not much difference.
Both were developed from the first Bosch 18v Li-ion trimmer, the superb AHS 48 Li.
As well as the 50-20 and 55-20 a new smaller (45-15) model is now available.
If you want a cordless hedge trimmer for thicker or less well-kept hedges the new Bosch 18v models are lightweight but will cut stems up to 20mm thick. This is partly due to the Bosch anti-stall technology that reverses the blades in a nanosecond if the circuitry detects jamming. This not only saves time but also your fingers as trying to un-jam a sharp bladed hedge trimmer can be a dangerous process.
There are two 18v versions, both with incredibly light and powerful Li-ion batteries. The AHS 50-20 Li has a 50cm blade and weighs a mere 2.5kg whilst the slightly longer bladed AHS 55-20 Li weighs 2.6kg. Both run for approx 40 minutes depending on the thickness of the hedge you are cutting. If you buy a spare battery then you can cut your hedge and have one on charge as you work, take a tea break and be ready to go again with a full charge!
One 2.5 amp hour battery can cut a lot of hedges. The recharge time is 1 hour. A spare 2.5 amp hour battery is the best valued at around £42 and can be used in a wide range of Bosch power tools.
Bosch gives a genuine 2-year warranty on this hedge trimmer and you can extend this to 3 years for free by registering your purchase within 4 weeks on the MyBosch website.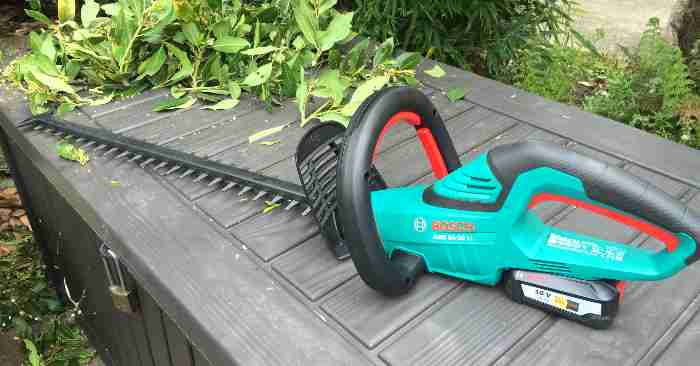 Nothing beats this in the 18v category for weight and power due to the quality of the blades and the electronics that prevent it from jamming.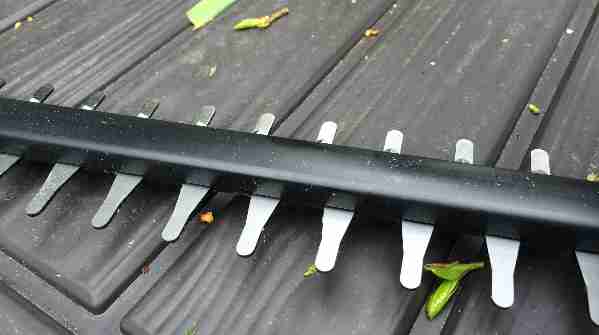 We used this Bosch battery hedge trimmer on thick old ivy and was amazed at how well it cut and how long the small battery lasted.
In 2016  Bosch upgraded the battery in the 18v hedge trimmers to 2.5 amp hour. This battery can be used to power the blower seen below and several other Bosch tools including the new telescopic pole hedge trimmer. The only small criticism I can make of the Bosch AHS 50-20-Li and its sister is that the battery can be a little awkward to release for users with arthritic hands. On the plus side, the blade cover is the easiest to get on and off and the trigger and safety lock easy to operate.
A new chainsaw was added to the range recently!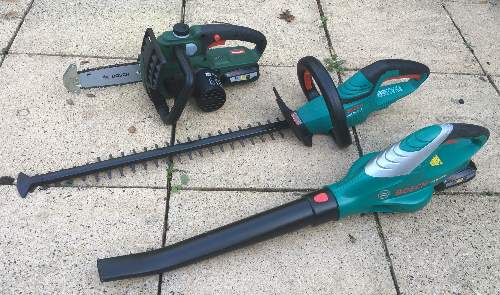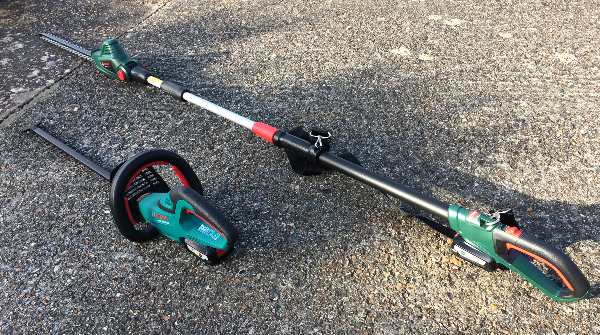 LINKS TO BUY THE LATEST BOSCH 18v CORDLESS HEDGE TRIMMER
Use the link below for best value normal length (50cm) version
Use the link below for the slightly longer version
If you already have tools in the Bosch Power For All 18v Range you can also buy both without battery and charger.
BEST PRICES ON REPLACEMENT BOSCH 18v LI-ION BATTERIES
The battery supplied with the hedge trimmer also powers the chainsaw & blower shown below.
Makita 18v Cordless Hedge Trimmer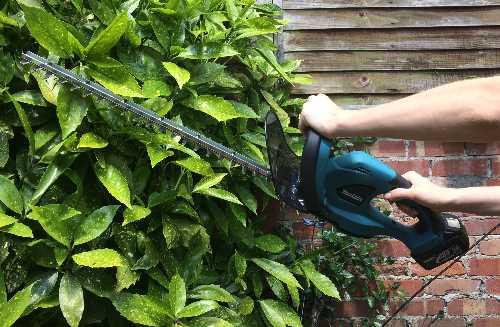 As a big fan of Makita 18v DIY tools, I had to get this hedge trimmer. It is sold naked so I could use the batteries and charger that I have for my drill and chainsaw.
The latest Makita 18v battery has a whopping 5 amp-hour of charge which will make the hedge trimmer a bit heavier but run twice as long as the Bosch 18v model.
Tools made by Makita are top quality and the DUH523Z is no exception. However, it is 1kg heavier than the Bosch 18v model and it does not have the anti-jam mechanism that makes that one so effective.
The advantage it does have is that it can take larger capacity (faster charging) batteries that can be used in up to 270 other Makita power tools. The DUH523Z has a 52cm long blade with a 15mm cutting diameter.
Best Hedgetrimmer Lubricants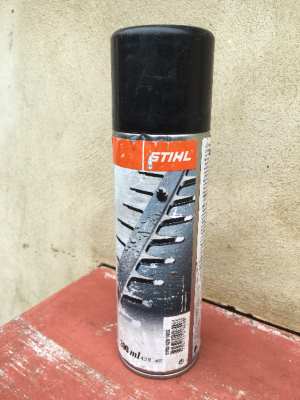 Keep your hedge trimmer blades running with special 2 in 1 resin cleaner and lubricant
Hedge trimmer blades can be very badly affected by the build-up of resin, especially from conifers.
The resin forms a hard layer that stops the blades from moving freely which can then cause strain to the motor.
The German-made Stihl product is unique in that it will remove resin AND lubricate in just a couple of sprays.
The 300ml can is designed for professionals who will use it daily so a can like this will last years in domestic use.
I also like the Bosch lubricant as it is pumped action and not aerosol so there is less waste and mess. It is a very good lubricant but does not remove the resin-like the more specialised Stihl product.
The British made GT85 is a good all-around lubricant and smells of lavender. It is superb value for money and a shed essential!
Bosch 12v Model - For Smaller Hedges - or Smaller Users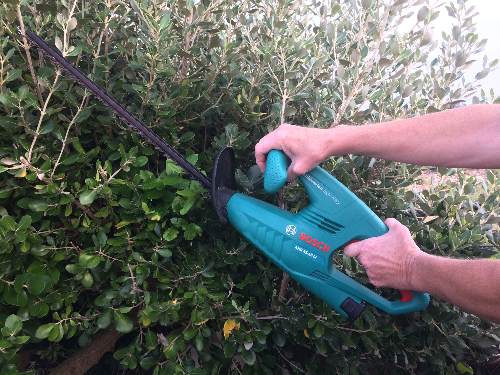 This lightweight, cordless hedge trimmer uses a compact 12v Li-ion battery. The same battery is used in 20 other tools in the Bosch 12v Power For All range. Originally the batteries were described a 10.8v but are now 12v and the tools named "EasyHedgeCut" EasySaw, etc. The rebranded tools now use a new 2.5 amp hour battery that is twice as powerful as most similar-looking batteries from other manufacturers.
The combined quality of the blade and anti-stall electronics makes this small hedge trimmer punch well above its weight.
It is not as powerful as the Bosch 18v AHS 50-20Li which is my best recommended cordless hedge trimmer, but it is about £50 cheaper and ideal for smaller or well-kept hedges.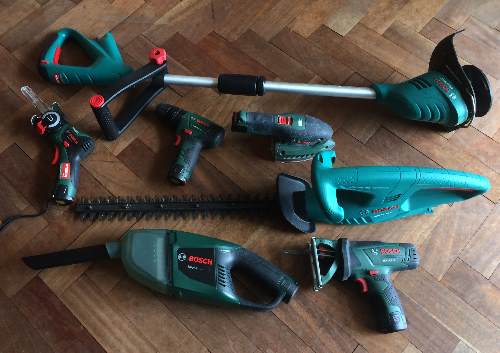 Would You like to Support Fredshed?
If you found this page useful and decide to buy a hedge trimmer please use my links when you do as this helps keep my site going, thanks, Fred
The Bosch 12v hedge trimmer uses the same battery as other Bosch 12v and 10.8v GREEN power tools but not BOSCH BLUE PRO TOOLS.
Heavy Duty Cordless Hedge Trimmers
This hedge trimmer was the first of a new breed of garden tools powered by high powered batteries designed to offer a serious alternative to mains electric and even petrol machinery.
Bosch made a head start in this with a range of 4 garden tools that are powered by one, interchangeable 36v Lithium-ion battery.
I have used this battery for 10 years in a mower and it is impressive. This hedge trimmer has the usual top quality Bosch blades and combined with a 36v battery it performs really well. When cutting my large bay tree it actually cut through branches I would usually have to use secateurs or loppers on!
With the battery fitted it is quite a heavy tool so this is not one for old ladies, feeble men and anyone a bit weak.
The tool comes with a 2 amp-hour 36v battery but larger ones are available separately.
A good alternative to the Bosch 36v is the new Worx model that uses two 20v batteries to make 40v.
The Worx also has a superb handle rotation feature and I hope to test one soon.
Bosch AHS 54-20 LI Cordless 36 V Lithium Ion Hedgecutter
2 different batteries available
2.6 and now 4.0 amp hour replacement 36v batteries
Same battery fits these tools!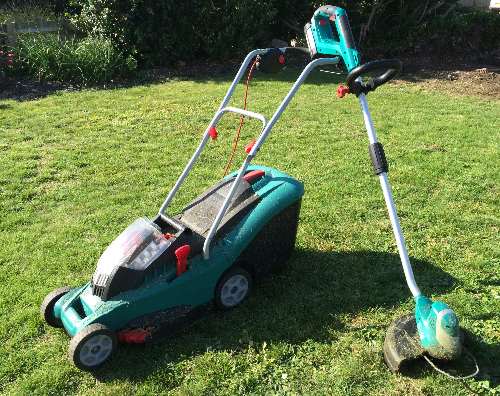 Best Large Cordless Hedge Trimmer? -Greenworks 40v Hedge Trimmer
The blade can be rotated 90 degrees for more comfort.
On a typical hedge, the battery should give 30 minutes of cutting.
If you have a very large hedge you can buy a larger battery or a 2nd smaller battery.
I have tried many cordless hedge trimmers and this one has a great balance between power and weight.
I love the rotating blade for more comfortable use and the 61cm long blade.
It is similar to the Bosch 36v trimmer but easier to use and a bit cheaper.
Light and well balanced at around 3.8kg depending on battery option.
Best Small 3.6v Battery Powered Topiary Shears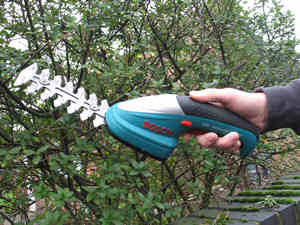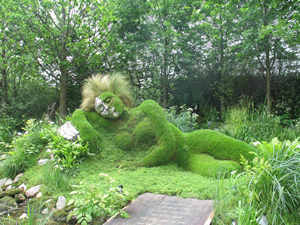 A new breakthrough in powered garden tools, this lightweight grass shear and shrub trimmer has Lithium-Ion batteries for power and durability. The Bosch ISIO is similar to the Award-winning Wolf trimmer but it is smaller, lighter and cheaper. 
The latest version of this tool has anti-jam electronics that stop and reverse the blades the instant it detects too much force. This new feature makes a lot of difference especially when the battery is running low as this is when any trimmer is more likely to get stuck on a thick stem.
Grass and Shrub Trimming!
The Bosch ISIO can be converted from a small shrub trimmer to a grass shear in seconds and is surprisingly efficient. Running time is very good thanks to the Li-ion batteries and I get 20 minutes of use which included some woody shrub material. The softer the material you cut the longer the battery will last between re-charges.
Anti -Jam electronics helps stop the blade from getting stuck. If too much resistance is detected the blade quickly reverses and has another go. For light trimming work on to box hedges and rockery shrubs, I love these little single-handed cordless trimmers.
Anti -Jam electronics helps stop the blade from getting stuck. If too much resistance is detected the blade quickly reverses and has another go. For light trimming work on to box hedges and rockery shrubs, I love these little single-handed cordless trimmers.
Worx Zen 20v Cordless Shrubber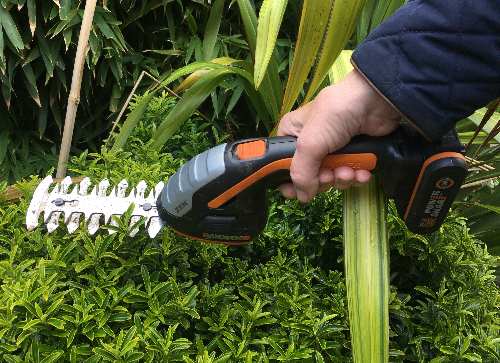 The Worx Zen is like a bigger Bosch ISIO and can be converted from a small shrub trimmer to a grass shear in seconds and has the advantage of not having the battery built-in. Running time is much longer thanks to the 20v battery, which is also used in dozens of other Worx tools and is available in several sizes.
The Worx Zen comes with 2 hedge trimmer blades and a grass trimmer blade. Some versions include a weeding attachments which sounds a bit mad to me but I will try it soon.
Other Cordless Hedge Trimmers tested by the Fredshed Team
Ryobi 18v Cordless Hedge Trimmer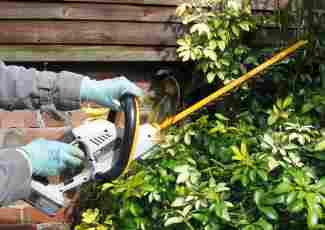 This no-frills hedge trimmer has been around for a few years now and is part of the extensive Ryobi One + range of cordless power tools. In 2015 it was replaced by a new, more expensive model that has a clippings sweeping attachment and also a rotating handle. 
On the old model, the blades were not particularly good quality and without the anti-jam mechanism of the Bosch 18v models, it did not cut thick material well. I think this hedge trimmer is only worth buying if you have a well-kept bush and other Ryobi One + tools so you already have the battery and charger. If you are just buying a cordless hedge trimmer the Bosch AHS 50-20 is a much better tool, and better value when bought with battery and charger included.
There are over 150 tools in the Ryobi range including trimmers, drills, saws, sanders, vacuum cleaners, torches. The hedge trimmer and all the other tools can be powered from the old NiCad battery OR the latest Li-ion batteries. The batteries if purchased on their own appear to be more expensive than other brands.
LONG REACH CORDLESS HEDGE TRIMMERS TESTED AND REVIEWED
18v battery powered long reach hedge trimmers

Flymo Sabre Vs Gtech HT20

Bosch HedgePole Vs Gtech HT20
Unless your hedge is in a confined space then a long-handled hedge trimmer is a great tool to use. They are growing in popularity and come in a range of sizes, petrol and electric and now battery powered. I have tested the Gtech HT05 and HT20, Black and Decker 18v, Bosch Universal HedgePole, Greenworks, and Gardena cordless telescopic hedge-trimmers. The drawback with this type of tool is the weight of the head so only consider the longest ones if you are very strong.
Latest and Lightest Long Reach Cordless Hedge Trimmer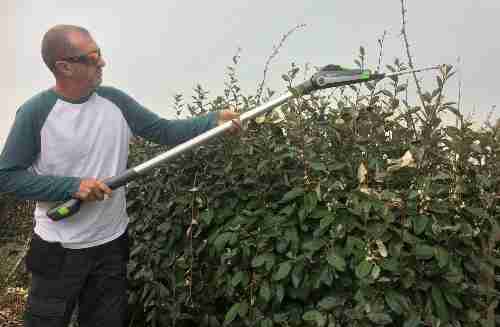 After ordering the Gtech HT20 I was impressed by the fast delivery with a text alert.
Gtech tools are well packaged with good instructions in plain English.
The 18v Li-ion battery has 4 lights to tell you its state of charge and is very easy to get in/out. This was the lightest and most effective long reach battery hedge trimmer I have tried in the last 20 years and everyone that used it was been impressed.
You can buy longer, telescopic models from other brands but they are just too heavy for many people to use for more than a few minutes.
In 2019 Gtech replaced the HT20 with an upgraded model called the HT 3.0 then in 2021 the HT50, which has a 10ft reach and can now have thicker stems (up to 25mm) but still weighs only 2.94kG.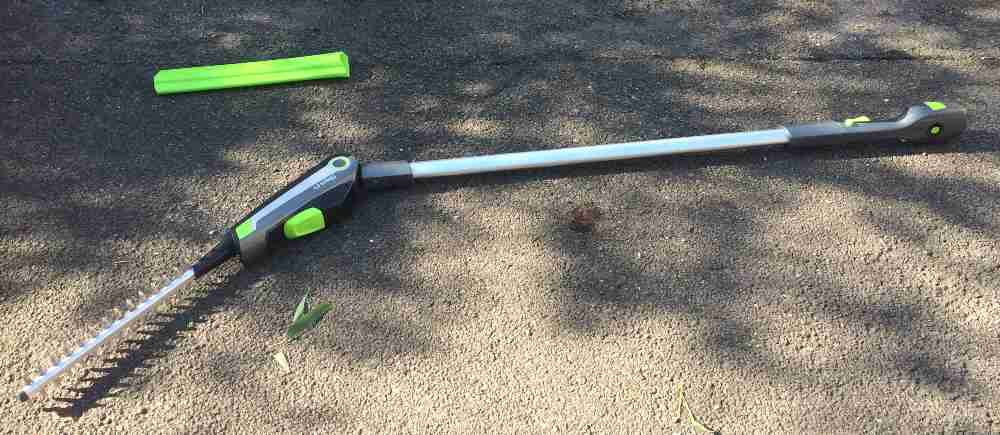 Cheaper Long Reach Cordless Hedge Trimmers
Flymo Sabre 20v Telescopic Hedge Trimmer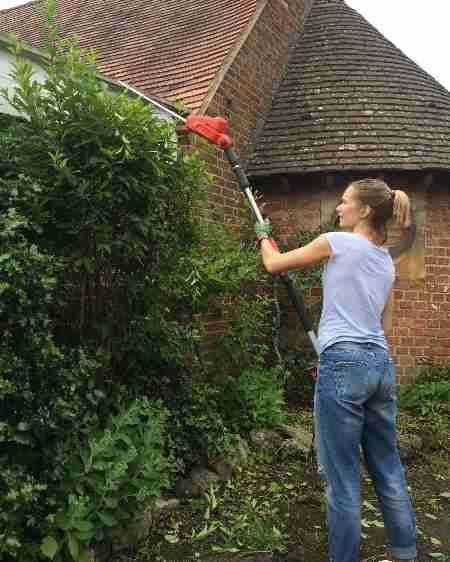 YOU WILL NEED TO HAVE VERY STRONG ARMS TO USE THIS AT FULL LENGTH!
The 18v Flymo Sabre Cut is a good low price, long reach hedge trimmer. In 2019 Flymo introduced an improved version with a 20v Li-ion battery. This battery has 2.5amp hours of power which is ok for small jobs or thin hedges with stems up to 16mm.
In 2021 Gtech launched the improved 18v HT 50 with a 2 amp-hour Li-ion battery. It is shorter and lighter than the Flymo Sabre but has a longer 55cm blade with wider 25mm tooth spacing for cutting thicker stems.
The Flymo at 3.85kg is about 1KG heavier than the Gtech but won't cut as thick hedges due to its smaller blade. 
Long reach hedge trimmers are one tool that may be better off petrol powered as the weight can be kept at the bottom end and not the top where it soon becomes seriously tiring. The other issue with long reach tools is that you cant see what you are cutting half the time and have to keep stepping back to check. Also, you are likely to leave dead trimmings on your hedge and have to get up there anyway to clear them off properly.
Best Overall Long Reach Cordless Hedge Trimmer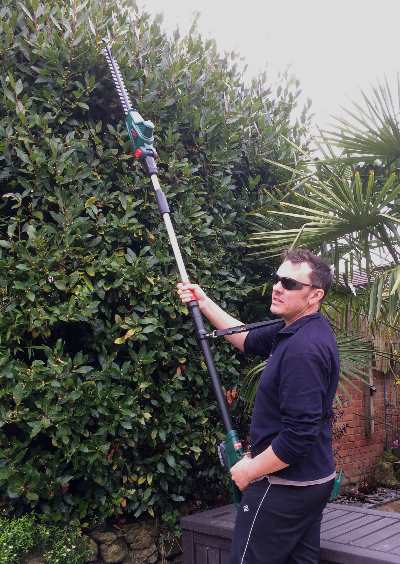 New Bosch model using existing 18v battery- watch this space!
Professional gardeners tend not to use the long reach trimmer much and instead use special Tripod Garden Ladders.
If you have a high, thick hedge then it will be safer to use a ladder platform like the BPS access systems Big Red Foot ladder that I am currently testing. It can be used as a ladder in a variety of different shapes or as a superb sturdy trestle platform.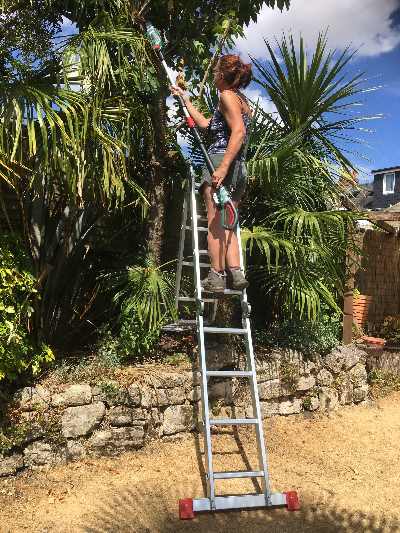 DO ME A FAVOUR!
If you use a powered product like grass or hedge trimmer please protect your eyes from dust and debris.
Professional gardeners tend not to use the long reach trimmer much and instead use special Tripod Garden Ladders.
The Draper goggles are not the prettiest but do create a seal on your face to prevent dust from getting in. They are ventilated to avoid steaming up and are large enough to be worn over most glasses.  Buy now – what have you got to lose? – only your eyesight!
If you found my advice helpful and would like to support my work, please return to this page and use my links when purchasing your tools.
Also, any other products bought from Amazon at the same time will produce a small commission that helps cover my hosting costs.

Or if you prefer, you can make a small donation using the PayPal button below.

USE LINKS BELOW TO FIND MORE GARDEN AND DIY TOOLS