Fred's Guide to Lawn Care Tools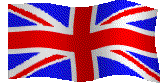 Having spent over 35 years managing lawns and writing 2 books on gardening equipment I decided to put my favourite tools online.
Lawn Edging - Shears versus Electric trimmers!
Which Lawn Edging Shears are Best?
If your lawn is well-designed shears are the best option. Electric trimmers can be noisy, heavy, and create a mess. They will cost you money to run and likely be thrown away in a few years.
 In comparison, a quality pair of lawn shears are simple to use, more environmentally friendly and if looked after will last many years.
Electric trimmers are more suited to large rough areas or people who don't want such a nice finish to their lawn.
The Best Lawn Edging Shears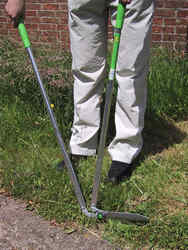 Lawn edging shears are simple tools that have been around for hundreds of years with few changes. I have tested dozens of pairs and gave one of my coveted Golden Shed Awards to the German-made aluminium handled CK Legend lawn edging shears.
They had unique solid forged steel blades that put them in a class of their own. The quality of the blade and the adjusting mechanism made them self sharpening. I have used them for years and only give them a tickle with an oily rag now and again. Sadly this model was discontinued but has now been replaced with a new model with extending Aluminium handles which are handy and almost as light as my old favourites.
The heavy-duty version of my old model that has wooden handles is still available and will last your lifetime if treated well but costs over £80.
Alternatively - Simple, Good Quality, Lawn Edging Shears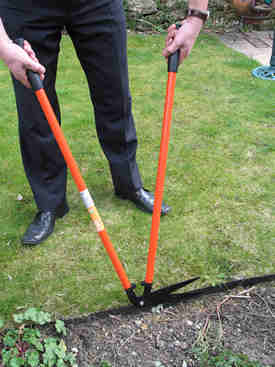 The European made Bahco P75 shears set the standard for no-frills, hard wearing lawn shears.
If you just want a really tough, no-nonsense, good quality lawn edging shear then the Bahco P75 model is ideal.
It is used by many professionals, tried and tested over decades.
Handle length 90cm, Teflon coated blade for easy cleaning.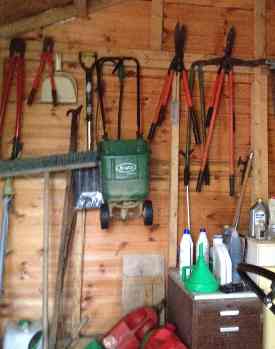 You will find Bahco shears in most professional gardeners sheds, along with an oily rag and sharpening stone!
Using a good sharpening stone will save your tool, and you a lot of effort!
If your budget is a bit tight then the Wilkinson Sword lawn shears are worth considering. The Teflon coating is also nice if you like to keep your tools clean. Wilkinson Sword is now made in the far east and is no longer the real top brand in gardening tools. You can still get cheaper shears but will probably end up buying rubbish.
If you are tall or if you won't work with another person who is taller or shorter than you then the Darlac flip-lock edging shears are great.  I have used the Darlac ones for several years and also like the way they telescope down very small for easy storage. The total weight is only 1.2KG! Length of Handles 65cm – 105cm
Folded down for easy storage
The locking slider allow extension to any length up to 1.05 meters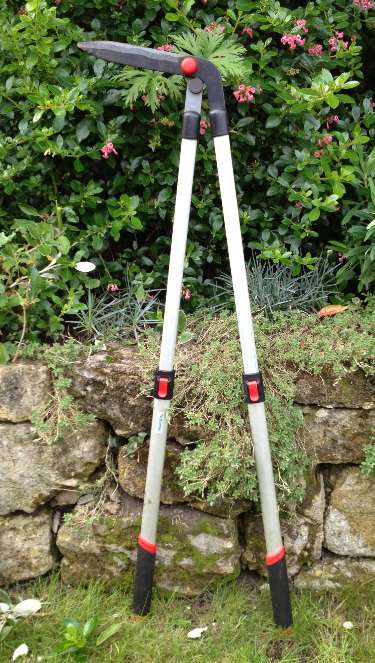 Full length to suit a six-footer!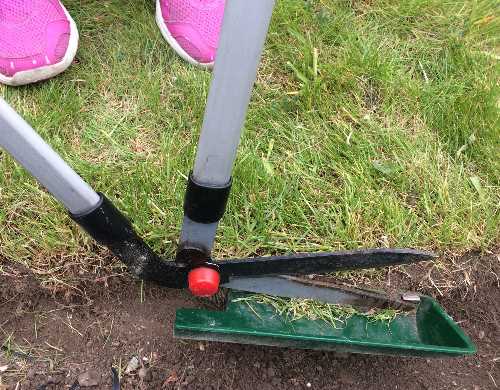 This simple gadget clips to the side of your edging shears with its magnets and collects the grass.
Saves hours of clear up work – ideal for perfectionists!
Best Lawnshears for Flat Surfaces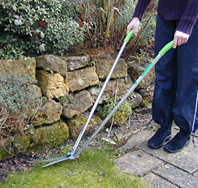 Flat bladed, long-handled shears are known as lawn shears ( rather than edging shears) and are ideal for cutting areas of lawn around trees and along the side of sheds and walls.
This type of tool is a great alternative to an electric grass trimmer for smaller areas and is much more pleasant to use.
Electric grass trimmers – or "strimmers" as they are commonly known to create a lot of mess for you to clear up.
Lawn shears make a little mess, last longer with little maintenance and make no noise!
From my own long experience, I can recommend the European made Bahco P 74 lawn shears.
They have well-made steel handles, are slightly longer than most others and have good quality blades.
Bahco shears are used by many contractors as they are a no-frills well made and durable product.
Unless you use your shears a lot they should not need much sharpening but running a stone over them occasionally is a good habit to adopt.
DON'T USE YOUR HEDGE SHEARS ON GRASS!
Use single handed grass shears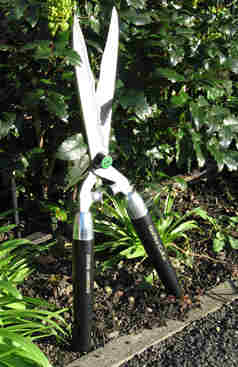 Shears like these are designed for cutting shrubs and hedges and not grass.
The wonderful Golden Ceka shears shown above are made from the best quality steel by German craftsmen. Shears of this type are made specifically for hedges and not grass. If you use hedge shears on grass the blades will go blunt VERY QUICKLY
Not many people know that!
For small or fiddly areas of grass, single-handed grass shears are ideal.
There are many makes and models available but the majority are poor quality Chinese tools.
If you want a small pair of shears for grass and soft foliage then these little ones below are the type to get.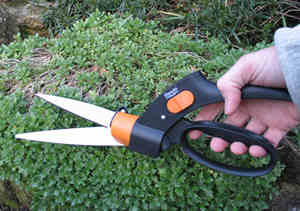 I tested this Fiskars Servo model and was impressed with its performance.
The Wolf Garten model has been in production (and used by me) for over 25 years and the latest version has a grass deflector to keep the grass off your borders.
The Wolf Professional shears have a clever grass collecting edge.
Small Lightweight Cordless Grass Trimmers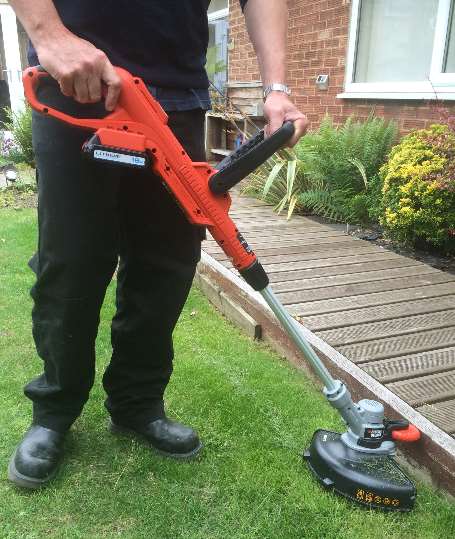 Black & Decker STC 1820-GB 18v Lithium-ion Cordless Grass Trimmer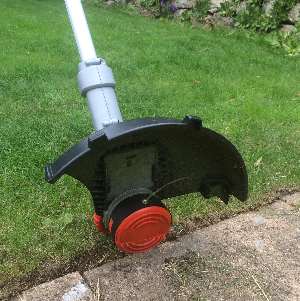 This superb cordless strimmer uses the standard nylon line in a spool to trim, and a slide-in 18v Lithium-Ion (Li-Ion) battery that holds 2 amp-hours of charge. It can be recharged in 2 hours and gives a run time of around 20-30 minutes.
A nice feature is a wheel that enables easy trimming of lawn edges. Just turn the tool on its side and run it along the edge. The handle has telescopic height adjustment with a good range and the line gives a 28cm cut.
On the handle, there is also an extra button to switch between eco and turbo mode. The idea is to gain extra battery time by using less power for lighter work. Does it work? Yes, and it makes less mess on the lower setting if used on edges for a quick tidy.
A unique accessory can transform the strimmer into a mini mower by attaching a small deck with wheels on. This was an idea I had years ago and was really chuffed to see it appear, and even more chuffed to try it and find that it is ideal for a quick tidy when my lawn occasionally grows in patches.
I would like to make it absolutely clear that this will not replace a lawnmower on anything but the smallest lawn and even then you would have to keep the grass fairly short as the decking attachment is useless on long grass. The reason for this is that the deck prevents the grass from clearing so for long grass use the strimmer without the deck.
I have used this product over 2 seasons and am pretty impressed, it also uses the easily available and cheap A6481 spool.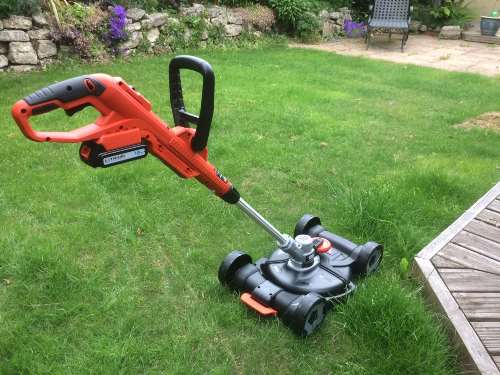 Trimmer is shown with optional deck attached
Alternative to Nylon Grass Trimmers
Many people have problems with Nylon cord line trimmers. The cords often break, fail to self-feed or can be hard to replace or find a replacement cord.
For small trimming jobs I prefer an electric version of the sheep shear that has metal blades and is battery powered.
This type of tool has been around a long time and is well tested.
Battery grass shear with optional long handle
The Bosch Isio can be converted from a grass shear to a small shrub trimmer in seconds and is surprisingly efficient.
Running time is very good thanks to the Li-ion batteries and I get 20 minutes of use which included some woody shrub material. The softer the material you cut the longer the battery will last between re-charges.
The Bosch Isio comes with 2 blades. The shrub cutting blade and the grass cutting blade.
The telescopic handle is sold as an accessory and makes the Isio easier to use at lawn level. The handle has wheels built-in for easy cutting on top of the lawn but this prevents the Isio from being turned on its side to cut vertical edges.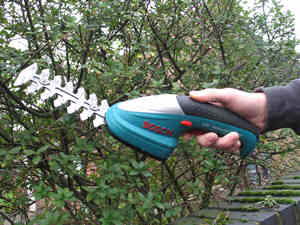 You also get this blade for shrub trimming with the Isio, and the Von Haus version.
Edging Irons, Edging Knife, Half Moon Edging Tool
The Bulldog premier lawn edger – doing the Fredshed edges.
The shank and head are one piece of steel.
Unique Solid Forged Lawn Edger
This essential tool is also known as an edging knife or edging iron and is the best thing to keep your lawn edges tidy and separate from bedding areas.
This Bulldog model is the finest example of a half-moon lawn knife available and the only one I know of where the blade is made from one piece of steel, forged by hand for maximum strength. The Bulldog Edging knife is made in Wigan and has been for nearly 100 years.
Most lawn edgers are made from 2 pieces of steel, welded together, which introduces a weakness in the tool.
As users have a tendency to lever the soil away with the tool, strain is caused at the weld point and many become bent or broken.
The Bulldog solid forged edger is hammered out from one piece of red hot steel and is actually strong enough to dig with.
 I don't recommend that you use it for digging but it won't bend if you lever soil away from the edge – unlike the cheaper types.
It also has a solid ash shaft with a generous width T handle and is painted in the traditional green colour of the Premier range.
If you want a cheaper and lightweight alternative to see the tool below.
Stainless Steel Long Handled Lawn Edging Knife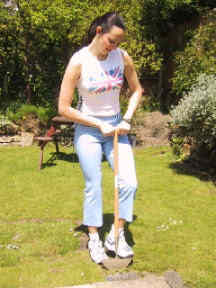 Whilst Stainless steel is not essential for this tool, a good quality stainless steel edging iron may produce a cleaner cut in wet conditions or if you have clay soil.
If you want the best and the strongest, and don't mind paying more, then I would still recommend the Bulldog one.
 A stainless steel lawn edger is also available for the excellent wolf multi-change system
Clearing Leaves from a Lawn
Traditional lawn Rakes verses Blowers and Garden Vacs
Traditional lawn Rake - Best Model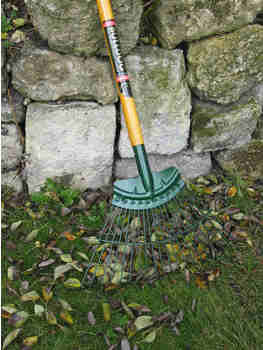 A stainless steel lawn edger is also available for the excellent wolf multi-change system
This is the finest example of a leaf rake available. The Bulldog springbok rake is a classic that has been used by professionals for many years.
It is the best rake for use on grass and 100% made in Wigan UK.
The reason that so many professionals use this rake is that it will outlast most other rakes and still keep its shape and flexibility.
If you want the very best stainless steel rakes made in Holland click here
Lightweight Plastic Leaf Rake
I have tried dozens of rakes over the last 20 years that I have been testing products for Fredshed.
This Wolf plastic rake is one of the best as it is so light and effective and is widely used by professional gardeners.
It is part of the Multi change system so you can save space and have many tools to fit on one handle.
Garden Vacuum and Blowers Tested and Reviewed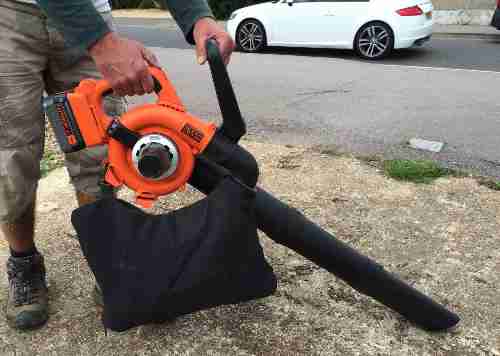 UNDER TESTING- Black & Decker 36V CORDLESS BLOWER VAC
Although I personally don't like garden vacs I have tested quite a few mains electric ones and the best was the AL-KO Hurricane.
It had a heavy 2400W motor and like most of these dual-purpose tools was great at blowing but struggled to pick up wet leaves.
Petrol models have more power but I don't review petrol machinery on Fredshed due to the constant problems users have starting them and also maintaining the engines.
Thanks to new high power Li-ion batteries this type of tool can be made lightweight and is ideal for smaller cleanups,
Ideal for picking up dry leaves and debris like cigarette butts from patios, decking and gravel.
It won't pick up wet leaves well but this is the same for all garden vacs.
Long Handled Leaf Grabber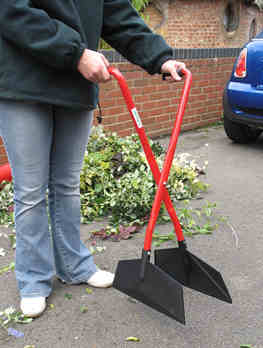 This debris grabber is very popular with my test team as it saves them from bending and is a joy to use.  It is also very lightweight.
The Spear & Jackson version is bigger, cheaper and has serrated edges for improved pickup.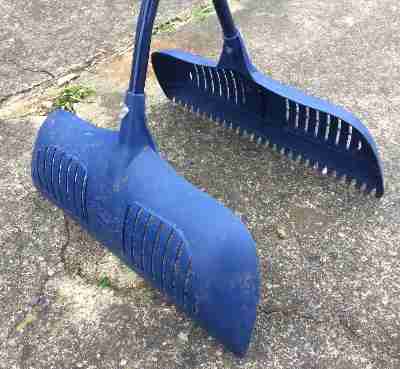 Best Lawn Aerators - Tried and Tested by Fred-in-the-shed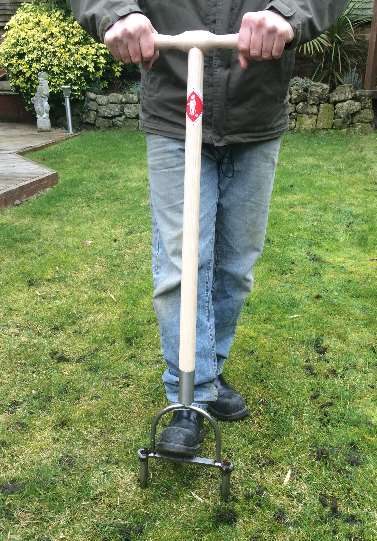 The Sneeboer Stainless Steel Lawn Aerator
A wide ash handle and plenty of boot space at the working end.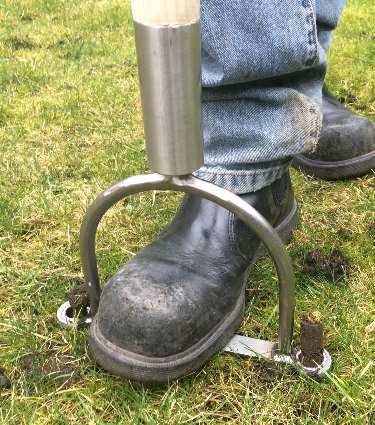 Manual lawn aerators are one tool that I find very disapointing and there is a big gap in the market for someone who can make an effective one for a reasonable price.
One annoying thing about most lawn aerators is that they leave the extracted soil plugs on the ground. If you have a large lawn then it would be better to buy a powered aerator or get a specialist in who has one of these machines.
The Handy aerator has a collector box to save you time raking up the extracted plugs, however it is not easy to penetrate the ground with it and it can block up.
If you are thinking of buying those silly spiked shoes then I would say don't waste your money. I suspect that they are also risky to use if you have any sort of weakness or problem with your ankles of lower legs.
TOP TIP – USE LAWN AERATORS ONLY WHEN YOUR LAWN IS SOFT TO ALLOW SOIL PLUGS TO PUSH EASILY THROUGH THE TINES – ALSO SPRAY WD40 THROUGH THE HOLES BEFORE AND AFTER USE.
The lawn aerator shown above is made by Sneeboer of Holland. It does clog up occasionally depending on the conditions. There is another even more expensive model ( £145) from Swardman that has angled tubes that should prevent this but I have not tried it yet.
Lawnrakers and Scaryfiers tested and reviewed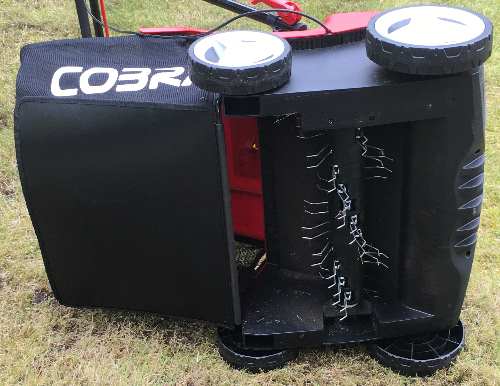 NOW MY GUIDE TO THE BEST LAWN SCARIFIER
Electric Lawn Rakers and Scarifiers
Tested and Reviewed by Fred-in-the-shed
To keep your lawn well drained and cleared of "thatch" build up I recommend using a powered lawnraker. (also known as an electric scarifier).
Doing this job by hand on anything other than small areas is for the super-fit, super-skint or totally insane!
Sadly, like grass trimmers, there are a lot of poorly designed and made lawn scarifiers out there.
Here are some of the better ones I have tried and tested over the last 20 years.
The Black and Decker GD300 is a cheap and cheerful workhorse for lawn raking.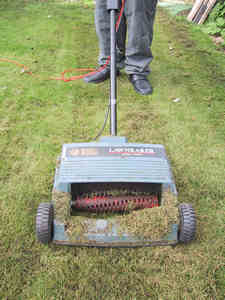 It has a 600w motor. Bosch made a similar and slightly better built model called the AMR32F lawn raker. It has now been replaced by a 900w model.
The Bosch ALR900 (now called UniversalRake 900) has wire tines and the one to get if you want your lawn raked but not destroyed. Bosch also make the AVR 1100 Verticutter which has metal blades if you want to seriously improve the drainage of your lawn by gauging deep slots in it.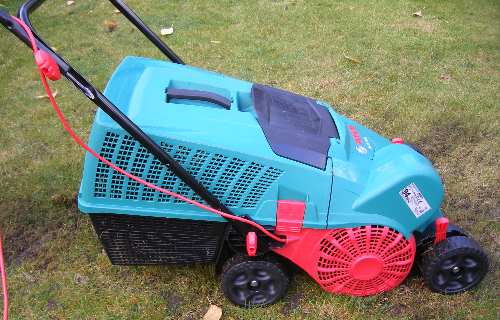 If you have a large lawn you will need an aerator with at least 900w of power. The budget price 600w electric ones are not up to the job and will take ages to cover the distance or burn out under the strain.
TOP TIP – don't set blades too deep or use on hard dry lawns – this may burn out your motor!
I currently use the Cobra 40v cordless raker/scarifier which comes with 2 interchangeable cylinders, one with wire blades for raking and the other with fixed metal blades for deeper aerating. The Cobra is very effective and nice to use although I am not too impressed with the height adjustment and bag capacity.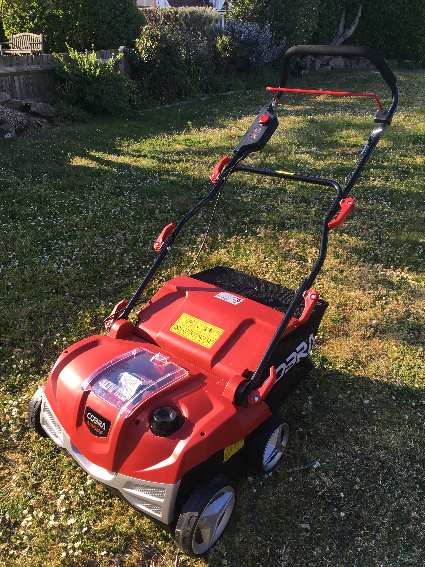 All of the above machines have their pros and cons, all could and should be improved. A common problem with them all is the limited range of height adjustment and small collection boxes.
 I like the idea of cordless rakers – but they are 2x the price!. Please use my links or mail me if you need help choosing an electric lawn-raker
A good thing to look for is the availability of spares,
Tines may bend or break after a lot of use, especially if your lawn is too dry!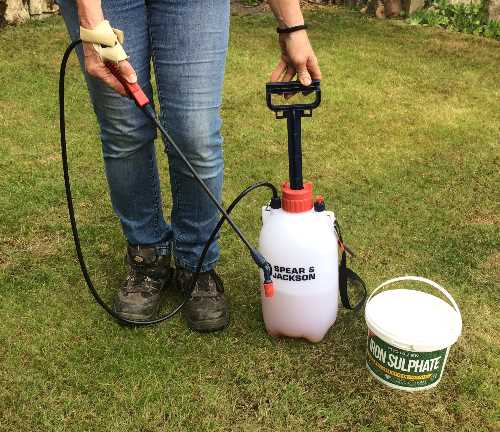 A thick mossy lawn is harder to cut and can strain the motor of your mower.
Many lawn treatment products are just cleverly packaged iron sulphate. Fred uses iron sulphate to kill his moss.
Fred is smart – be like Fred and use iron sulphate to improve your mowing!
Take care when applying in dry conditions – unless you want a brown lawn!
Once you lawn is free from Moss and you want to strengthen it try Greenkeepers Secret!
It is quite expensive but is easy to apply by just connecting the bottle to your hosepipe
You then spray a fine mist of the product onto your lawn and wait 7 days.
I was so impressed with the results and will be buying a refill to give another dose later in the year.
Lawn Feed Spreaders Tested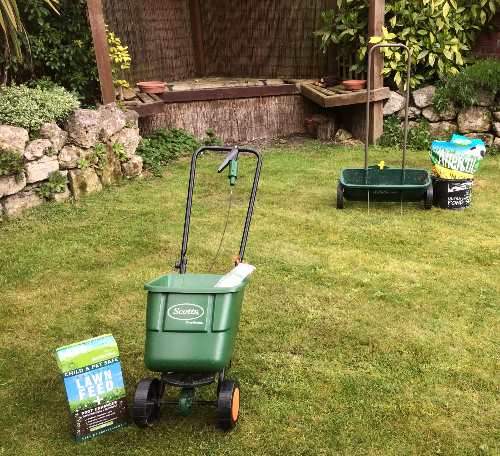 I am not massively impressed with any of the spreaders that I have tried over many years!
The build quality has gone down and unless you have a PhD in mathematics its is difficult to get the dosing right.
The best I found is the Scotts rotary one shown above and if you use the product from the same company you can get an accurate-ish dose.
I recommend these spreaders with regret as there is nothing I can find with more acceptable quality.
Wolf Multichange Lawn Scarifier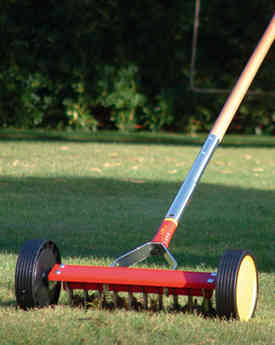 If you have some spare energy or don't like electric scarifiers a good option is a manual one like this German-made tool. Some years ago I owned its little brother that did not have wheels and I must say it was a devil to use.
This improved model Wolf URM3 rolling scarifier is more "vor sprung dork tecknic" and is much easier to use. For fitness fanatics and masochists everywhere this is the lawn tool for you!
You will need to buy a separate handle for this tool and can use the link below. The good news is this handle can also fit a huge range of other garden tools too.
It's wheely easy to use!  – especially if you killed your moss with Lawn sand or Iron Sulphate first!
Fiskars Hi Tech Weed Puller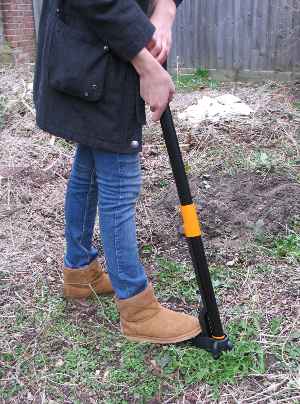 If you watch TV then you probably will have seen the advertisement for this new wonder tool to make weeding easier than ever. As part of my work I have been testing weeding gadgets over the last 20 years and have tried dozens of them.
If you watch TV then you probably will have seen the advertisement for this new wonder tool to make weeding easier than ever. As part of my work I have been testing weeding gadgets over the last 20 years and have tried dozens of them.
Compared to most of the ones I have tested I can say the Fiskars weed puller is pretty good at pulling out the larger weeds. It is made from very tough but light fibrecomp material and requires that you have reasonable eyesight and hand eye co-ordination so that you can locate the jaws of the tool around the weed. Once located you press down with your foot and lever the handle backwards to remove the weed.
The tool is described as a lawn weed puller but I found it to equally useful on soil. If you use it on your lawn remember that a large weed will leave a large hole so have some soil ready to fill the hole. 
I tested the Fiskars lawn weed puller on soil and lawns 
It is great for the larger, deep-rooted weeds.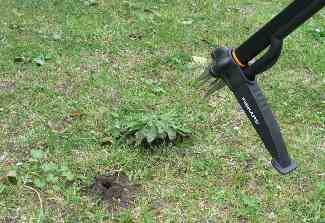 It is also fun and a bit addictive to use
Any book, CD, DVD or product bought via my links to Amazon will help support my work independently testing and reviewing products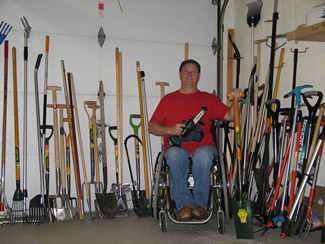 If you found my advice helpful and would like to support my work, please return to this page and use my links when purchasing your tools.
Also, any other products bought from Amazon at the same time will produce a small commission that helps cover my hosting costs.

Or if you prefer, you can make a small donation using the PayPal button below.

USE LINKS BELOW TO FIND MORE GARDEN AND DIY TOOLS