Tree and Shrub Pruning Tools
Tested and Reviewed by Fred-in-the-shed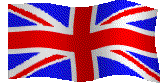 This page is dedicated to tried and tested tree pruning tools, used by Fred and his team of amateur and professional gardeners.
Darlac Heavy Duty Long Reach Pruning Tools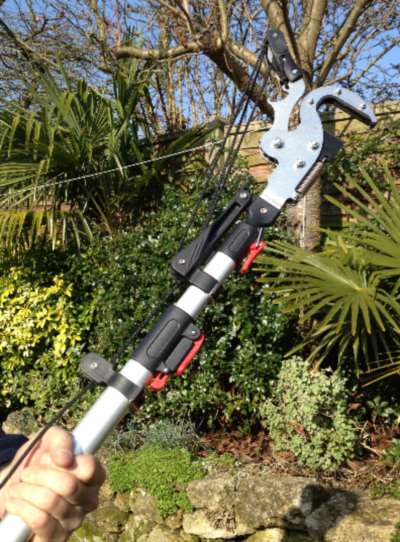 Darlac Expert Tree Pruning Range
This new tree pruning system is strong and lightweight but has the best cutting capability of any pruner I have tried.
The pole extends from 1.9m to 4.9m but still weighs less than 2kg.
This product is designed for the upper end of the domestic market and is also suitable for contract gardeners.
It comes from a company I have dealt with for many years and who supply parts and service back up.
Heavy Duty Pole Pruner - Fiskars Long Reach Tree Pruner (UP53)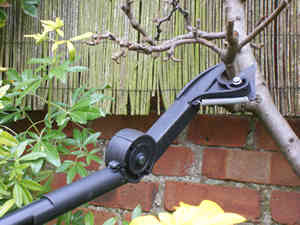 I have used this tool for about 20 years and still marvel at its incredible cutting power and ease of use.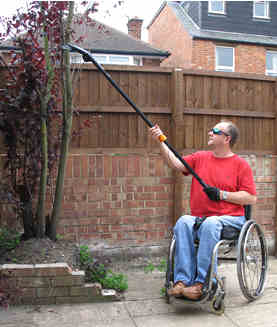 The original UP53 is still available but the latest version is called the Powergear UPX 82 and has an orange tip on the blade. (see below)
The optional saw attachment fits the UPX82 but not the earlier UP53.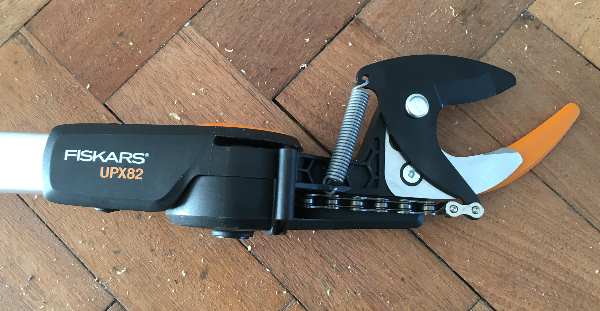 With its cord on the inside it is easier to use than traditional tree pruners, because the cord does not get tangled up in the branches.
Also, the multi-angle head contains a brilliant mechanism with a belt and chain that enables the tool to effortlessly slice through branches up to 32mm.
There are 3 ways of activating the cut, pull the sliding handle, pull the side cord or for extra reach pull the ball at the bottom of the handle.
The UP53 Fiskars Geared Universal Cutter won a 2002 Golden Shed Award and other prestigious design awards.
In 2008 it was re-engineered using more Aluminum, a bypass blade and a chain on the cutting mechanism.
Both versions are 1.6m long and weigh around 740g but the UP83 is about £20 more.

These Fiskars pruners are unconventional tools, but trust me, if you have branches to prune in hard to reach places, this is the tool.
You will love the lack of entanglement and easy cutting action.
A super long telescopic version (UPX86) 2.4m-4m long is available and has a reach of up to 6 metres when you add your body height!
For the new model use the link below
Spare blades and springs are available too.
Fiskars Telescopic Universal Cutter - now called Powergear UPX86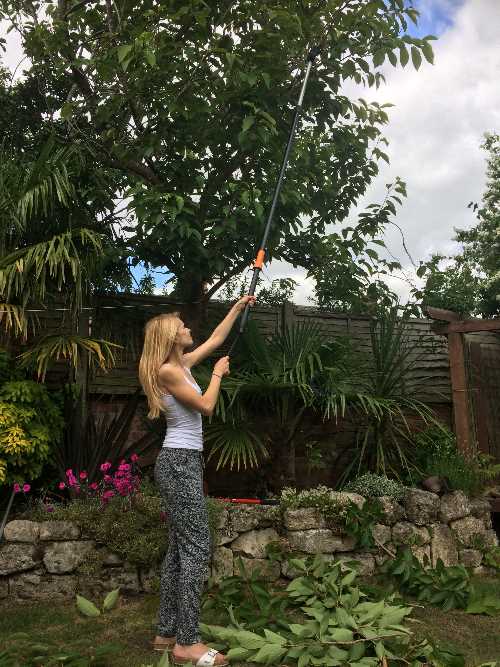 The new materials make the 3rd telescopic version of this amazing tool light enough for anyone to use. The latest version (UPX86) now has a bright orange plastic guide on the blade so you can see it easier from the ground. This simple improvement really helps when you are pruning the highest branches.
 I have owned and used this tool since the first version was introduced around 18 years ago I have even used it from my wheelchair!
The cutting machine can be activated from the orange slider on the shaft or from the ball at the bottom of the shaft to give you maximum reach.
The head can be angled to cut across branches which is something you don't get with the old fashioned tree loppers. A separate saw is available to attach to the  X models in both 1.6m and 2.4m lengths.
The original Fiskars Telescopic Universal Cutter was a Golden Shed Award Winning Product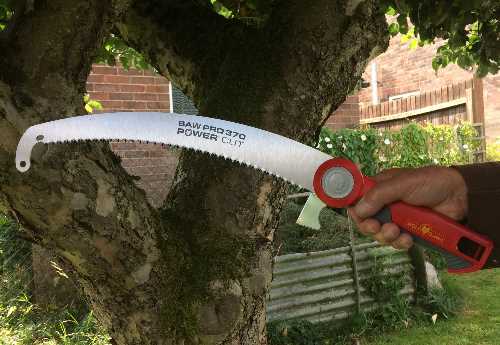 I have used the Wolf Multi change system tree pruning tools for over 20 years.
This curved saw has a hooked end for side shoots and has its own built-in handle. As it has its own handle it cannot be fitted to the Wolf ZM02, ZM04, ZMi12 and ZMi15 handles.
The saw and its brother, the adjustable tree pruner is both superbly efficient and are best fitted to the telescopic aluminium ZMV4 pole to extend to 4m, giving you a reach of 4m plus your own height.
Whilst Silky from Japan seem to be the top brand with professionals for this type of tool the high cost of Silky tools is prohibitive to most people and Wolf is a sensible option for people who want quality at a fair price.
Gardena Combisystem Tree pruning Tools
The Gardena Combi-system is also German made and I have used it for over 20 years now.
It is very popular in Germany but as it commands a smaller market where the prices are a bit steep for most people.
I particularly like the gutter cleaning tool and the fruit picking basket.
Fredshed recommended range of cheaper interchangeable tree pruning tools
This entry-level Darlac range uses a very lightweight telescopic pole and is cheaper than Wolf and Gardena.
It is ideal for someone who is not so strong or just does occasional tree pruning.
SHORTER LENGTH TREE AND SHRUB PRUNING TOOLS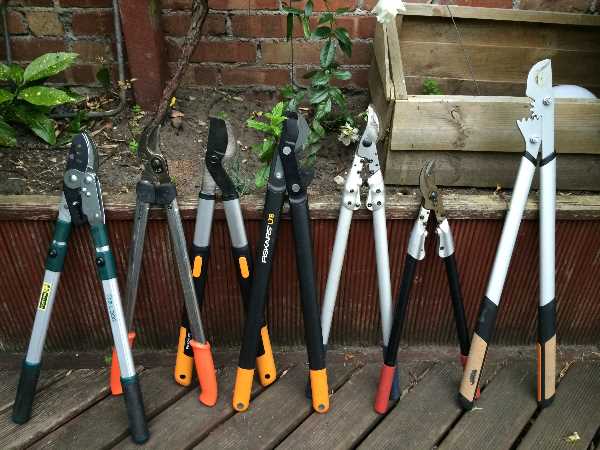 Best Telescopic Loppers -Best Professional Loppers
Top Quality Telescopic Loppers
Telescopic loppers are great at giving the user extra reach and leverage but the introduction of moving parts presents a potential weakness.
In my experience, telescopic loppers fail either by snapping or the twisting mechanism gets jammed.
This mainly happens if the arms are made from round tubular steel. This problem is overcome by using square section metal and locking pins to secure the adjustment.
For long term heavy use, Wolf telescopic loppers are the ones that I recommend (based on 10 years of hard work with one pair). They will cut live 50mm branches and have the easiest handle adjustment method.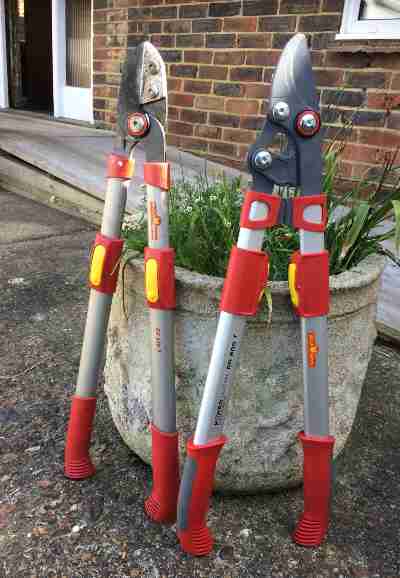 My trusty old Wolf loppers and the new replacement model.
Whilst ratchet loppers sound like a good idea and many work well, they are prone to breaking if used incorrectly. If you are a professional gardener it is likely that you will use hired help, and they may not take the best care of your tools. If this is the case it can be useful to have some more budget-priced tools for your underlings to use.  The Bulldog telescopic ratchet loppers are ideal for this purpose as they are strong, effective and don't cost too much.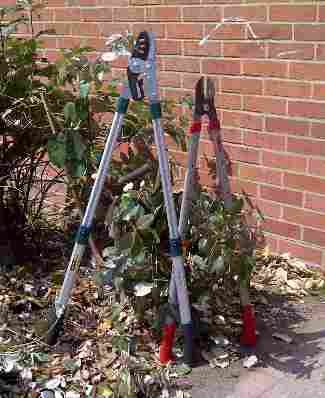 The Bulldog loppers and the Wolf loppers.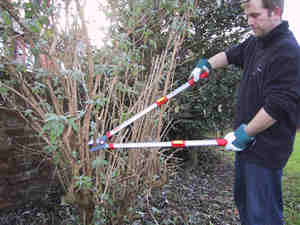 Wolf Garten – Telescopic Loppers – with arms fully extended and 50mm cut,
The new version of my 10 year old pair is even better and is one of the few tools I cannot find any fault with whatsoever!
Use the link below for the best price deal- you won't be disappointed.
Wolf Garten Power Cut loppers – they go as big as you can cut with loppers!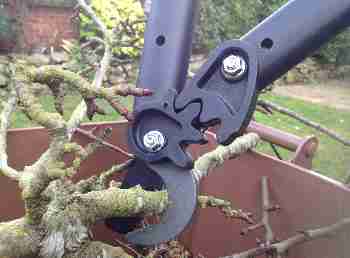 I have been using geared loppers and shears for many years now and hundreds of readers have bought them on my recommendations and provided positive feedback.
This first geared loppers were from Wilkinson Sword and they have now been improved further with the use of lighter stronger handles.
The Wilkinson Sword brand was bought by MTD of the USA and the best-geared loppers are now made by Fiskars of Finland.
These loppers have the gearing mechanism that provides extra cutting power but now the tool is 80% hi tech plastic which makes them ultra light – but still very strong.
Available in 3 sizes!  – 2 bypass blade models and a small anvil version.
Use my links below to make sure you get the latest version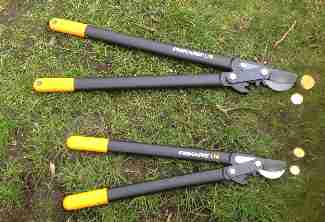 Fiskars geared loppers show maximum cutting diameters.
Fiskars Quantum Lopper with aluminium handles and cork grips!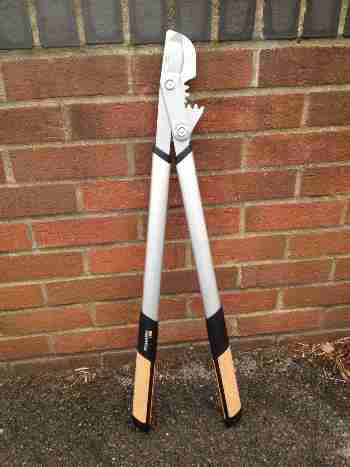 This is probably the strongest pair of loppers available today.
It is an upgraded version of the black version known as the Powergear 2.
The cork grips on this model are comfortable and perfect for users who don't like wearing gloves.
Felco Carbon Fibre Swiss Made Pruners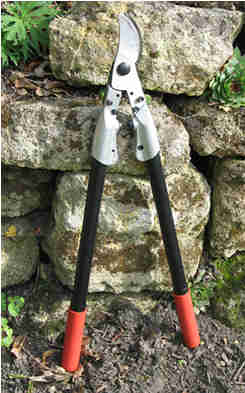 My favourite loppers over many years are my Wolf telescopic ones.
But if you want something effective and really fancy,  Felco of Switzerland make these state of the art, carbon fibre handled, bypass loppers.
The blades are made from precision ground, top quality steel and this tool has the sort of engineering usually seen in Formula One cars.
The carbon fibre handles make this medium size (24 inches long) loppers extremely light AND very strong.
At around £150 you would expect superb cutting performance and this is what you get, plus a design statement too.
 If you can afford it and enjoy having the best then you won't be disappointed.
Or if you want to buy a special present for a serious gardener then these loppers make the ultimate gardening gift!
Pruning Saws tested by Fred-the-shed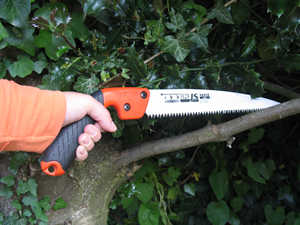 Best Pro-Quality Pruning Saws
The Pruning saw is designed to get into hard to reach areas and give a precise clean which helps prevent diseases from entering the plant.
You will be amazed at how quickly a top-quality blade will cut through green wood.
Folding pruning saws are also available but I find they flex a little so don't cut as quickly as a fixed blade model.
The best pruning saws tend to come from Japanese makers such as ARS and Silky.
You can't go wrong with a saw from either of these companies but it won't be cheap.
If you value quality and want to spend a bit less Bahco provides many tools to the forestry industry and their tools are very good.
My favourite saw is the fixed blade pruning saw that comes with a leg holster. If you buy a saw without a holster expect it, or you, to become damaged.
Fixed blade = Less Flex = Better Cut
Folding Blade Pruning Saws
Folding blade saws are convenient to store but less efficient at cutting.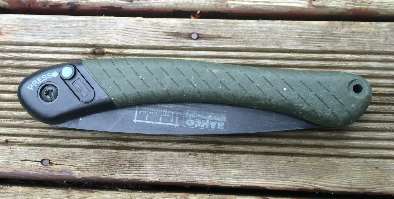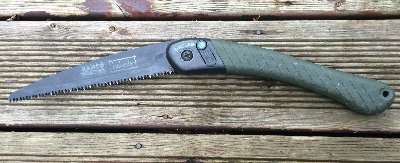 My Bahco Laplander has given me 8 years of use and has the best user reviews of any garden tool I have ever seen.
It is popular with garden enthusiasts, woodsmen and even doomsday preppers.
The Bahco Laplander is superb value and if you want a reasonably priced saw for pruning this is my recommendation.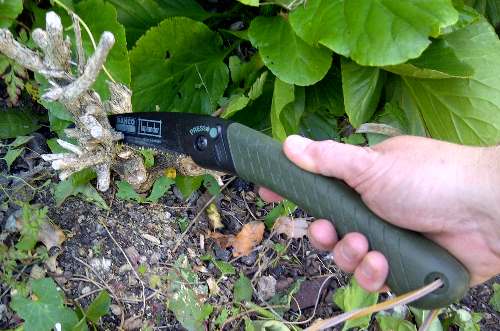 The quality of the cutting edge is superb and like all the best saws it cuts on the backstroke for better control.
Links For Japanese Made Silky Saws For Specialist and Professional Use
BIGGER SAWS FOR TREE SURGERY
Bowsaws Tested and Reviewed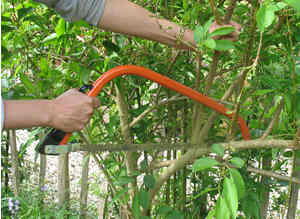 This humble Bowsaw in the right hands is one of the most efficient and cost-effective garden tools available.
For a few quid and a bit of effort, you can prune or clear trees and shrubbery in rapid time.
A Bowsaw is a lot easier to start than a chainsaw and requires little maintenance and no petrol.
If you do have a chainsaw then a bowsaw makes a good backup tool. 
If you buy either size Bahco Bowsaw you can be sure of always being able to obtain spare blades and keep this tool for many years.
Even if you have a chainsaw you should also have a bowsaw as a backup in case of failure or if you are working in areas where people don't want noise
24-inch blade 30-inch blade
Light-Weight Long-Reach Pruners
This fantastic lightweight pruner has red jaws on the head hold onto stems after they have been cut.
I have used the Darlac 600mm, and 1.1m version (known as Snappers) for 20 years.
There are more expensive Japanese made ARS versions and a Spear & Jackson version.
I don't think you can beat the Darlac Snappers. 
The way the handle twist to position the blades makes cutting easier.
My Snappers have lasted 20 and 15 years with regular oiling and an occasional sharpen
Best Secateurs for Professional Use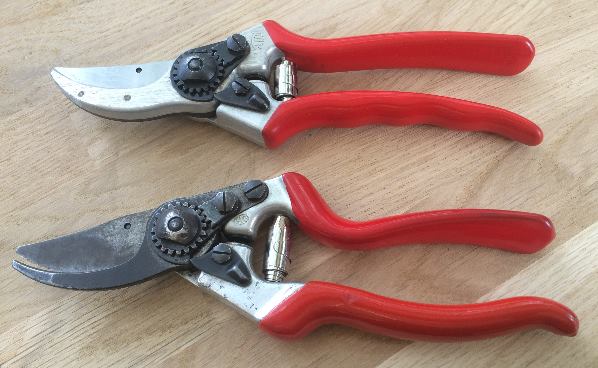 Original Felco 2 and the slightly larger, more ergonomic Felco 8
For extensive information of the best secateurs like these and also Japanese and German-made Secateurs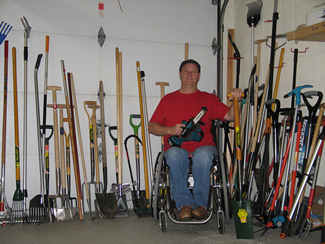 If you found my advice helpful and would like to support my work, please return to this page and use my links when purchasing your tools.
Also, any other products bought from Amazon at the same time will produce a small commission that helps cover my hosting costs.

Or if you prefer, you can make a small donation using the PayPal button below.

USE LINKS BELOW TO FIND MORE GARDEN AND DIY TOOLS