Secateurs and other Gardening Hand Tools
Tested and Reviewed by Fred-in-the-shed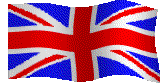 Best Secateurs - Which Secateurs should you buy?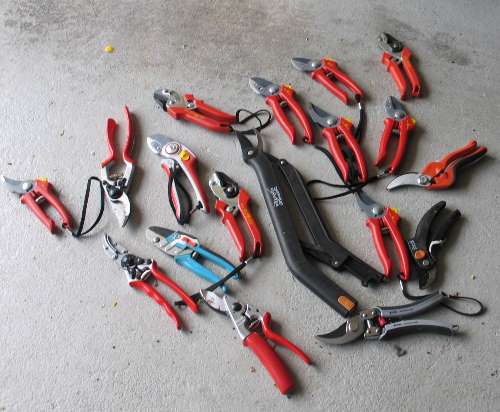 I have tested hundreds of secateurs over the last 30 years and have found very good ones at prices from around £10 up. Sadly there are so many cheap copies of good tools that buying secateurs has become a tricky business.
Below are some of my favourite secateurs that I have personally used for many years. My own preference for secateurs is to have 2 pairs – one anvil ratchet type for cutting thick, dead or robust stems and one bypass secateurs for the thinner, more delicate living stems.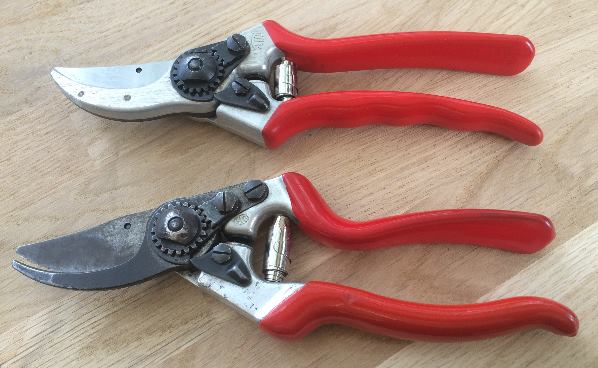 Original Felco 2 and my slightly larger, more ergonomic and well used Felco no 8
First Question – Anvil or Bypass Type Secateur?
Bypass secateurs are more useful and give a clean cut on delicate stems.
These were invented in France over 200 years ago. So have been well tried and tested!
Secateurs with anvil blades are better at chopping thick, dead or robust stems.
Felco Secateurs – World Famous – Top Brand Name
These classic secateurs have been copied by all and sundry.  Felco is the choice of the professionals and you can literarily SMELL the quality when you buy new ones.
At about £40 they are quite an investment but can be serviced and repaired to last your lifetime. (Please contact the company, Burton McCall)
Many professionals I know and most of the gardening celebrities on TV tend to use Felco secateurs.
There is a large range to suit your hand size and pruning requirements. Model no 2 are the original one. Later model no 8 was introduced with a more ergonomic handle.
If you have smaller hands then Model no 6 are best but will have a slightly reduced cutting capacity of 20mm instead of 25mm.
You will notice that most of the Felco range are bypass type secateurs.
Felco also pioneered the use of rotating handles to reduce RSI and skin chafing. See models no 7 and no 12. (also no 10 for left-handed use)
The only small criticism I can make of Felco secateurs is that the small metal safety catches can be hard to access by people with arthritis or large cold fingers.
Spares are available for every part of every Felco Secateur
A Japanese-Made Alternative To Felco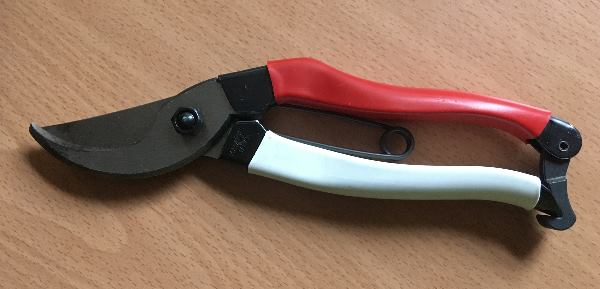 These Okatsune 103 bypass secateurs are one of the oldest designs of secateurs and give a superb cut.
The blades are the best Japanese steel with a Rockwell hardness of 60 -61!
This means that unlike the dozens of cheaper copies from China these Japanese made secateurs will keep their sharpness and cutting performance much longer.
This is my second pair as the first got lost after 6 years and I really missed them. The plastic covers on the handles can be a bit slippery at first but apart from this, they are virtually perfect. The metal blades will tarnish over time which is normal and not a problem. Okatsune tools and are now fully supported in the UK with springs and other parts available.
Best "all-round" Secateurs?
Wolf Secateurs – Made in Germany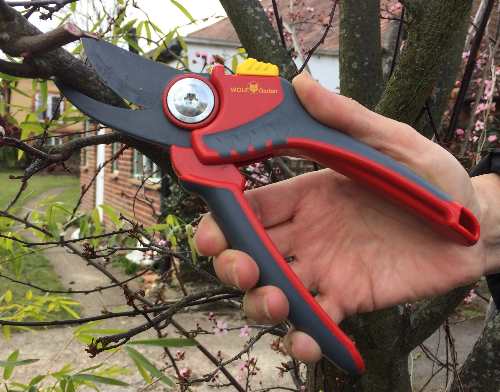 Curved Ergonomic Handle and Easy to use Safety Catch – Plastic or Metal Models
These German-made pruners were designed with comfort and ergonomics in mind and are the most comfortable and easy to use.
The downward curve of the blades puts your wrist in the best position and reduces the risk of repetitive strain injury (RSI).
The large yellow safety catch is easily visible on the top of the tool and can be used by left or right-handed people, and those with reduced dexterity from conditions like arthritis. Another good feature is the hard grey Teflon coating on the blades that protect them from the corrosive properties of plant saps.
They have been given various, confusing names. Wolf Basic Plus, Comfort, Comfort Plus and Premium Plus, all similar tools with increasing quality.
The plastic handled model comes in 2 sizes, with springs built-in and with either bypass or anvil blades.
RR2500 and RS2500 for medium-size hands
RR4000 and RS4000 for larger hands
This Aluminum version (RR5000) also has an internal spring that cannot fall off.
It gives a superb cut but is not suitable for users with small or weak hands.
Ratchet Secateurs for Easier cutting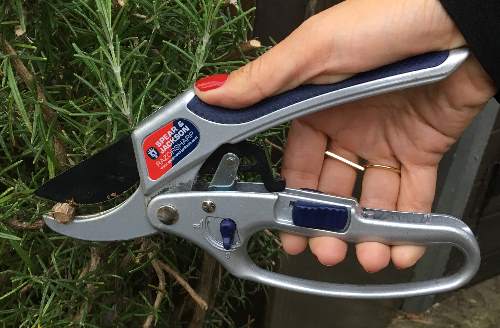 The latest model has a switch to change from ratchet to normal action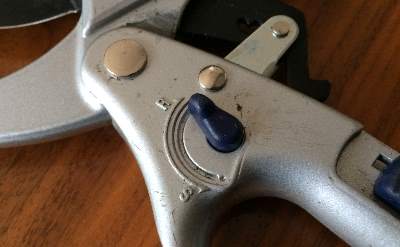 In my former work as an NHS Horticultural therapist, I recommended ratchet secateurs to hundreds of patients with arthritis or who had a weak hand grip. This enabled many people to continue gardening when they would otherwise have given up. However, anyone can benefit from using ratchet pruners as you will be able to cut larger Stems more easily.
The ratchet action will enable you to cut woody stems up to 25mm with 30% less effort and reduce the chance of damage to arthritic knuckle and finger joints. Ratchet pruners only come with Anvil blades, not bypass and the pumping action required takes slightly more time (but we are talking nanoseconds). There are many versions available but the best now how a switch so you can use them like normal secateurs when you cut thinner stems.
I tested the Spear and Jackson version but the same product is available from other companies. They are made from aluminium and also have a finger guard that helps keep thorns at bay.
If you use the link below you will get them at a brilliant price and support my work too as anything purchased from my links generates a small commission for Fredshed.
Remember the technique for using ratchet pruners
When cutting thick stems –
Squeeze -release- squeeze-release – squeeze – cut done!
In between squeezes of the handles you will hear a little click as the mechanism resets itself for optimum leverage and cutting power.
Best Value Good Quality Bypass Secateur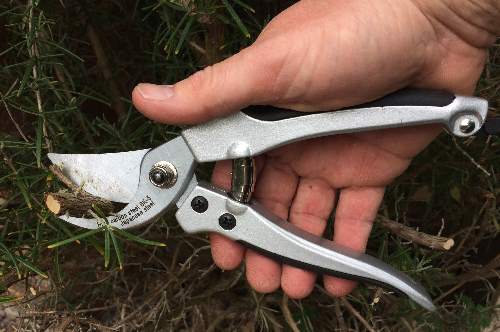 If you want cheap but good secateurs, with a really clean cut these sturdy bypass secateurs are superb value for money.
They are not really what I would describe as heavy duty but are well put together for Green Jem who has been selling fairly priced garden tools for years. They are modern copies of a classic Japanese pruner that has been around for decades.
They also have a top-quality Japanese SK-5 steel blade but an aluminium body for strength and lightweight. I also like the comfy but durable soft grips on the handles.  For the money, these have to be the best secateurs and are a real pleasure to use.
Despite the low cost, these are well-made secateurs. The only small downside is the unusual rear-mounted safety catch and the fact that they are a "one size fits all" job. However, the size has been well chosen so will suit anyone with the possible exception of those with large hands the size of a German goalkeeper!
I keep a stable of different secateurs scattered around my gardens and in my car. I am always pleased to see these ones and use them mostly for pruning live stems where I need a good clean and accurate cut. Japan has a long history of using high-grade steel in cutting tools (knives and Samurai swords) so it is fantastic to have such a high-quality blade on a relatively cheap tool.
You can buy similar looking secateurs from other companies but most I tried had poor quality springs and the mechanisms became stuck. Secateurs of this type and price range are all made in the far east so variants in price and quality will exist between different "brands" and suppliers.
These secateurs will make a great present and should last many years with just an occasional oil and clean.
If you buy them using my link you will join many of my happy readers and also help my site and work with a small commission.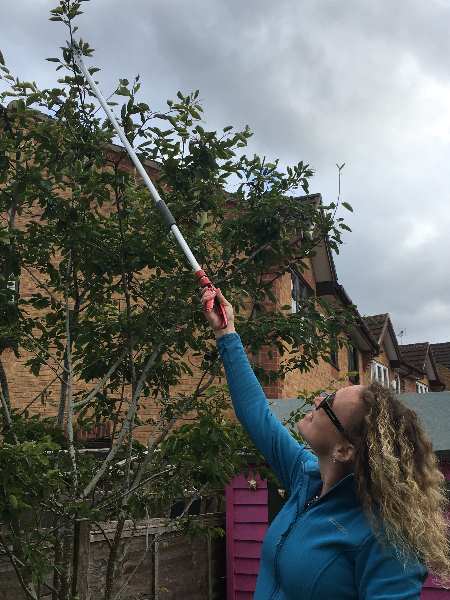 If you don't like bending, climbing ladders or getting prickled then this is the tool to get.
I have been using this 1m long Darlac Snapper for over 20 years and also have a longer telescopic version.
The other great feature is the cut and holds blade that stops your prunings from going over the neighbour's wall!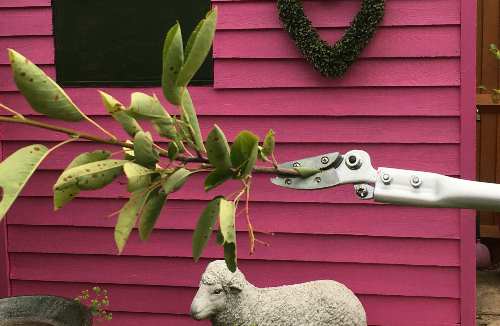 Small Garden Hand Tools, Forks and Trowels
Most Advanced Forks and Trowels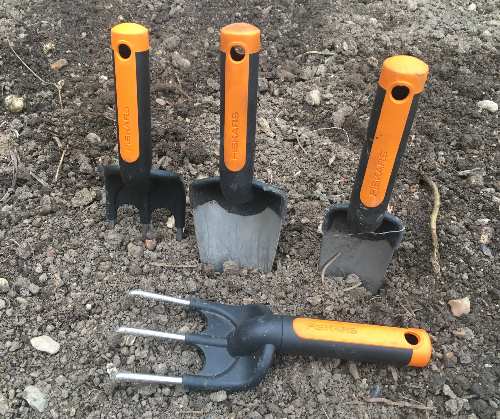 These tools are made in Finland by Fiskars and really break new ground for gardening tools – see what I did there?
Special composite plastics and top quality stainless steel make these tools super lightweight but strong and effective.
The fork is more of a cultivator but this is great for breaking soil and quickly removing surface growth.
This style of hand fork is more popular in the USA and I think it is more efficient than our usual type.
The range includes the traditional type of hand fork also if you prefer.
Fiskars has been making tools since 1649 and is one of my favourite manufacturers.
I absolutely love my Fiskars hand tools and due to the nature of the materials, I leave them out all year round – ready for action!.
My Favourite Traditional Style Fork and Trowel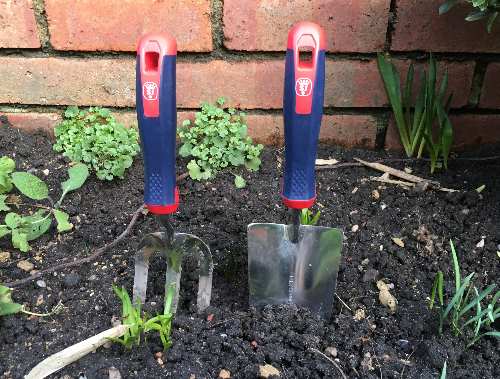 Whilst my readers know that I am not a fan of stainless steel for full-size forks and spades I am more enthusiastic about its use in small hand tools.
As stainless steel is not as strong as normal carbon steel it is more suited to the smaller tools that suffer less strain.
The advantage is that the tools rustless, and are easier to push into the soil, especially when damp.
These Spear & Jackson Select tools are a joy to use as they are well made and have comfortable soft-grip handles.
If you are using garden handtools a lot then you will really appreciate these handles. I have left these tools out in the garden to see how durable they are and they are doing well. If you like Wooden handled tools then the gift set on the link below is good value and has been sold like this for many years with great feedback.
Both versions have a hole in the handle but only the Neverbends have the hanging strap.
These are my handmade Sneeboer stainless steel fork and trowel.
Dutch Made Artisan Fork and Trowels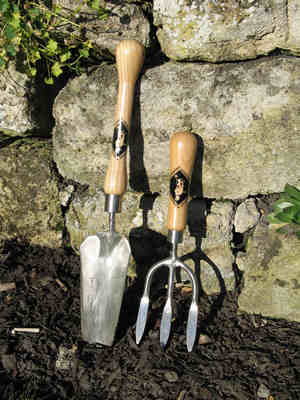 These are my handmade Sneeboer stainless steel fork and trowel.
My friend Jaap Sneeboer made them in Holland as his family have done for centuries.
These tools are relatively expensive but very special and make superb gifts for any gardener.
READ ON FOR HOES, RAKES, LOPPERS, SHEARS AND OTHER GARDEN HANDTOOLS
Best Garden Tool for Hoeing and Shallow Rooted Weed Removal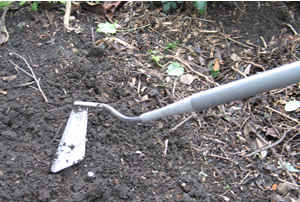 In my opinion, this is one of the best and easiest to use weeder/cultivators ever made. It is also one of the strangest looking. Which explains why even after 30 years on the market  -it is still hard to sell. The Swoe is a cross between a golf club and a hoe and is lightweight yet extremely strong.
The chamfered steel blade slides under the soil backwards and forwards, or at an angle. It can even be hooked around the back of a hard to reach the plant. Turned on its edge it can be used to dig small holes for planting, seed drills and for ridging soil.
The best versions have a stainless steel blade that remains cleaner thus offering less resistance when sliding through the soil.
This hoe, along with my own Stealth weeder is the tool of choice for most of the gardeners at Le Manoir.
You will probably not be able to find a Swoe in your local garden centre as the unusual design makes them harder to sell than other types of hoe.
The links below will get you one at a good price and also help me and my site keep this great tool going. I promise you that will be impressed with this tool!
If you hoe larger open areas or want a more traditional type of hoe then I would recommend a stainless steel Dutch hoe.
Wolf Multi-Change Garden Tools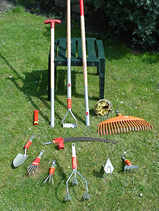 To cover a plethora of jobs in the garden I like to have a system of tools that fits different handles.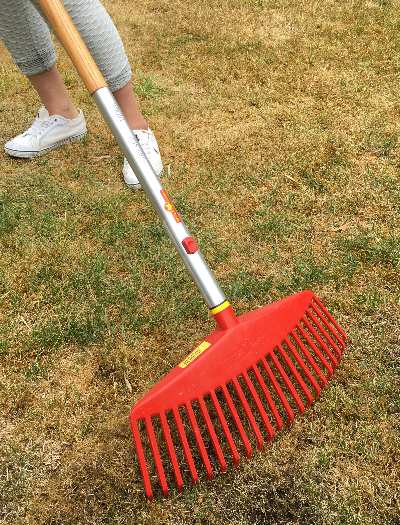 The advantage of this is that you save space on storage and can transport lots of tools all at once.
I have used this multi-change system for over 30 years now and also tried many "wanna-be" systems.
With the exception of the hard to find Gardena Combi-system all were poor in comparison and none have the range and variety of handles and heads.
The range includes the amazing soil miller cultivating tool, a hollow tine lawn aerator and tree pruning attachments.
Brooms, brushes and even fruit picking attachments make this the widest range of tools available from any one company.
This system has been around for many years and will be available for many more.
The Wolf Multi-change system is made in Germany and now has a 35-year warranty on the tool heads.
Best Loppers Tested – Which Garden Loppers should you buy?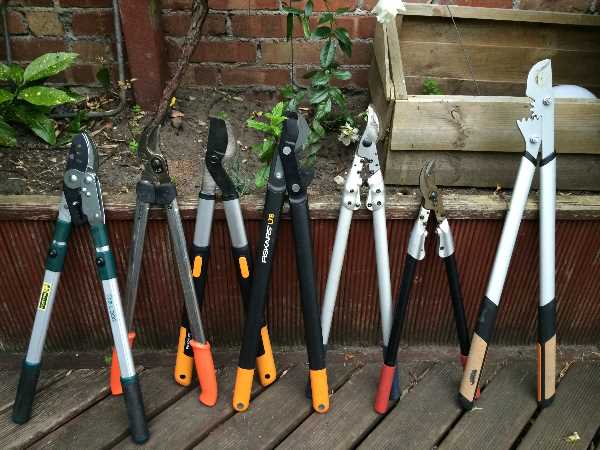 Telescopic or Ratchet? Traditional or Geared?
Over the last 16 years of running Fredshed, I have tried and tested dozens of pairs of garden loppers. These tools have evolved over the years with the introduction of telescopic handles and ratchets. Some of the current budget versions of these tools are rubbish and best avoided.  The strength of loppers was greatly improved with the introduction of oval rather than round tubing and telescopic loppers improved with sliding rather than twisting adjustment on the handles.
Telescopic handles & ratchet mechanism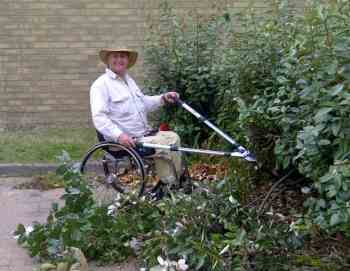 This is me using my Bulldog telescopic ratchet loppers.
The Bulldog loppers are light but strong.
If your budget is limited or you want some extra cutting power then these Bulldog telescopic ratchet loppers are excellent.
Square section aluminium handles give strength but remain lightweight.
The ratchet mechanism adds power to easily cut 50mm branches.
The only negative thing about these loppers and ALL ratchet loppers is that the handles have to be opened wide to get the full effect of the leverage from the ratchet mechanism.
So they are a little more awkward to use in confined spaces.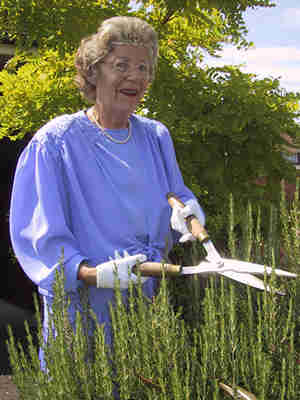 The hedge shear is one of the essential garden tools and one that if selected badly can cause you a lot of pain and hard work. It is also a garden tool that requires more maintenance than most to keep its performance.
Buying cheap shears is a fool's option unless you have one small bush and little money. A quality pair of garden shears are a pleasure to use and will last many years with only a little attention now and again.
The choice is enormous and some of the old ones are still the best. Recent innovations include lightweight telescopic handles and some sort of gearing or leverage to make cutting easier.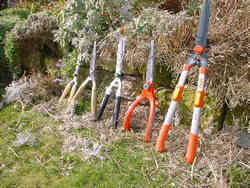 Some of the shears I own and have tested.
I tested many makes and types of Garden shear from the ridiculous £4.50 Tesco specials to the top price Golden Ceka Shears.
To test hedge shears I took 5 of the best I could find and used them over a 10 year period. During this time other shears were occasionally introduced to the trial and all of the tools were loaned to my test team for further feedback.
Best Budget Priced Hedge Shears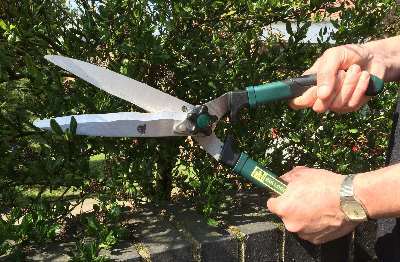 The Bulldog Premier wavy blade shears are small but are well made enough to cut most hedges.
The wavy blade actually helps to trap the stems so that they can be cut cleanly. At only 18 inches long and weighing around 1KG these are ideal for small gardens, small sheds and small gardeners.
They have comfortable soft grips and the blade tension is easily adjusted by the use of a large knob.
The Fiskars ones step wavy blade shears are a little more expensive but are lighter and have the added advantage of a unique mechanism that helps to cut through thicker stems.
Best Telescopic Hedge Shears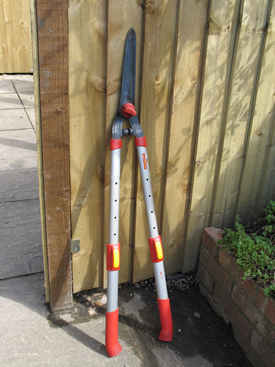 These German-made shears are my favourite telescopic versions. The handles are oval for extra strength and adjusted by durable sliders rather than the unreliable twisting mechanisms found on inferior models. They also have Teflon coated blades. The tool shown above is over 10 years old and gets frequent use.
Here is a big tip -avoid telescopic tools like shears or loppers with round tubular handles, they usually jam. Go for oval tubing, it's stronger. Even cheap Chinese made hedge shears have now copied this design. However, take care when buying unbranded cheap Chinese tools as many use poor quality metal or do not harden and temper it properly to reduce costs. You won't know this until they fail.
Best Professional Quality Hedge Shear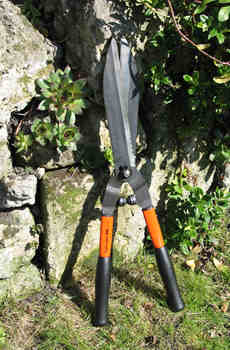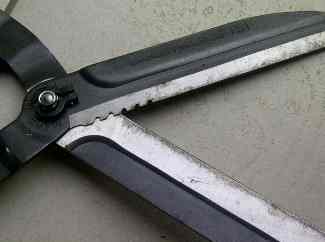 The notches enable thicker stems to be cut.
The most commonly used shears amongst professional gardeners are from Bahco of Sweden who makes a huge range of no-frill hedge and garden shears like these P51 models shown above. They are available in 2 handle lengths and unless you work in confined spaces I would recommend the longer handled model.
Bahco is literally at the cutting edge of blade technology and also provide simpler budget priced tools with the same quality blades for domestic use.
A note on lightweight shears
The action of shearing can put a lot of strain on the moving parts of shears so if you want lightweight shears then don't expect them to do heavyweight work.
Also if you want lightweight telescopic shears then please be aware that the introduction of more moving parts introduces more weaknesses and parts so again don't expect them to be very lightweight or be able to handle heavyweight tasks.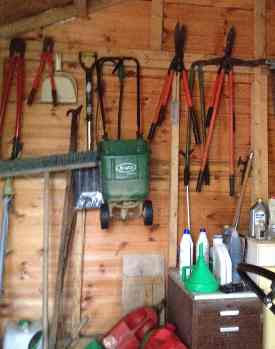 You will find Bahco shears in most professional gardeners sheds.
Old Fashioned Top Quality Hedge Shear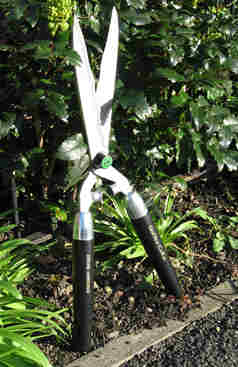 My personal favourite shears are these German-made Golden Ceka shears with a wavy blade. They have been around for many years and have the best cutting ability. However this power comes at a price and they are a tad heavy, and seriously expensive.
An alternative product is the Silver Ceka hedge shear. This is heavier but has the wavy blade that many gardeners prefer.
Geared Pro Quality Hedge Shears
These Fiskars HS102 Quantum shears are made in Finland and are the latest version of the tried and tested geared shears. If you need extra arm power when cutting hedges then this is the tool for you. There is a slight downside in that to achieve the effect you will need to move your arms more. It is the same as riding a bike in a lower gear, more pedalling but you can overcome a large hill.
The shears are beautifully made and the blades are Teflon coated so they are easy to clean and won't rust.
As I don't like working in gloves I really appreciate the lovely cork handles too.
Thin but Tough Showa Plant Master Gloves
Also known as "assembly 370" gloves as they are often used on factory assembly lines
Thin but strong – small – medium – large
Please use my links when purchasing gloves if you want to help my work testing and reviewing the best gardening products. – (a long term since Feb 2000!)
Thin but Tough Showa Plant Master Gloves
Also any products bought from Amazon found by the searchbox below will produce a small commission that helps cover my hosting costs. thanks, Fred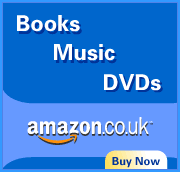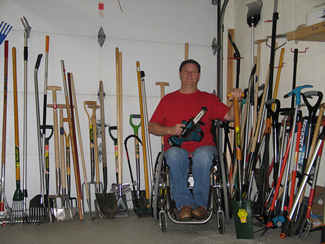 Also, any products bought from Amazon found by the search box below will produce a small commission that helps cover my hosting costs. thanks, Fred

USE LINKS BELOW TO FIND MORE GARDEN AND DIY TOOLS