Tested and reviewed by Fred-in-The Shed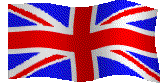 GARDEN SHREDDERS TESTED OVER THE LAST 20 YEARS
Thank you for visiting my page
If you find the info here useful please use my links when purchasing.
You can also e-mail me if you need help choosing a shredder.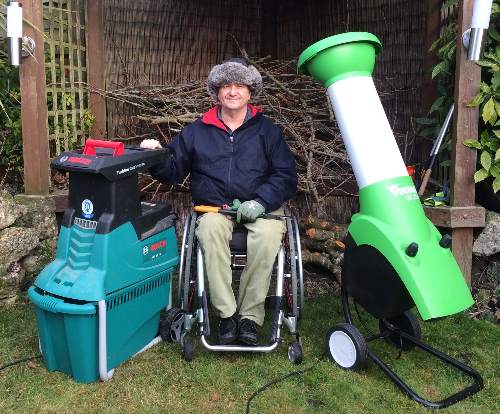 Bosch AXT25TC versus Viking GE250
Over the last 20 years of running Fredshed I have tested dozens of garden shredders.
For everyday domestic use I prefer Bosch shredders and am confident about recommending them to my readers.
The reason I prefer Bosch shredders is that they are reliable and effective. Also Bosch supply all spare parts for at least 10 years.
You get a GENUINE 2 year warranty (extendable free to 3 years via Bosch UK website)
You can call Bosch for advice and if needed have your shredder collected for repair or service.
WHY BUY A GARDEN SHREDDER?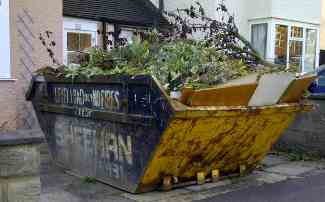 This skip costs £250 to hire and can only be used once.
A shredder will last for years and turn a waste product into tonnes of free mulch for your garden.
Which Bosch shredder is best for you ?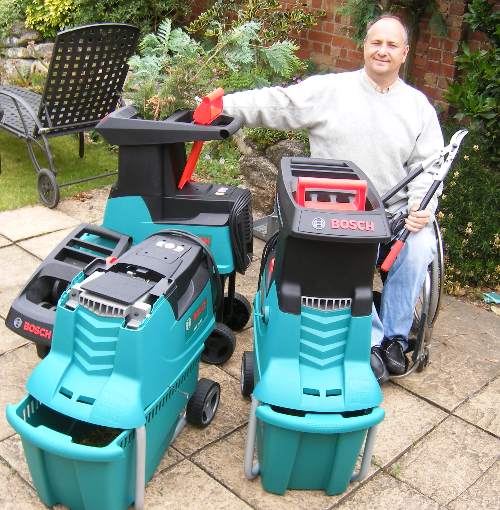 Bosch have sold shredders in the UK for around 30 years and produced many models. I have had them all.
The range has been reduced to 3 models now that all work in different ways.
The simple rapid type (AXT2200) is best for softer material and smaller jobs.
The two quiet models (25D & 25TC) self feed and crush woody material better.
The 25D just crushes and is based on the older models for woody branches only.
The new 25TC model crushes and cuts both woody AND green material, it is also quiet.
The 3 Bosch models currently in production
1. Cheapest - Basic Model - Bosch AXT 2200 Rapid (Impact) shredder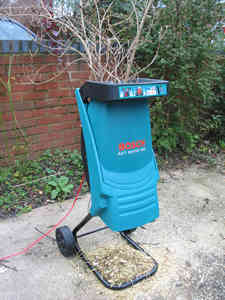 The AXT rapid shredders were introduced in 2004 and are basic impact shredders. This means that the blade smashes into the material, much like a food processor blade does. This Bosch model has been copied by numerous brands but using inferior parts that make them almost useless in comparison.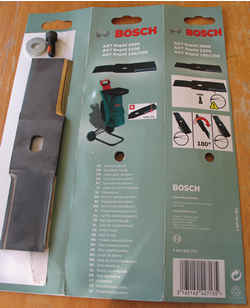 Only the Bosch model uses a reversible, double edged laser cut blade, like a mower blade.
Cheaper Chinese shredders may look the same on the outside but use a smaller weaker blade, like the one below.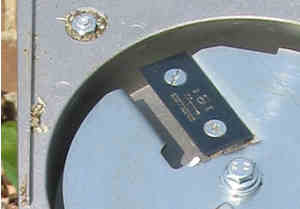 A simple razor blade type shredder blade as found on cheap, Bosch lookalike shredders
These blades literally take a lot of stick and go blunt very quickly. Some manufacturers have increased motor power without upgrading the blades, so they fail even quicker! On top of this most large DIY stores will not sell blades, or know where to get them.
This is one reason why I like Bosch shredders – blades and parts are easily available and for years after the product is discontinued.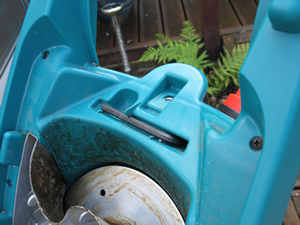 How to replace a blade on a Bosch rapid shredder
Open the top and the Allen key required is sitting there in its little slot.
Use a screwdriver to lock the blade disc and undo the blade with the Allen key.
Avoid soil in your shredder to prolong blade life.
Also wire, stones and knotty wood!
The AXT2200 rapid is the most popular and cheapest Bosch shredder.
For use in smaller gardens and mixed material.
It works like a big food processor so I recommend having a spare blade as it will blunt at some stage.
2 & 3. Heavier duty, silent, self-feeding models; - AXT 25D and AXT 25TC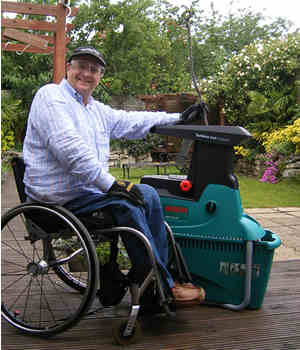 The AXT 25D & AXT25TC look the same and have many common parts but the 25D uses the "old school" cog mechanism.
This limits the material you can shred to branches only. Despite their size both can be easily moved on their 2 rear wheels and the top can be removed quickly to access the blade area for cleaning and occasional lubrication.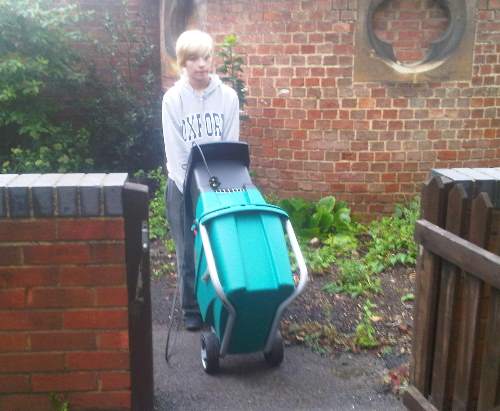 The AXT25TC is the newest model and uses a turbine to cut AND crush.
This is unique to Bosch and has not been copied yet because it is patented and also very hard to engineer.
This turbine cutting mechanism shreds hard AND soft material, unlike most other models that do one or the other. This makes it suitable for a wide range of material from hedge trimmings up to branches of 40mm diameter.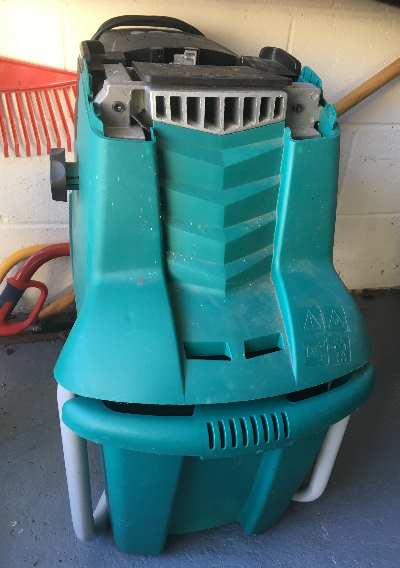 The top of the shredder can be quickly removed and stored in the collecting box to save space .
Therefore, if you can afford it I recommend that you buy the more versatile AXT25TC and not the old AXT25D.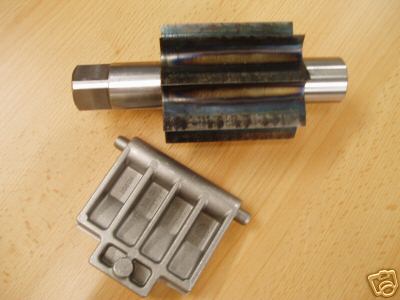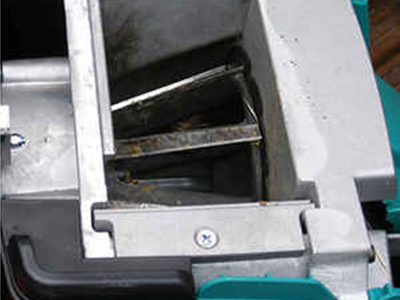 AXT25D cog and plate mechanism- Ok for wood but not as good as the new turbine on the AXT25TC
Top Tips For Buying a Bosch Shredder
Bosch shredders come with a 2 year warranty, extendable to 3,  and excellent service backup.
Turbines are lasting over 5 years, some 10, no problems reported so far.
25D & 25TC models have built in collecting bins that some users don't like
(Place a bit of carpet under your shredder to stop the bin shaking loose)
(Place a bit of carpet under your shredder to stop the bin shaking loose)
Garden shredders are primarily designed for WOODY plant material
Please don't mail me to ask about shredding food waste, apples, nappies, cardboard or straw
ALL domestic shredders have a small top opening due to EU safety law
Here is a choice of links to get the best deals.
What comes out of your Bosch Shredder?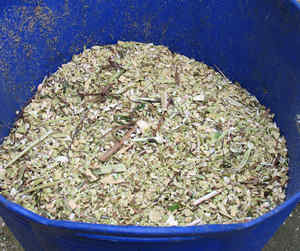 Finer Chippings from Bosch AXT 2200 Rapid
If you want smaller chippings or you want to shred softer green material the RAPID shredders are for you.
My top tip is to shred material shortly after pruning and try not to stuff too much in at once.
Impact shredders will give stringy "shreddings" if you put too many twigs down together, or the blades get blunt.
If you want fine, even shreddings, then single long stems are the best provider of this.
If you have a small garden or want a lightweight shredder the rapid version is best.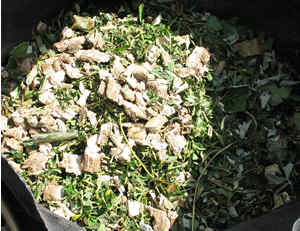 Chippings from Bosch AXT 25D Cog crushing model
These are the "chunkings" from a Buddleia that went through my test model AXT25D shredder. The old spiral cutting AXT1600HP and AXT2000HP produced similar large size chunkings.
You will notice that the pieces are quite large and some soft green leaves got through relatively unscathed.
If you shred woody material these large "chunkings" make excellent weed-suppressing mulch that will take ages to rot down. If you want small chippings to compost quickly then best get another type of shredder.
My personal opinion is that it is more environmentally friendly to let soft material rot naturally in a well-made compost heap – if you have the space. Just shred the woody stuff and keep anything over 40mm thick for firewood. If you are really determined to shred soft material then one way is to mix it in with previously shredded material which will also make the output finer and better for composting rather than mulching.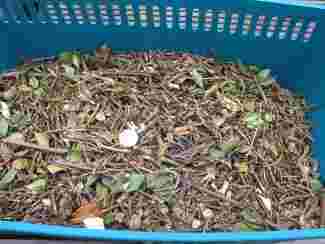 Chippings from Bosch AXT 25TC turbine cut models
These are the mixed size shreddings of various plants that went through my test model AXT25 TC shredder.
I have placed a 50p piece in the middle so you have an idea of scale. The size of the material produced will vary with what you put in but the main difference is that green material will be more cut up and smaller than if it had been through one of the D models.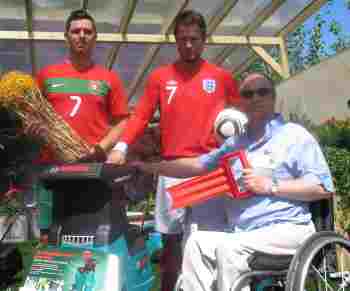 Beckham and Ronaldo get shredding lessons from Fred at the Chelsea Flower Show
Shredding Leaves in a Garden Shredder
Ok if they are on branches- not if loose on the ground!
Many people ask which shredder is best for shredding fallen leaves and the answer is a big one with a large hopper.
However, shovelling in piles of leaves is one of the best ways to kill any shredder as so often stones and other debris sneak in and damage the blades or worse.
Also, the type of shredders that can cope with leaves is usually petrol driven, heavy and expensive. To fit bulky material in some shredders have a wide opening. However, to meet safety regulations this means the distance from the opening to blade must be longer than the longest arm, hence these machines are massive and the top is often out of shovel reach anyway.
I personally think that shredding leaves is a waste of time and a better way of managing them is to let them rot down in a dedicated heap, container, or in bio-degradable Jute leaf sacks. Fallen leaves are one of natures best composts and provide fertility for the forest floor and trees.
One way to break down leaves is to put them in a plastic dustbin and strim them with a heavy-duty grass trimmer. Or run your mower over them, especially if you have a Bosch mower with one of the special leaf breaking blades – see link below.
Leaves take a couple of years to rot properly, but can then be spread out to form a nutrient supplying, weed-suppressing carpet.
Well-rotted leaf mulch smells nice and is clean to handle and the Jute leaf sacks look natural and rot down too.
How to Speed up Composting of Shredded Material
If you want to speed up the rate your shredded material composts then I recommend adding a handful of a compost accelerator like Vitax every now and again.
Add some water at the same time as compost will not break down if it is too dry. Cover the heap or container to keep the heat and moisture in.
Arguably peeing on your compost heap will achieve the same effect but I think it is a bit smelly and not as convenient, especially for the ladies. 
Shredder Repairs and Common Problems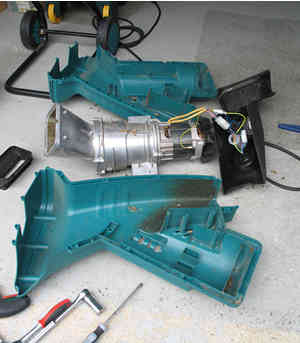 I have taken apart and repaired a number of shredders.
I don't supply shredder parts, but Bosch does, from their UK website.
If you bought a shredder from eBay or a discount supplier and have problems then please contact them, not me. (good luck)
The first point of call for all repairs/ technical questions is Bosch.
For Bosch repairs call 03447 360109, they will need the serial number from your shredder.
They may be able to offer you a collect and repair service but you will need to box your product
Spare Parts for Bosch Shredders and other Garden Machinery
In theory manufacturers of electrical equipment must supply spare parts for 10 years.
Many companies who source their products from China do not, and cannot meet this requirement. This includes some household names.
Bosch keeps this promise and provide operating manuals and parts diagrams for all models and a dealer locator on their website.
I'm not saying the parts will be cheap or even that a repair to your product is always viable, (skilled labour is expensive) but parts are available.
Please don't mail me about repairing old shredders, and  I do DON'T have wiring diagrams for any shredder.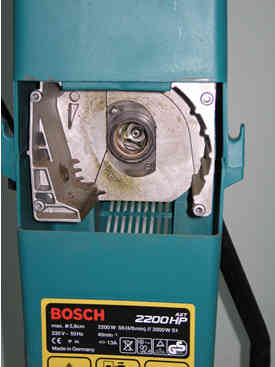 On the old aXT2200HP, the cog can be easily accessed by removing 4 hex bolts on the front of the shredder.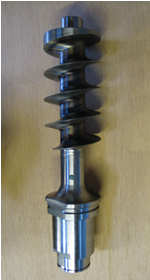 The helix or spiral cutter from the discontinued AXT1600HP and AXT2000HP machines are no longer available.
DISCONTINUED BOSCH SHREDDERS
Bosch AXT 180 , AXT 200, AXT2000 Rapid Shredders
Bosch AXT 1600 HP , AXT 2000 HP and AXT 2200HP Quiet Shredders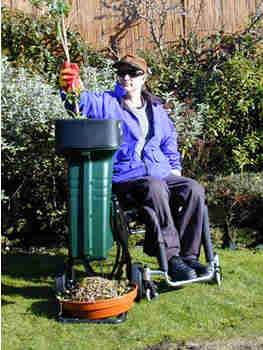 My old 2000 – 20 years ago!
Replaced by AXT 25TC and 25D
The older range of Bosch shredders was also branded ATCO since Bosch owned the ATCO brand.
These were German-made machines and in normal use commonly lasted over 10 years. However, even this machine will eventually need new parts, such as the cog, or screw, and maybe bearings.
The Bosch AXT1600HP and AXT2000 HP were unique as they used a spiral screw to crush the branches and pull them in. A replacement spiral screw costs about £80 and is quite a job to replace. Although these machines are of good quality they are prone to helix wear and those that are left must be nearing the end of their time.
The Bosch AXT2200HP used a cog to crush the branches which is more robust than a spiral screw but is still expensive to replace compared to spinning blades. The crushing cog shredders are the toughest and I have had the least complaints about them. In 2009 the AXT25 D was introduced to replace the 2200HP.
Many complaints about shredder failure are due to misuse (I would say about 50%).
A common problem when old shredders won't start is the failure of the capacitor that "kick starts" the motor.
Replacing a Bosch shredder capacitor is a viable repair as the part is not too expensive. 
Other makes of Garden Shredder recommended by Fred
I have tested the following shredders
AL-KO SP5000 Silent shredder, AL-KO Powerslider2500R shredder, Atco 1800 Quiet shredder, Bosch AXT 180 Rapid Shredder, Bosch AXT200 Rapid Shredder, Bosch AXT2000 HP Silent Shredder, Black & Decker GA 1600e shredder, Draper 1800w Shredder, JCB GSB 1800 Shredder, Makita DSH201 Shredder, Powerdevil shredder. Viking GE 250. Wolf SDL2500.
Readers have provided feedback on the following shredders
Ryobi RGS 1500 Shredder, MTD 115E shredder, Viking GE35L shredder, Viking GE103 and GE250 shredder. B&Q performance 2100w Quiet shredder.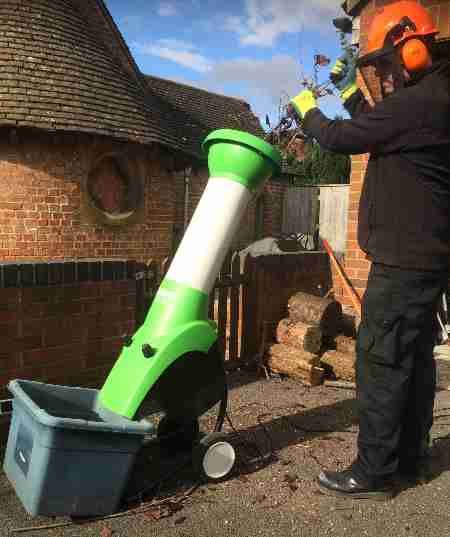 Viking GE250 - Now called Stihl GE250 (and orange and white)
The Viking/Stihl shredders are top quality but impact shredders so unless you keep those blades sharp they will not perform 100%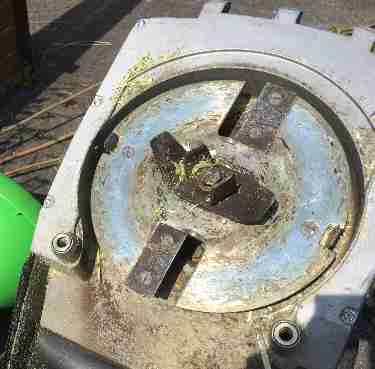 Compared to the Bosch quiet models they can be noisy, and dusty. They do not self-feed material but handle larger amounts of thin softer material very well.
If you put too much in at once it will block and then is a pain to clear. After Bosch, Viking/Stihl are my next favourite brand of the shredder.
Heavy Duty Garden Shredders - Viking/Stihl GE250 & GE355 Tested
The image below is a Stihl GE355 shredder. This is the big brother of the Viking GE250 above.
The Stihl range of shredders is basically the old Viking range but rebranded and painted orange and white.
They are still top quality and made in the factory in Austria that I visited in 2018.
This GE355 has an insulated body to reduce noise but it is still an impact shredder with spinning blades so will make a bit of noise.
It has more blades and power than the GE250 but is much larger and costs around £600.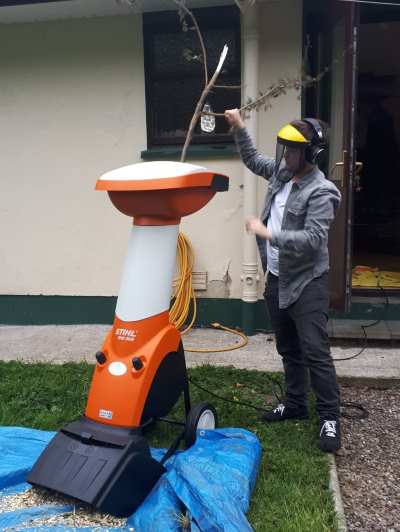 For shredding thick woody material it is not as easy to use or effective as the Bosch AXT25TC which consistently shreds up to 45mm diameter branches by crushing and cutting and does not require blade sharpening.
If you want to buy a Stihl/ Viking shredder then please contact your nearest Stihl dealer via their UK website.
Always have secateurs and loppers on hand!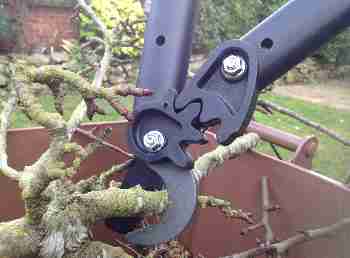 Fred's Favorite Loppers – Fiskars Powergear Anvil Lopper
Its geared mechanism gives extra power and is made from super-strength composite.
For use with a shredder, I strongly recommend the larger size bypass lopper.
It cuts to the maximum size that your shredder can handle.
And it gives the most cutting performance per £ spent.
Essential Safety Equipment when using shredders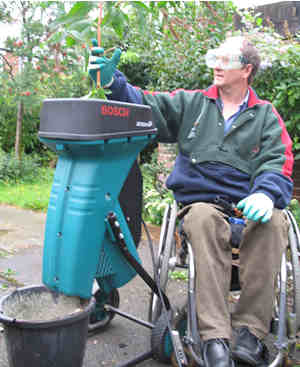 Gloves, goggles and even ear protection should be used when shredding.
Tie back long hair, you could end up with a very bad haircut or worse!
Make sure you clean and sharpen blades on impact shredders regularly.
Empty the bucket that collects the "shreddings" frequently to prevent material from backing up into the lower chute.
Brush or vacuum the motor vents occasionally to prevent overheating and cutouts.
Be a real shredding fanatic and fit an outside power socket!
Would you like my personal tip for the best shredder for your garden ?
I always reply! (the UK only please)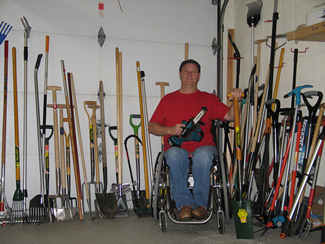 If you found my advice helpful and would like to support my work, please return to this page and use my links when purchasing your tools.
Also, any other products bought from Amazon at the same time will produce a small commission that helps cover my hosting costs.

Or if you prefer, you can make a small donation using the PayPal button below.

USE LINKS BELOW TO FIND MORE GARDEN AND DIY TOOLS