Garden Watering Equipment
Tested and Reviewed by Fred-in-the-shed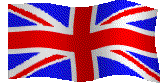 Metal Body Spray Guns - Tested by Fred (and team)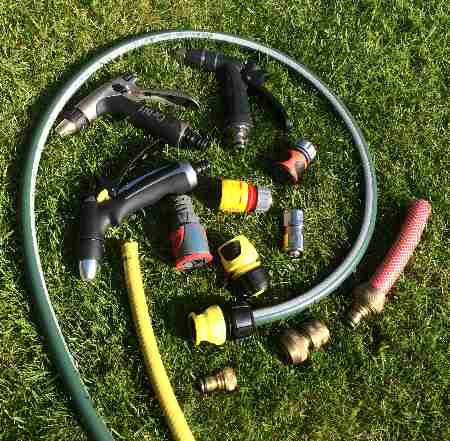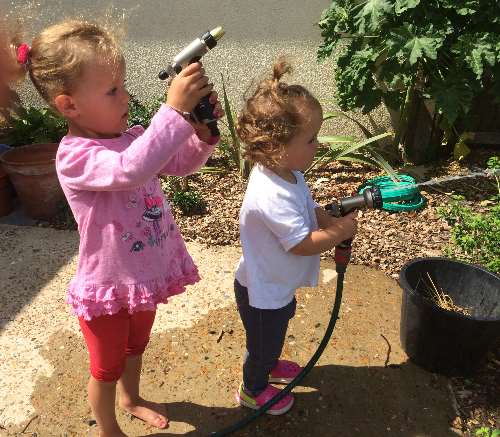 We recently tested these superb quality metal spray guns – they even passed the toddler test!
The Simple Karcher one came out top for ease of use.
The Crenova one is cheaper and has the same simple variable nozzle adjustment.
The Connections gun had the best spray options (9) and are best for plant spraying.
The Hozelock one has 8 spray options and is similar but heavier and more expensive.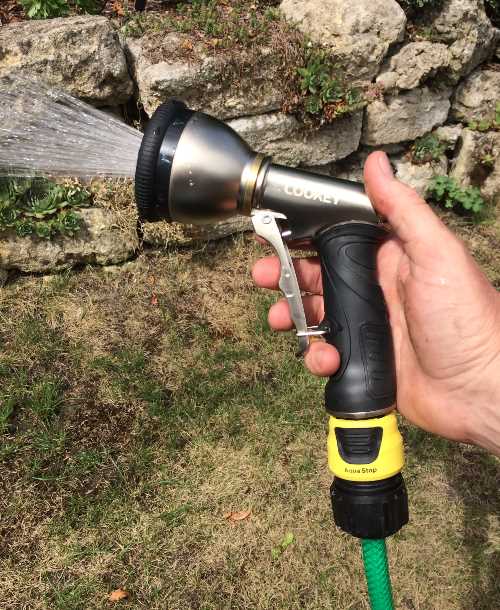 This low cost, metal-bodied gun is well made, easy to use and even comes with spare rubber seals.
(It is shown connected to a Karcher water stop connector)
Water stop connectors mean you can swap the gun for a sprinkler without turning the water off.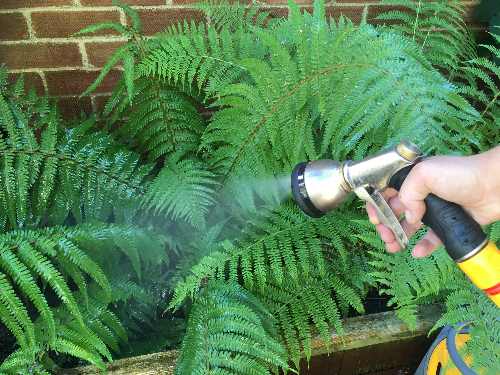 I really love the misting setting and so do my Ferns
(Shown fitted to a Hozelock water stop connector)
Best Garden Watering Systems and Timers
Simple Single Outlet Water Timer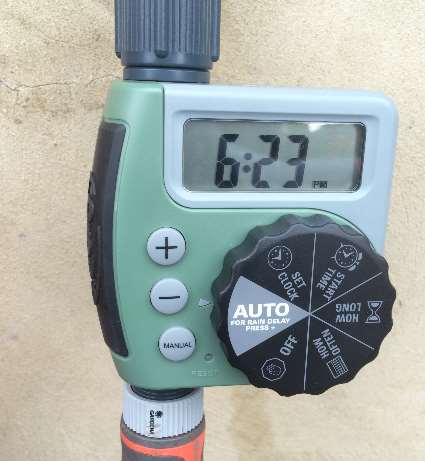 Huge LCD screen – simple dial – plain English
Over the last 20 years, I have owned and tested dozens of watering timers and systems. I have to say that most of them have caused me much stress due to difficulties programming them or unreliability issues.
My favourite timers were made by Gardena of Germany but they seem to constantly change models and add unnecessary features.
At last I found a watering timer I can recommend! Orbit Buddy Timer
My Orbit water timer is powered by 2 AA batteries and a huge LCD screen so that old codgers like me don't even need reading glasses to use it.
The quality of the housing is superb and the battery compartment is well sealed but easy to access.
Setting up the timer is very simple – I even did it without looking at the instructions.
The large programming dial has clear instructions and you will rarely use the + or – buttons.
One important thing to remember when using automatic watering systems and timers is that as the plants grow the wagering requirements will change. Therefore it is a good idea to buy a timer that you can easily alter because you are likely to be doing it often.
In my experience, a lot of the more expensive timers are too complicated. This Orbit timer is the easiest to use and offers more than enough options and has an easy manual override. Just press "Manual" and it will run for 10 minutes. Press it twice and it will run for 20 minutes – simples!
I am also testing the Hozelock Sensor plus timer – watch this space for further updates.
Multi-Outlet Water Timer - 2 Hose Model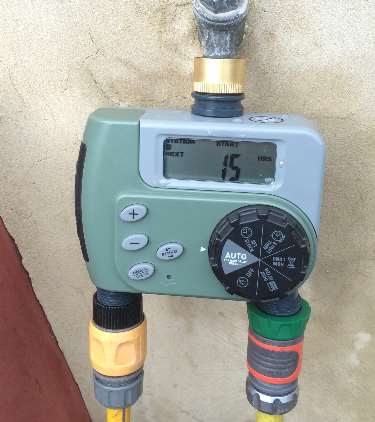 My Orbit 2 manifold water timer.
It has 2 separate timed outlets so that you can water 2 separate areas.
It has a manual override so you can run it for 10 or 20 minutes without affecting the settings.
It also has a rain delay function to stop it from watering for a day or 2 if there has been heavy rain.
I love the big easy to read dial and LCD screen.
Plastic And Metal Hose Connectors Tested and Reviewed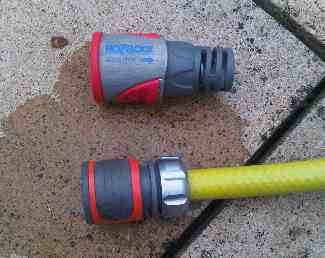 The latest Hozelock and Gardena metal/plastic connectors.
I have tested all of the most popular plastic hose connectors in the UK over the 20 years of running Fredshed including Gardena, Hozelock, Draper, Rehau and Karcher products.
After my extensive testing, I have come to the conclusion that Gardena and Karcher were the best, followed by Hozelock and Rehau. Draper is a good budget brand and is widely available. Mostly you will be able to mix and match but it is better to stick to one system.
My personal favourite now is the Karcher system as it has the best ergonomic grip for use by wet or arthritic hands, and each connector fits a wide range of hose diameters from the usual 13mm right up to 19mm. It is all plastic but has the best fit and fewer leaks.
All brands make more expensive part-metal connectors. The Hozelock Pro and Gardena Premium connectors are slightly more robust than their standard plastic models, but don't add much durability as only 1 part is metal, the rest is plastic.
All things considered, my favourite are the moderately priced, well made Karcher plastic connectors because they last, are easy to grip and fit multiple hose sizes.
Now Under 3rd Year of Testing!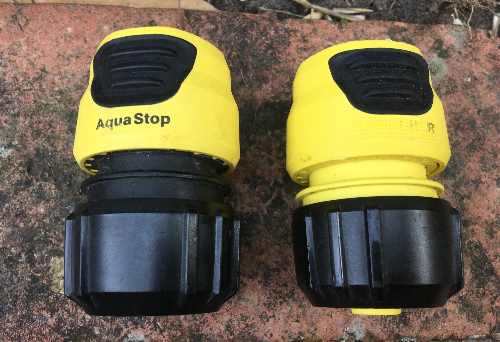 Superb Karcher Connectors – fits up to 19mm hose – I say these are the best!
Hozelock connectors – the market leader – but not my favourite now.
Gardena hose connectors – German-made quality – last longer than any other fitting.
Avoid really cheap watering connectors, they will leak and break up after a couple of seasons at most.
The connectors shown are known as female connectors and are the ones that you fit your spray gun into.
A more advanced version is the water stop connector which as the name suggests, stops the water coming out when you disconnect whatever was fixed to it. 
This is very useful if you often change from a spray gun to a lawn sprinkler or vice versa.
The water-stop connector will save you from going back to the tap to turn it off or stop you from getting soaking!
Gardena and Hozelock both make more expensive, part metal connectors. Whilst these connectors do contain metal parts and should last longer than all plastic connectors please be aware that they still contain plastic parts, which if broken, will render the connector useless.
FREDSHED TOP TIP TO STOP LEAKING CONNECTORS
Whatever type of connector you buy you will find that over time they will stiffen up and become hard to use. Even the brass ones have plastic inside them so it is a good idea to have a can of WD-40 Specialist Spray Silicone to keep them nice and slippery for easy use. Silicon spray is like oil for plastic so having a can in your shed is essential in my opinion.
If your connector starts leaking the first thing to check is the small rubber washer on the male part. These can easily be replaced and you can buy a kit using the link below.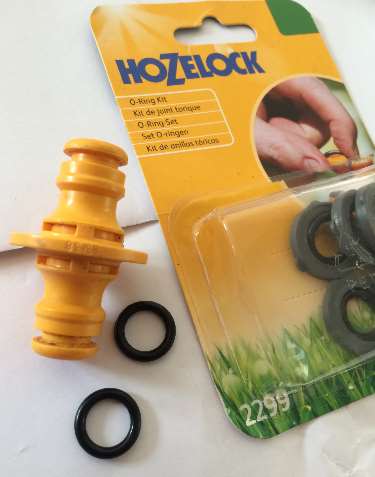 If your connector starts leaking the first thing to check is the small rubber washer on the male part. These can easily be replaced and you can buy a kit using the link below.
This is particularly useful if you are using water timers. The water can outlet can be moved to either side of the unit to suit your needs.
I also like the Gardena 2 port manifolds for their German-made quality and lifespan.
Please use the links below to find the best price, any purchase from these links also helps support this site, thank you, Fred
Hozelock 4 Way Water Manifold for connecting multiple watering systems
This can be placed away from the tap!
I have used one of these excellent gadgets for over 12 years now and although it has faded a bit in the sun it still works well and is one of the most useful pieces of equipment in my garden.
Whilst there are many 2,3 and 4 branch manifolds that fit directly onto your tap the Hozelock one has the versatility to be placed away from the tap in a more convenient location.
The Strongest No Kink- No Twisting Hosepipe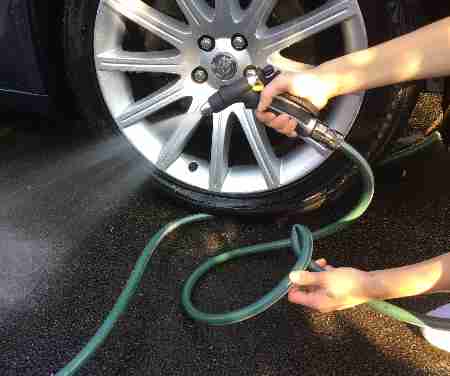 During the 20 years, I have been running this website and testing tools I have seen several hosepipes that claim to be anti-kink and twist-resistant, crushproof, long life, guaranteed forever.
None have fully delivered on the promise and the best one mysteriously disappeared from the market. 
Well, now I have come across the Everflow Hose made by Copely Developments in Leicester.
The hose is multilayered, a bit stiffer than most and slightly heavy, but from my tests so far is TOTALLY unstoppable.
The reason the Everflow hose is so un-crushable is that it has a unique, patented, internal baffle.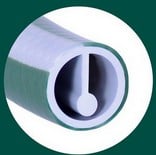 To test the hose I parked my 1 1/2 ton Chrysler 300c on it and the water came through unaffected.
If you buy this hose I recommend trimming the internal baffle from the ends so that the connectors make a better fit.
Previously I tested a Hozelock Ultra Flex Hose which I liked and is easier to handle being that much lighter.
Hozelock has been making hoses in the UK for many years and offers a range of qualities and lengths to suit your garden.
The Hozelock anti kink hose resisted kinking more than most but it is not 100% unstoppable like the Everflow hose.
Remember when buying plastic products. Buy cheap – buy twice!
The Draper Everflow hose can withstand 10 bar of pressure – far more than any domestic mains supply.
The nearest Hozelock hose is their "Ultra Hose".
As the Everflow hose is a bit stiff and strong you may want to put it on a reel.
The German-made Claber Trolleys are the best I have come across, I am also a fan of Gardena too.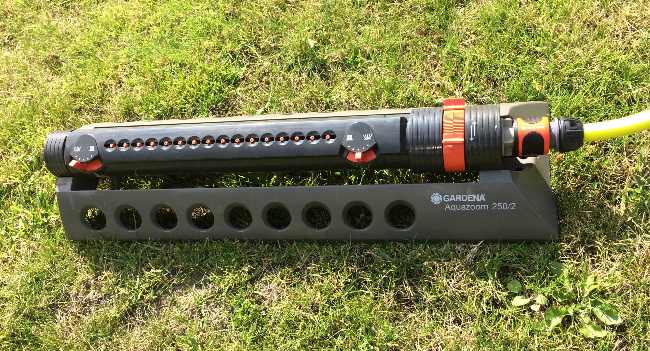 7 years of good service on my lawn
I have tested dozens of lawn sprinklers over the 20 years of running Fredshed and often found them hard to set upright.
I always go back to using the same one I had 7 years ago as it is so versatile.
The Gardena Aquazoom impressed me the most as it is very easy to adjust and like all German-made Gardena products – it is a quality product that lasts.
The clever design has slider adjustment for depth and width on both ends, so you can set it to the water where you want and not wastewater.
It is totally perfect for square and oblong lawns.
If you want a cheap simple version (the UK made too) then the Hozelock Aquastorm will do the job.
If you want a more solid, long-lasting sprinkler then the Gardena Aquazoom is my recommendation as it is as close to a perfect product as you can get and I really hope it will remain available for another 7 years. Why reinvent perfection?
During 2016 I tested the latest Gardena Sprinkler
It was good but I still prefer my fantastic Aquazoom! It is so much easier to set.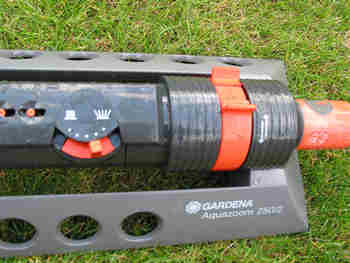 Slider adjustment for depth and width on both ends.
Most Popular Retractable Hose Reels
Retractable Hose Reels Tested and Reviewed
Hose reels now come in a wide range of types and sizes.
The auto reel has a big spring in it that pulls the hose back when you tug and let go, mostly. There is also a lever to lock it or release it.
The fast reel is more basic and reliable as you turn the handle to wind it in. Both are available up to 40m.
I use both types and find that the automatic recoil ones are the most likely to fail so if you can afford a top-quality one like a Gardena then this is what I recommend.
The Hozelock Pico Reel is a small simple reel with a thin bore hose that extends to 10m which is ideal for small gardens.
It comes with a practical variable pattern spray gun and the whole thing is light enough to be carried around.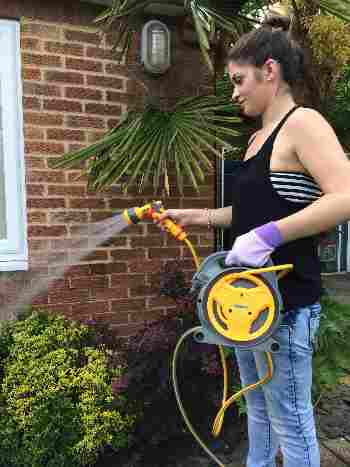 Auto Reel or Fast Reel (wind it back with a lever, more reliable and longer)
Hozelock Rewinding Hose Reels
Xhose - Is it a gimmick or a must have product?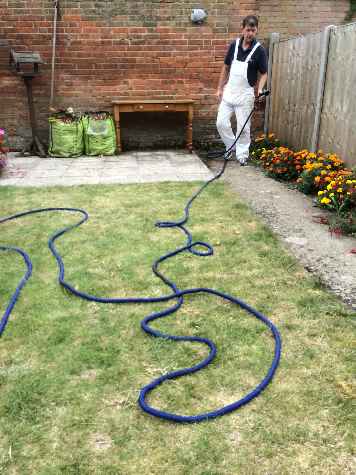 Every now and again a product comes along and promises to re-invent the wheel. You see it on the TV, in magazines and at shows.
Very few live up to the hype and the flat expandable hosepipe may be one of them. The idea is that you can have a huge hosepipe but store it in a small space and get it in and out more quickly.
Being an old hand at spotting the gimmicks I immediately ignored this product and early reviews reported many premature leaks and failures.
Some of this may be avoided by lower water pressure so I have included a link below to a connector from Karcher that can do this.
Then whilst chatting to my neighbour he began espousing the benefits of his wondrous hose.
The trick it seems is to buy the original product and not one of the super cheap knock offs. Then after using your hose put it away in a box so it is protected from the elements and clumsy people with large boots or sharp tools.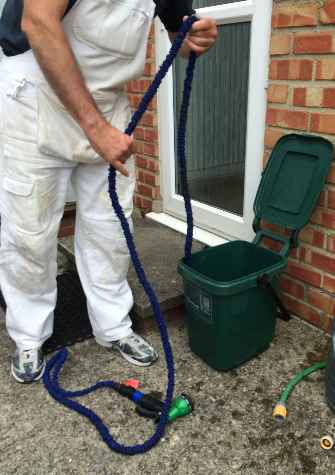 My neighbour Ian using his Xhose
He cleverly stores it in a plastic box after use to prevent foxes from biting it.
Under testing – The YoYO Italian made expanding hose with 3-year warranty
Also the Hozelock Super hose – report coming soon.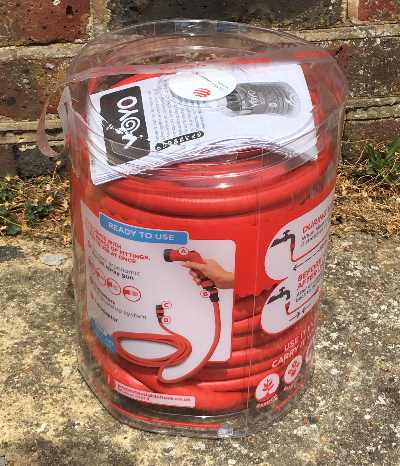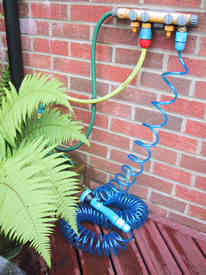 This was my original curly hose which I liked using in one of my small garden areas.
It lasted 3 years then the connectors went brittle and broke, rendering it to the landfill along with dozens of other cheap watering products that I have tested.
If you can afford the initial cost then buy the German-made GARDENA city gardening Terrace Hose 10 m
  as it should last much longer, work out cheaper in the long run and cause less landfill.
Coiled hoses save space and time as they stretch quickly and then spring back to virtually nothing. As with most good inventions, there are many cheap copies about being sold by unscrupulous people. Sorry to say, often at shows where they also sell lots of "special" mops!
A superb little spray gun is included with the Gardena set which has the latest frost protection if you forget to put it away in the winter.
The Best Water Butts - Oak or Plastic?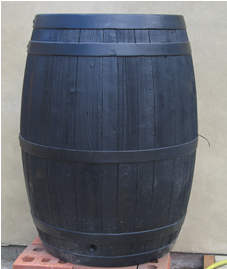 Waterbutts & Rain Diverters
Most water barrels are pretty ugly green or black plastic and are fine if you can hide them away. If you can't there are now some clever options. I used to have a real oak barrel (a former sherry barrel) which was lovely looking but very heavy and rotted away after about 4 years. The problem was not the oak but the iron rings holding it together which rusted away so the barrel leaked then fell apart. As a sherry barrel, it was designed to hold alcohol and not water, which rusts metal.
A new option is this waterbutt shown above which looks like a traditional oak barrel but is actually made from high-grade plastic. This should last many years with no maintenance and although I generally don't like plastic – especially in the garden, this is one product that I think is practical and looks good too.
If you are buying a water butt I do recommend that you buy a proper stand for it as they are designed to enable you to get your watering can close to the tap. I have used Sankey and Harcoster waterbutts for many years and am happy to recommend both makes.
A good idea but a pain in the butt?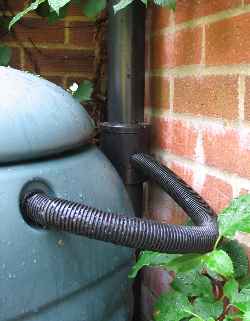 Collecting rainwater from your roof to use for watering and reducing your bills sounds like a good idea and a number of companies produce rain diverting products to enable you to do this.
Sadly some of them are dreadful and fitting them can be a real "pain in the butt". Nearly all the kits come with a minimum of fittings and they either charge you more for "accessories" or leave you scratching your head at the plumbing counter while you try and work out which diameter of hose, pipe or connector you need to connect the damn thing to your butt (that's a barrel for Americans).
For example, the most popular (and the original) device is the Rainsava which comes supplied with a small white plastic pipe to connect to your barrel. 
This is fine if your barrel has straight sides, but many don't.  If so you will need to purchase an extra flexible pipe kit, which most shops don't stock.
If you cut your drainpipe to fit a Rainsava then you will probably need to buy and fit drainpipe clips to hold it securely. If not you may get soaked in stinky water when you try and take it apart to unblock it, or your drainpipe will leak and damage the fabric of your house.
These overpriced "easy fit" plastic gadgets, with inadequate instructions are the sort of thing that annoy me intensely and is a good reason why so many people visit Fredshed.com for honest advice.
Rain diverters are also prone to blocking and cleaning them out is not as simple as the instructions make out as many are made from poor quality plastic that is hard to fit together or take apart. 
Once your device is fitted you will need to check it regularly for blockages.
Forget to check and clear any rainwater diverter and you could cause some serious damage to your walls. 
(Fredshed tells you the pros and cons of products, not just the good bits mentioned on the box) 
I am currently using 3 different types, and have used many others. 
1,  Droughtbuster Rainwater Diverter – Also known as the Universal Rainwater Diverter 
Made in the UK, Has a simple lever to switch to bypass mode for winter use. 
2. Guttermate – with removable crud basket 
3. Sankey Rain Diverter – simple and the cheapest
Just to make things more confusing Sankey also sell the Guttermate 2 as the Sankey Guttermate, and their own more simple Rain Diverter
Use links below to buy from a Fredshed partner and to support this site
Guttermate Rain Water Diverter with Debris Collection.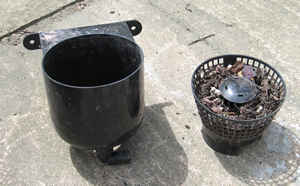 The "Guttermate" has a removable basket that collects the moss, leaves and other debris from your roof. 
It can also be switched to winter bypass mode but you will need to take it apart to do this. 
Guttermate 2 has now done away with this feature 
I would say that this simple Uk made device is best if you fit it in a location that you have easy access to. It is also the easiest to de-activate in the winter months, and the easiest to clear if blocked.
The downside is that it does not collect all the water going down the pipe so will only collect when there is plenty of rainfall. There seems to be a trade-off with these devices between collecting the maximum amount of water and not blocking up.
For a really simple and cheap device with no filter, you could try the Strata diverter from Ward.
The best of the bunch – none of them is perfect.
I have tested many gadgets and gizmos that claim to water your plants when you go away.
I have lost a lot of plants as a result!
The 2 gadgets below are the most reliable I know.
Hanging Basket Watering Solution
These amazing little pads swell up with water and retain it so that it is released into your hanging basket or pot slowly and carefully. As they dry they shrink back but then swell again with watering.
These slices are made from a new environmentally friendly material unlike some of the old swell gel type products that came out around 10 years ago.
The water slice is also very durable and is like a sponge. I have dried them out and left them for weeks before dehydrating and they survived this test.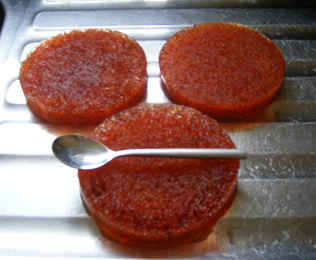 These big water-swollen gel slices are for hanging baskets but can also go in the bottom of pots
More Innovative Watering Products
Automatic Watering Systems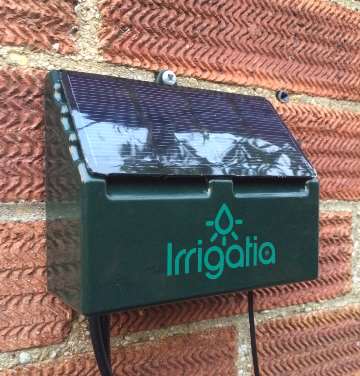 Irrigatia - Solar Powered Automatic Watering System
I had often thought that solar energy could be used to power watering systems supplied by water butts and finally, someone has invented a system that is simple and reliable. 
The Irrigatia Solar Automatic watering system is RESPONSIVE so only releases the water when there has been enough sun to charge the 3 AA batteries from the solar panel.  The clever thing about this is that you don't need to mess about setting a timer because the amount of sunshine generally correlates to the amount of water needed by your plants. 
There are 2 models, the SOL-C12 has a small solar panel and was the original model launched in 2012. 
The SOL-C24 has a larger panel to enable it to water larger areas. Both kits come with 12 drippers but you can buy extension kits and connect the system to seep hoses as well.
The SOL -C24 has improved internal components so this is the one I recommend and not the smaller, older SOL-12. 
The controller with the built-in solar panel can be placed up to 20m from the water barrel and the last dripper can be as far as 60m away. This gives you have a lot of choice about where you put your water barrel and the controller. 
Your controller box needs to be south facing to get the required amount of sunlight through the solar panel and into the batteries. 
 2 years on – my unit failed due to the small rubber diaphragm getting stuck in the pump. Irrigatia customer services were fast to send another which I fitted in 5 minutes.
 If you want a timed dripper system that is supplied by a water butt then use the link below for this simple but effective battery-powered set.
Automatic Watering Systems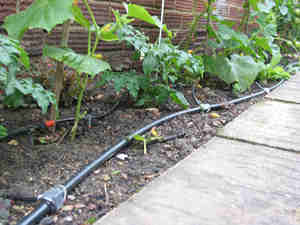 For ultimate flexibility and reliability, I have been using this German-made Gardena system of drippers for the last 5 years.
One important factor with water systems is that as your plants grow they will require varying amounts of water so your system must be able to cope with this easily.
If your system is watering the same type of plants, eg 12 tomato plants then that is easier than if you are trying to water 6 tomatoes, 3 chilli plants and 3 cucumbers.
One thing I don't like about drippers is that some of them will block up, especially if you have hard water.  To stop this you will need to clean them at the end of the season so factor in this time when you are considering buying a "time saving" automatic system.
A simpler alternative and one I use myself is to use the leaky hose and just soak the whole area as this is fast to set up and more reliable.
Unless you are prepared to pay for an expensive professional model these products tend to be very shonky and either leak or won't hold much pressure.
It is not 100% but my Spear & Jackson model is good for the money and at least S&J can be contacted if you need a part.
H2Go Wheelbarrow Water Bag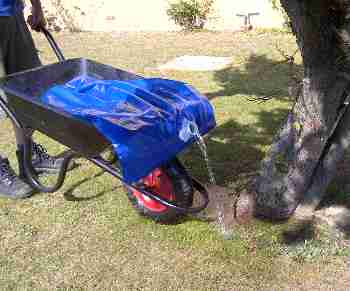 This is basically a very thick, strong plastic bag with an inlet/outlet so that you can fill it up with 80 litres of water and transport it by barrow, car, trolley etc to wherever you need it. I have used this to save trees from dying in last years hot dry summer.
Whilst this is a very good product please be aware that 80 litres of water is very heavy so to handle this in a wheelbarrow you will need to be very strong
You need to be strong and well co-ordinated to use it.
A twin wheelbarrow will make the job easier as it will be more stable.
Pouring out is easier said than done and a helper to stop the bag slipping about is a good idea too.
Fredshed watersaving tips - Soaker Hoses
In hot spells, I keep a watering can near my shower and fill it up with the cold water that comes out before the hot comes through.
Also, I use the water from my vegetable steamer to water plants – they love the nutrients too.
A soaker hose is one of the most efficient and easy to use irrigation systems. it is less prone to failure than separate drippers and sprayers and won't wash away your soil.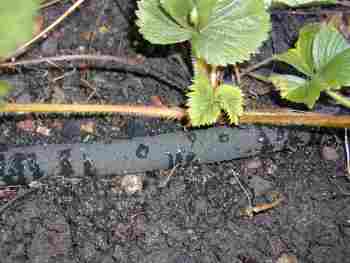 There are some very cheap and shonky soaker hoses being sold so to be on the safe side I recommend buying the UK made Hozelock or German made Gardena soaker hoses.
Connect a soaker hose to a timer for the simplest, most reliable watering system.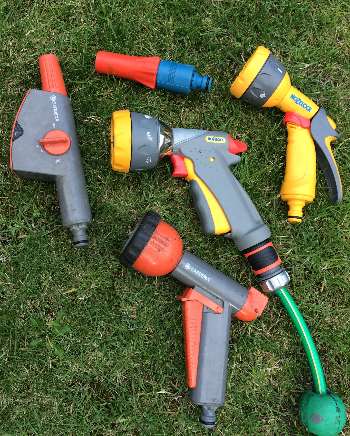 Plastic fantastic? not sure about that? I prefer metal-bodied spray guns
Coming soon – Gardena frost proof long life garden sprayers 
To be tested this winter!
If you found my advice helpful and would like to support my work, please return to this page and use my links when purchasing your tools.
Also, any other products bought from Amazon at the same time will produce a small commission that helps cover my hosting costs.

Or if you prefer, you can make a small donation using the PayPal button below.

USE LINKS BELOW TO FIND MORE GARDEN AND DIY TOOLS